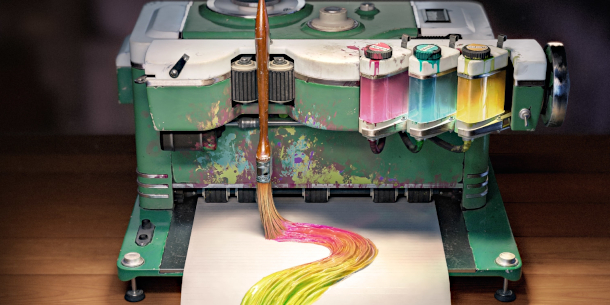 Adobe has released Substance 3D Painter 7.2, the latest update to its 3D texture painting software.
The update reworks Painter's interface, turning the Shelf into a broader-featured Asset Panel, adds support for UV tiles during automated UV unwrapping, and improves performance on complex assets.
It also improves interoperability with other Adobe apps, and adds support for the Adobe Standard Material.
In addition, the release brings a change of branding for the software which, under Adobe's old naming convention, would have been Substance Painter 2021.2.
The update shipped yesterday as part of Adobe's Substance 3D Collection, which also includes new versions of Substance 3D Designer and Substance 3D Sampler, plus new app Substance 3D Stager.
New Asset Panel with support for list views and breadcrumb navigation
Substance Painter 7.2 updates the software's UI, turning the Shelf into the new Asset Panel, which provides access to materials, Smart Materials, Smart Masks, filters, brushes, alphas, textures and environments.
As in other Adobe apps, the Asset Panel is displayed to the left of the viewport by default, rather than along the foot of the screen, maximising screen space devoted to the asset being painted.
The new design also makes it possible to view assets in a list view, and introduces breadcrumb navigation and filtering by asset type icons. Existing search and filtering queries should also still work.

Speed boosts to material previews and painting on large layer stacks
The update also improves material previews within the Asset Panel, with previews of Smart Materials now appearing "twice as fast" and .sbsar files appearing "three times as fast" as before.
Artists working with large numbers of assets can also now control the memory budget for asset previews, making it possible to cut display times still further by allocating a large memory cache.
Performance has also been improved when working on projects with large layer stacks.
Adobe doesn't put a figure on the speed boost, but the demo video above suggests that the time taken to apply a new paint layer can be up to 7x lower in extreme cases.

Automatic UV unwrapping now works for UV tiles
In addition, Painter's automatic UV unwrapping system has been updated to support UV tiles, making it compatible with tiled UV layout formats like UDIM.
The resulting UV islands can also now be oriented to the original 3D mesh: for example, to ensure that the grain runs in the correct direction on wooden objects.
Improved interoperability with other Substance tools and Adobe Bridge
One of the key themes of the new Substance 3D Collection is inteoperability between the applications, with Substance 3D Painter getting a new 'Send to Substance 3D Stager' menu option.
It enables artists with Substance 3D Subscriptions to send materials directly to Stager, Adobe's new scene layout and rendering app, rather than having to exporting texture maps manually.
Painter itself can receive assets from Substance 3D Designer and Substance 3D Sampler in a similar way.
The apps remain live-linked during a work session, so any changes made to a material in Designer or Sampler can be transferred to Painter with one click.
In addition, Substance materials can now be previewed in Bridge, Adobe's asset viewer.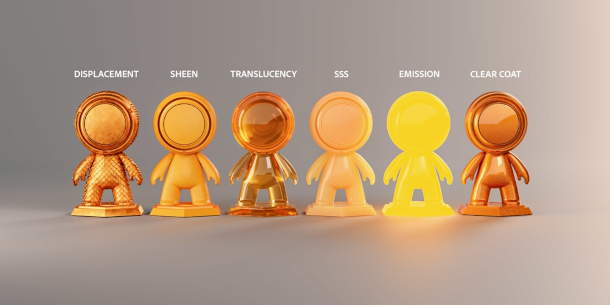 Adobe Standard Material now used by default
Substance 3D Painter 7.2 also introduces support for the Adobe Standard Material (ASM).
ASM is intended as a standard interchange format between Adobe apps, and is now used in all of the Substance 3D applications by default, along with rendering app Dimension and AR authoring tool Aero
It's a material template defined in Nvidia's open-source Material Definition Language (MDL), and follows a metalness-roughness PBR workflow.
New language editions and smaller new features
Other changes include new language editions for French, German and simplified Chinese, support for displacement in material thumbnails, and new options for height-to-normal-map conversions.
You can find a full list of new features via the links below.
Pricing and availability
Substance 3D Painter 7.2 runs on Windows 10, CentOS 7.0/Ubuntu 18.04+ Linux and macOS 10.14+.
It is available via Adobe's new Substance 3D subscriptions. Substance 3D Texturing subscriptions cost $19.99/month or $219.88/year; Substance 3D Collection subscriptions cost $49.99/month or $549.88/year.
Updated 29 June 2021: The Linux edition of Substance 3D Painter is not available as part of individual Adobe subscriptions, only via Creative Cloud plans for Teams, which cost $99.99/month.
At the time of writing, perpetual licences of the software are still available via Steam, and do include the Linux edition. They cost $149.99.

Read an overview of the new features in Substance 3D Painter 7.2 on Adobe's blog
Read a full list of new features in Substance 3D Painter 7.2 in the online release notes
Tags: 3D texture painting, Adobe, Adobe Bridge, Adobe Standard Material, ASM, Asset Panel, automatic UV unwrapping, breadcrumb navigation, Creative Cloud for Teams, displacement, filter assets, interoperability, layer, layer mask, layer set, layer stack, Linux edition, list view, live link, material definition language, material preview, material thumbnail, MDL, metalness, new features, PBR, perpetual licence, price, rendering, roughness, SBSAR, search assets, Send To, Shelf, subscription, Substance 3D Collection, Substance 3D Designer, Substance 3D Painter 7.2, Substance 3D Sampler, Substance 3D Stager, Substance Painter, Substance Painter 2021.1, Substance Painter 2021.2, system requirements, texture map, texturing, UDIM, UV island, UV island orientation, UV tile, UV unwrapping, viewport