Wednesday, June 23rd, 2021

Posted by Jim Thacker
Adobe launches the Substance 3D Collection

Adobe has launched the Substance 3D Collection, a major overhaul of its old Substance Suite that expands the product line from specialist material-authoring tools to a set of more general 3D applications.
As well as Substance Designer, Substance Painter and Substance Alchemist – now renamed Substance 3D Sampler – the Collection features Substance 3D Stager, a new scene layout and rendering tool.
A fifth tool, VR sculpting app Substance Modeler, is currently in private beta.
For individual artists, pricing for the original applications remains unchanged, but Adobe has introduced a separate $49.99/month subscription plan providing access to the new products.
Aimed at a wider range of users than the old Substance Suite
As well as artists working in game development, visual effects and motion graphics, Adobe hopes that the Substance 3D Collection will "inspire a brand new generation of designers".
The firm says that it has seen a 40% increase in the number of projects involving 3D posted on Behance, its online portfolio service, during the past year.
Adobe aims to attract these newer users – many of them graphic designers and 2D artists with little previous experience of 3D – to the Collection through a combination of new, more-beginner-friendly applications, tighter integration with existing Adobe tools, and a wider range of readymade 3D assets.


New Adobe branding and licensing for the Substance tools
The launch of the Collection completes the integration of the Substance tools into Adobe's product line-up.
Although the firm originally acquired the software, along with Allegorithmic, its original developer, in 2019, it retained its old branding and sales website.
The release of the Substance 3D Collection brings branding in line with Adobe's other software, giving all of the Substance tools standard Adobe product icons, and listings on the main Adobe product website.
Subscriptions to the Substance products are also now being handled through Adobe's Creative Cloud.
New names for the existing tools – and an entirely new scene layout and rendering app
The core of the new Collection remains 3D texture painting app Substance Painter and node-based material authoring app Substance Designer, now renamed Substance 3D Painter and Substance 3D Designer.
Substance Alchemist, Adobe's application for generating 3D materials based on photographs and scan data, has been "fully redesigned" and given the more descriptive new name of Substance 3D Sampler.
Both it and Substance 3D Designer now feature major new toolsets: procedural modelling tools in the case of Designer, and tools for creating environment lighting set-ups in the case of Sampler.
In addition, Adobe has added an entirely new tool, Substance 3D Stager.
The Collection's counterpart to Adobe Dimension – still in active development – Stager is a beginner-friendly tool for laying out, lighting and rendering 3D scenes.
Updated 28 June 2021: 'In active development' was our take on Dimension's future, not Adobe's own description, and it doesn't seem to be entirely accurate.
Adobe principal product manager Jérémie Noguer has now posted on BlenderArtists.org that while Dimension will remain available, it will "not receive significant updates going forward".
It includes physics-based object placement tools and a new Vulkan-based render engine supporting hardware-accelerated ray tracing on both Nvidia and AMD GPUs. You can find more details in this story.
A fifth application, Substance 3D Modeler, which enables users to sculpt in virtual reality using mouse and tablet controls, is currently in closed beta.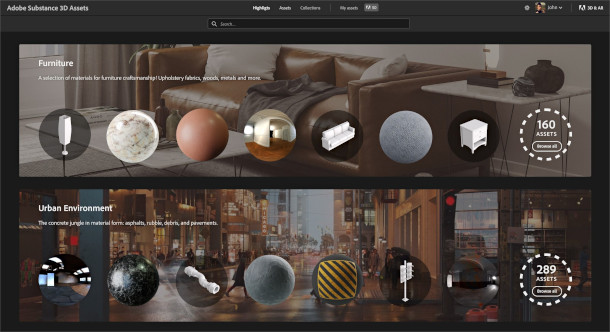 Better integration between tools and access to a more varied library of 3D assets
The release of the Collection improves integration between the individual applications, with dedicated menu commands to send assets from one to another.
The apps also integrate with Adobe Bridge, making it possible to preview 3D materials in the image viewer.
In addition, subscribers to the Collection get access to a library of readymade 3D assets, based on the existing Substance Source material library, but expanded to include 3D models and studio lighting setups.
Pricing unchanged for the original Substance Suite, but up for the new Substance 3D Collection
The change of branding and product website hasn't affected the pricing of the Substance products – at least, not of the original applications.
For individual artists, Substance 3D Texturing subscriptions cost $19.99/month or $219.88/year, same as the old Indie subscriptions to the Substance Suite.
However, for access to the new applications like Substance 3D Stager, you need a full Substance 3D Collection subscription, which is considerably more expensive: $49.99/month or $549.88/year.
Studios can get access to the complete Substance 3D Collection for $99.99/month or $1,198.88/year, up just over $200/year on the old Pro subscription to the Substance Suite.
Pricing and system requirements
The Adobe Substance 3D Collection tools are available rental-only for Windows, Linux and macOS.
Standard pricing for Substance 3D Texturing and Substance 3D Collection subscriptions is listed in the story above. Substance 3D Collection subscriptions are available at a launch discount until December 2021.

Read Adobe's blog post announcing the Substance 3D Collection
Read more about the Substance 3D Collection on Adobe's product website