Friday, August 17th, 2018

Posted by Jim Thacker
Nvidia open-sources MDL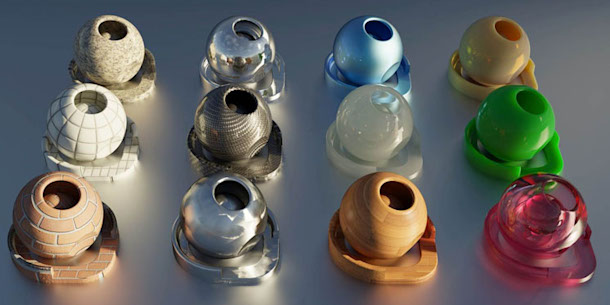 Nvidia has made the software development kit for MDL, its cross-platform Material Definition Language, available open-source. The announcement was made at Siggraph 2018 earlier this week.
Recreate real-world materials and ensure that they display consistently across applications
First developed to ensure that physically based materials displayed consistently in different versions of Nvidia's own renderers, Mental Ray and Iray, the MDL format has since been adopted in other DCC tools.
That includes both software in which Iray is integrated, like Allegorithmic's Substance Designer and DAZ Productions' DAZ Studio, and those in which it is not.
Chaos Group first introduced support for MDL in Adobe's Dimension CC, which uses the same core technology as V-Ray, and has since rolled it out in other editions of the industry-standard renderer.
Epic Games has also just introduced support for MDL in Unreal Studio, its real-time visualisation platform.
Through them, the MDL format has outlived its origins: Nvidia discontinued Mental Ray last year, saying that it intended to refocus resources on "core rendering technology", including MDL itself.
Backed by key software developers, both commercial and open-source
In Nvidia's blog post announcing the change, Allegorithmic CEO Sébastien Deguy is quoted as saying that the decision to take the SDK open-source will "make MDL more accessible".
The move was also backed by the open-source community, with Blender Foundation chairman Ton Roosendaal tweeting that it was "another great step".
As well as adding new functionality to MDL, Nvidia suggests that the change will give developers the opportunity to "exploit new platforms [or] port it to iPad or Android": as well as OpenGL and DirectX, the SDK is designed for integration with renderers using the Vulkan API.
Availability and system requirements
The source code for the MDL SDK is available under a BSD 3-clause licence. It builds successfully on Windows 10 and Ubuntu 18.04, but Mac OS X is not currently supported.
Nvidia is still providing compiled binaries of the original, closed-source MDL SDK 2018, which includes features not included in the source code, including MDL distilling, texture baking and a GLSL backend.

Read Nvidia's announcement that the MDL SDK is being made available open-source
Read more about the MDL SDK on Nvidia's developer website
(Includes a link to the source code)