Originally posted on 23 November 2021. Now updated with details of the public release.
Adobe has unveiled Substance 3D Designer 11.3, the latest version of its material-authoring software, during its latest Substance 3D livestream, the recording of which is embedded above.
The update adds particle nodes to the software's new procedural modeling graph, opening up some interesting new scattering, instancing and motion graphics-style workflows.
Create geometric arrays and trails of particles, or generate them from 3D surfaces
The headline feature of this summer's Substance 3D Designer 11.2 update, the new modeling graph enables users to author 3D models procedurally, in the same way that they could already author materials.
To that, the 11.3 release adds new nodes for generating and manipulating particles, including the basic Particles node, which generates them in geometrical 2D or 3D arrays.
It is also possible to generate particles from the surface of existing 3D geometry, while a new Generative transform node creates chains and trails, with the position of each new particle based on that of the last.
The existing Geometry instancing node can then be used to instance 3D objects to the particles, while a new Particle pruning node makes it possible to remove particles wherever they intersect with 3D volumes.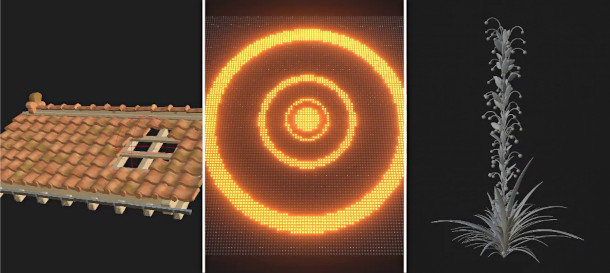 Use particles for anything from scattering to motion graphics and designing 3D plants
Together, the new nodes open up a range of new workflows: Adobe's demo showed Geometry instancing in use to space out roof tiles evenly, which Particle pruning could then remove to create holes in the roof.
As well as surface scattering, the nodes can be used to create motion graphics-type effects.
The livestream showed demos ranging from particle systems resembling lightning bolts and 3D fractals, to an animatable LED display, with Particle pruning used to switch individual 'lights' on and off.
A further Organic pattern node can be used to distribute particles according mathematical patterns like the Fibonacci sequence, with implications for generating procedural 3D plants, since Fibonacci sequences appear in nature in the distribution of leaves up plant stems, and of flowers within flowerheads.
New Shell, Lathe and Projection nodes for procedural modelling
Other new modeling graph nodes in Substance 3D Painter 11.3 include the Shell node, which can be used to add thickness to generated geometry, and – not shown in the livestream – Lathe and Curve trim.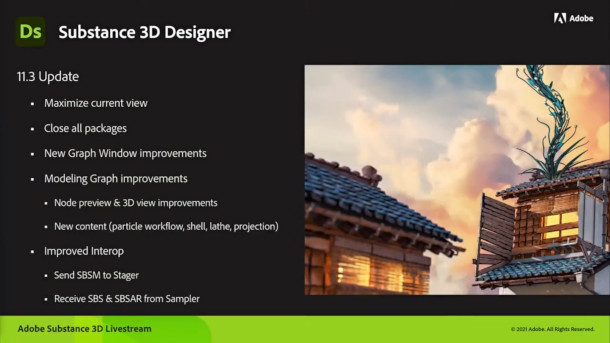 Workflow and UX improvements
Users can also now send procedural 3D models in Substance .sbsm format directly to Substance 3D Stager, Adobe's new application for scene design, layout and rendering.
Designer now receives procedural materials in .sbs and .sbsar format directly from Substance 3D Sampler, Adobe's new name for Substance Alchemist.
There are a number of other workflow improvements, including the option to maximise any view window within the software, including the Graph View and 3D View; and a keyboard shortcut to close all packages.
Pricing and availability
Substance 3D Designer 11.3 is available for Windows 10, CentOS 7.0/Ubuntu 18.04+ Linux and macOS 10.14+.
It is available via Adobe's new Substance 3D subscriptions. Substance 3D Texturing subscriptions cost $19.99/month or $219.88/year; Substance 3D Collection subscriptions cost $49.99/month or $549.88/year.
Subscriptions to the Linux edition require a Creative Cloud Plan for Teams priced at $1,198.88/year.
Perpetual licences of the software are available via Steam and cost $149.99.

Read an overview of the new features in Substance 3D Designer on Adobe's blog
Read a full list of new features in Substance 3D Designer 11.3 in the online release notes
Tags: 3D modeling, 3D plant, Adobe, Fibonacci sequence, Generative transform node, Geometry instancing node, instancing, lathe, material authoring, modeling graph, motion graphics, new features, particle, particle array, particle node, Particle pruning node, particle system, particle trail, particle workflow, price, procedural 3D plant, procedural modeling, projection, release date, SBS, SBSAR, SBSM, scattering, Shell node, Substance 3D Designer, Substance 3D Designer 11.2, Substance 3D Designer 11.3, Substance 3D Sampler, Substance 3D Stager, Substance Alchemist, Substance Designer, system requirements, texturing