Markerless motion-capture specialist Faceware Technologies has launched Faceware Studio, a next-gen replacement for its Faceware Live real-time facial mocap system for live broadcast, games and VFX work.
Described as "a complete re-engineering" of the platform, Studio incorporates interesting new 'Motion Effects' for tuning the data it outputs to individual CG characters.
Studio also rethinks the application's UI, integrates the AI-based jaw solving system from sister application Faceware Retargeter, and improves performance, particularly on lower-end systems.
Solve an actor's facial movements in real time and stream the data to MotionBuilder or game engines
Faceware Studio is the first major change to the firm's real-time product line in three years: the last update to Faceware Live, Faceware Live 2.5, shipped in 2017.
The new platform does pretty much the same thing as its predecessor: process footage of a single actor's face in real time, and stream the resulting data to a CG character in MotionBuilder, Unity or Unreal Engine.
However, Faceware describes it as "a complete re-engineering" of the platform rather than just a rebrand, "[re-imagining] the real-time streaming workflow with a modern and intuitive approach".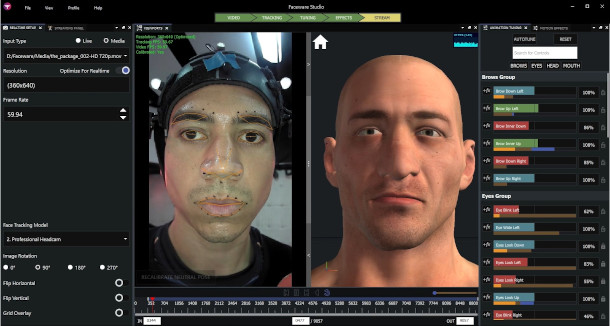 A more intuitive, visual way to adjust facial performances
The most visible evidence of that new approach is Faceware Studio's UI, which provides much more visual feedback on the capture process, and more advanced options for tuning output.
As well as featuring its own integrated 3D viewport – in Faceware Live, the 3D preview was a floating window – the UI adds Pathfinder, a "unique workflow guide and status bar combo".
Seen along the top of the screen in the image above, it divides the performance capture process into five stages: video input, facial tracking, performance tuning, motion effects, and streamed output.
New Motion Effects provide advanced control over streamed animation
The changes between Faceware Studio and the old platform are most apparent during the tuning process, which enables users to modulate the animation data the software outputs.
Although Faceware Live enabled users to damp down or exaggerate individual facial movements, like mouth shapes or eyebrow raises, the interface for doing so was parameter-based and looked like a spreadsheet.
In contrast, Studio's interface displays parameters visually as horizontal bars, updated in real time, and provides slider controls to adjust them, making tuning a much more intuitive process.
There is also an interesting new Motion Effects toolset, designed to provide "additional logic to controls".
As well as enabling one facial control to modify the output of another – for example, for a smile to amplify a cheek movement – it enables output values to be clamped or offset in time.
Users can also program their own custom effects using Python.
Faster, higher-quality facial solves than Faceware Live
In addition, Faceware Studio integrates the AI-trained jaw solving system recently added to Retargeter, its sister app, which Faceware says should improve the quality of facial solves, particularly for lip synch.
Studio also creates "faster results while using less resources" than Faceware Live, with a new Optimize for Realtime option providing "higher framae-rate tracking across a much wider range of hardware".
But also a much higher price than Faceware Live
However, Faceware Studio is also significantly more expensive than its predecessor.
At the time of the firm's last major revision of its prices in 2019, annual rental of Faceware Live 2.5 cost $499/year, whereas Facial Studio costs $2,340/year.
Unlike its predecessor, Faceware doesn't list a price for perpetual licences of Faceware Studio on its website.
The firm told us that perpetual licences are available, but declined to say how much they cost, commenting that there are "different bespoke demands which require special pricing packages".
Pricing and system requirements
Faceware Studio is available for Windows 7+ only. Integration plugins are available for MotionBuilder, Unity and Unreal Engine. The former two are free; the third-party UE4 plugin costs $1,300/year.
According to the system requirements, users with AMD GPUs may experience "performance issues", although Faceware tells us that this is due to its UI system rather than because it uses Nvidia APIs like CUDA for GPU computing, and may result in a lower frame rate in the 3D viewport.
Product rental costs $195/month or $2,340/year. Perpetual licences are available on enquiry.
Read more about Faceware Studio on the product website
Read a summary of the new features in Faceware Studio in its listing in Faceware's online store
Tags: Analyzer, broadcast, Faceware Live, Faceware Live 2.5, Faceware Studio, Faceware Technologies, facial animation, facial mocap, facial performance capture, facial solve, game development, markerless, motion capture, Motion Effects, MotionBuilder, new features, performance capture, performance tuning, price, price increase, Python, real time, Retargeter, streaming, system requirements, UE4, Unity, Unreal Engine, vfx, visual effects