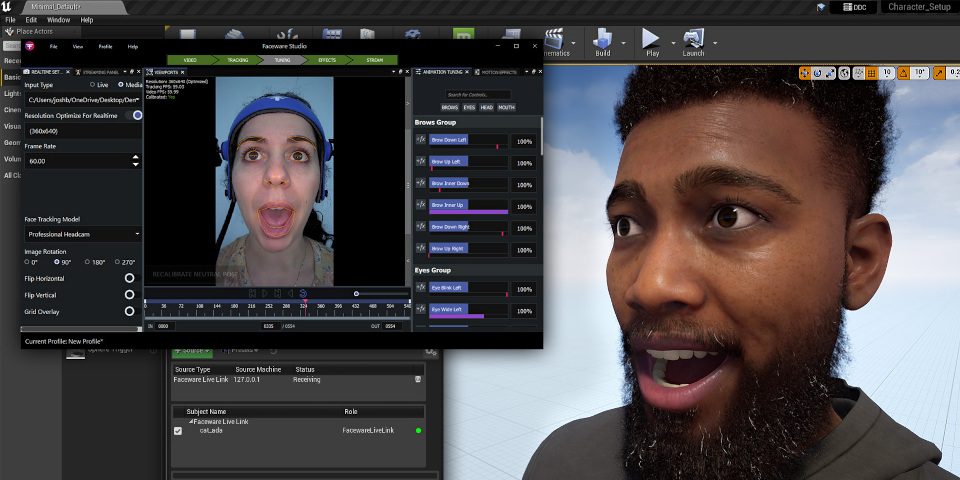 Markerless motion-capture specialist Faceware Technologies has released Faceware Studio 1.5, the latest version of its real-time facial mocap system for live broadcast, games and VFX work.
The update adds support for new cameras and webcams, and improves performance by "up to 30%".
In addition, Faceware has introduced new indie pricing for artists earning under $100,000/year, along with a new free live link plugin for Unreal Engine, replacing the old paid plugin.
For indie artists wanting to stream facial motion data live to Unreal Engine, the changes cut the cost of using Faceware Studio from $3,640/year to just $239/year.
Solve an actor's facial movements in real time and stream the data to MotionBuilder or game engines
Launched last year as a replacement for Faceware Live, Faceware Studio processes footage of an actor's face in real time, and streams the resulting data to a CG character in MotionBuilder, Unity or Unreal Engine.
Users can tune the animation data generated by Faceware Studio in real time, with the Motion Effects toolset enabling one facial control to modify the output of another.
Faceware Studio 1.5: support for more cameras and virtual cameras
New features in Faceware Studio 1.5 include support for "hundreds of different cameras and webcams, as well as support for virtual cameras, including apps like OBS, Streamlabs, ManyCam and EpocCam".
The update also improves performance by "up to 30%" when streaming at high frame rates and resolutions.
New indie pricing for anyone earning under $100,000/year, and a free Live Link to Unreal Engine
However, the key change for individual users and small studios will undoubtedly be the new indie pricing.
Faceware Studio 1.0 represented a significant hike in price over its predecessor, the $499/year Faceware Live, with standard subscriptions priced at $2,340/year.
The new pricing – available to artists and studios earning under $100,000/year – redresses the balance, with indie subscriptions charged at $239/year, further reduced by the current launch discount.
In addition, the live link for Unreal Engine – previously a $1,300/year third-party plugin developed by Glassbox Technologies – has been replaced by a new free tool.
According to Faceware, the original Glassbox Live Client plugin will "continue to work with Faceware Studio and will continue to be supported".
In related news, Faceware Studio PLE, which used to enable artists to use Faceware Studio free for six months on non-commercial projects, is no longer available in Faceware's online store.
Faceware told us that "indie pricing is intended to offer PLE license owners an attractive next step if they want to continue working with Faceware Studio."
Pricing and system requirements
Faceware Studio is available for Windows 7+ only. Integration plugins are available for MotionBuilder, Unity and Unreal Engine. All are now free downloads.
For artists and studios earning under $100,000/year, subscriptions cost $239/year. Full subscriptions cost $2,340/year. Perpetual licences are available on enquiry.
At the time of writing, indie subscriptions are available at a further launch discount.
Read an overview of the new features in Faceware Studio 1.5 on Faceware's blog
Tags: animation, camera, EpocCam, Faceware, Faceware Studio, Faceware Studio 1.5, Faceware Studio PLE, Faceware Technologies, facial motion capture, game development, Game Engine, Glassbox Technologies, indie pricing, Live Client, live link, ManyCam, markerless, mocap, motion capture, MotionBuilder, new features, new pricing, OBS, performance capture, price, price cut, price drop, real time, stream facial motion capture data, StreamLabs, system requirements, UE4, Unity, Unreal Engine, vfx, virtual camera, visual effects, webcam