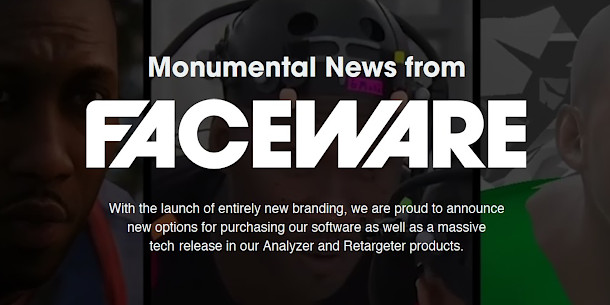 Markerless motion-capture specialist Faceware Technologies has shaken up its product pricing, slashing the price of its Analyzer and Retargeter software and camera systems, and introducing new rental pricing.
The company has also added a store to its newly revamped website, making it possible to buy its products directly online – albeit currently only as subscriptions, not perpetual licences.
In related news, Faceware has released Analyzer 3.8 and Retargeter 5.8, new versions of its key software applications, and begun shipping Shepherd, its newest product, in open beta.
Cost of perpetual software licences roughly halved; price of hardware bundles also down
Faceware has cut the price of its products quite dramatically: Analyzer 3 Studio, previously priced at $2,500, now costs $750 – a cut of 70%; while Retargeter 5 Studio falls from $1,200 to $500.
There are also price cuts for the company's hardware bundles, which comprise Faceware's software plus head-mounted camera systems, and in some cases, digital video recorders and monitors.
The scale of the cuts varies from bundle to bundle, but one of the largest is for Faceware's top-of-the-range system, the Mark III Ultimate, which falls from "around $35,000" to $21,096.
Academic pricing has also been reduced across the board, although Faceware has discontinued its free non-commercial Personal Learning Editions of its products.
New lower individual rental prices for all products
Faceware has also introduced new individual rental pricing for all of its products, starting at $99/year for Retargeter 5 Studio and $199/year for Analyzer 5 Studio.
The firm previously rented its software as a product bundle, priced at $340/month.
Subscriptions for the firm's software and its indie headcam system can be bought directly via the firm's new online store – at the time of posting, you still have to contact the sales team to buy perpetual licences.
Subscriptions an alternative to perpetual licences, not a replacement
Speaking to CG Channel before the launch of its new website, Faceware VP Peter Busch commented that the pricing changes were a response to "interesting trends" in the motion-capture market.
"We noticed a broader range of users with different pricing requirements, so our goal … was to provide pricing options that would be attractive to existing and new users across industries," he said.
Asked whether rental was intended as an alternative to perpetual licences or, ultimately, a replacement for them, he commented that Faceware's aim was "to give studios a choice".
Busch pointed out that in a part of the market that has seen Apple buy Faceshift, only to discontinue its software, and Adobe buy Mixamo, perpetual licences are particularly significant for users.
"We're very aware that in [this market sector] two companies were acquired," he said.
"It was super-important that we retain [the option to buy our products outright] so you know that your licence isn't going to go away [further] down the road."

Read more about Faceware Technologies' facial motion capture products on its new website
See a full list of prices for Faceware's products.
Tags: AI, Analyzer, Analyzer 3.8, beta, camera, Faceware, Faceware Technologies, facial capture, facial motion capture, Headcam, motion capture, performance capture, Personal Learning Edition, PLE, price, price cut, price drop, rental, Retargeter, Retargeter 5.8, Shepherd, software, subscription