Tuesday, August 14th, 2018

Posted by Jim Thacker
Otoy previews OctaneRender 2018.1's Vectron and Spectron

Otoy has previewed Vectron and Spectron, the new 'vector polygon uberprimitive' and procedural volumetric lighting system coming up in OctaneRender 2018.1, the next major update to the GPU renderer.
The features were unveiled at Siggraph 2018, alongside the first release candidate for OctaneRender 4.0.
Version 5.0 of the software, but with a new naming convention
We wrote about OctaneRender 2018.1 – it's effectively OctaneRender 5.0: just with a new version numbering system – when Otoy first announced its roadmap for OctaneRender 2018 and 2019 at GDC this year.
Of the features announced in March, light linking actually made it into OctaneRender 4.0, but trace sets are still scheduled for 2018.1, as is a new system for handling mattes and AOVs, including Cryptomatte support.
Otoy will also be adding support for vertex attributes for better integration with other DCC tools: Houdini, TurbulenceFD, X-Particles and Cinema 4D R20 are all namechecked specifically.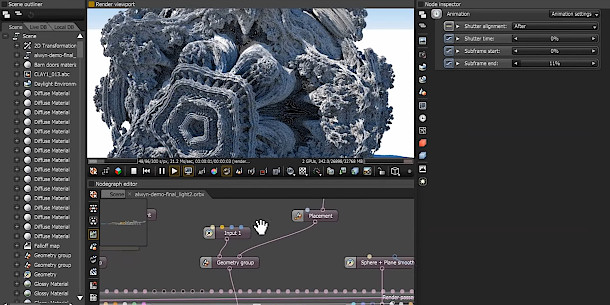 Vectron: a new procedural primitive with a minimal memory footprint
To that, Otoy's latest preview introduces two rather ominiously named technologies: Vectron and Spectron.
Vectron (it stands for 'vector-polygon') is a new procedural "uberprimitive", intended to provide a more efficient, higher-quality representation of geometry than tessellated meshes or volumes.
Otoy goes so far as to say that Vectron geometry has "zero memory footprint" and does not use any VRAM. We assume it means that functionally rather than literally, but it's still an impressive claim.
The form of the geometry can be controlled via an Open Shading Language node graph, including support for Boolean operations and re-surfacing.
How well it translates to real-world production remains to be seen: most of the forms in the demo are either 3D fractals or are similarly abstract. You do glimpse an ocean surface at 03:25, but only briefly.
However, existing meshes or volumes can be converted to Vectron objects, so if nothing else, it could be an efficient intermediate format when rendering large scenes.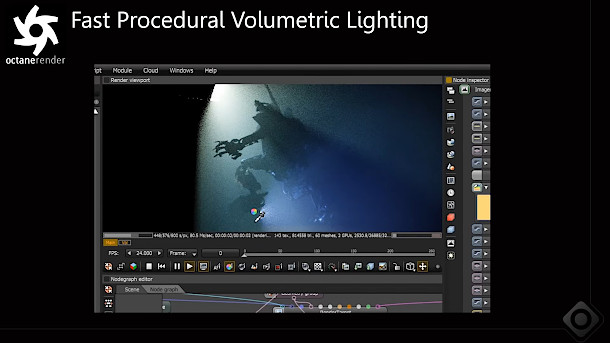 Spectron: a new procedural volumetric lighting system
Its sister technology is Spectron: a new procedural volumetric lighting system.
Otoy describes Spectron, which mimics features of real-world studio lights like blockers, barn doors and gels, as fast, noise-free and near-real-time.
You can see footage of Spectron lighting interacting with Vectron objects inside the OctaneRender viewport in the second half of the video.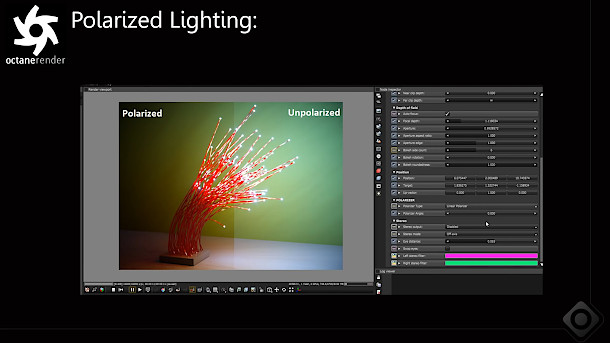 However, arguably Spectron's most interesting feature is the way it extends the software's spectral rendering system, including support for light polarisation, fluorescence, diffraction and very complex layered materials.
You can see stil renders illustrating the new functionality from 07:50 onwards.
Other new features coming up in OctaneRender 2018.1
Other new features due in Octane 2018.1 include a new "anime kernel" – which seems to be a fancy name for a cel shader – plus full OpenVDB functionality for volumes, and AI-based viewport image upsampling.
Existing features due to be updated in the release include the AI Scene system for handling out-of-core geometry, which gets a disk cache for "instant reloading". Meshes can also have infinite primitive counts.
The new ubermaterial added in OctaneRender 4.0 will get support for subsurface scattering, and new shading options and a dedicated AI-based spectral denoiser for hair.
Moving to the new RNDR SDK in OctaneRender 2019
Looking further ahead, Otoy has reiterated that it plans to begin migrating OctaneRender to RNDR, the new universal SDK for all of its technologies, in OctaneRender 2019, beginnning with the viewport.
(The viewport was originally due to migrate in OctaneRender 2018.1, but it isn't clear from the new video whether that's still the plan, or whether that will now be done in the 2019 release cycle too.)
Existing cloud services, like ORC rendering, will also migrate over to RNDR. The latest preview video doesn't add a lot of new information, so check out our original story for a more detailed discussion.
So when will you actually be able to use these features?
Otoy hasn't put exact dates on the upcoming releases, although the fact that the version numbers now use years gives an idea of when they're scheduled to ship.
However, it's worth noting that Otoy's release dates have a tendency to slip – some features on the original roadmap for OctaneRender 3.x and 4.0, then scheduled for 2016 and 2017, still haven't made it in – and that it has still to ship a stable build of OctaneRender 4.0 before it can move forward with the new versions.