Originally posted on 22 November 2018. Scroll down for news of the stable release.
Otoy has released OctaneRender 2018.1 XB1, the first preview build of the next major update to its GPU renderer, following yesterday's official release of OctaneRender 4.0.
The build includes new procedural 'uberprimitive' Vectron, procedural lighting system Spectron, support for the Cryptomatte ID matte-generation system, and the ability to render VDB volumes without meshing.
Support for Cryptomatte ID matte generation and vertex attributes
We first wrote about OctaneRender 2018.1 – it's effectively OctaneRender 5.0 with a new version numbering system – when Otoy first announced it at GDC 2018.
Of the features then scheduled for 2018.1, light linking actually made it into OctaneRender 4.0, but the others are present and correct in the XB1 build.
That includes support for Cryptomatte, the popular open-source matte-generation system, and support for vertex attributes for better integration with other DCC software.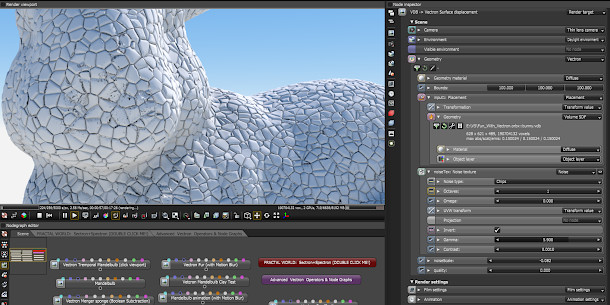 Vectron and Spectron: partially implemented in the XB1 build
Otoy then previewed more features from OctaneRender 2018.1 at Siggraph, including Vectron and Spectron.
The former is a new procedural "uberprimitive", intended to provide a more efficient, higher-quality representation of geometry than tessellated meshes or volumes.
The form of the geometry can be controlled via an Open Shading Language node graph, including support for Boolean operations and re-surfacing.
It's only partially implemented in the XB1 build: materials are "not fully supported yet".
Its sister technology, Spectron, is a new procedural volumetric lighting system that mimics features of real-world studio lights like blockers, barn doors and gels.
Again, it's only partially implemented in XB1, which introduces a "basic procedural light node type … which can be used for quick volumetric effects and spot light generation".
Also in 2018.1: render VDB volumes without meshing, early support for NVLink
Other new features in OctaneRender 2018.1 rolled out in the XB1 build include direct rendering of level set surfaces, like volumes in VDB format.
The release also improves volumetric rendering more generally, which should result in less noise; and adds a new option to limit the number of light bounces used, which should speed up renders.
XB1 also introduces experimental support for Nvidia's new NVLink GPU linking technology, which enables multiple graphics cards within a system to pool their graphics memory.
To use it, you'll need a high-end Nvidia workstation GPU: it's currently supported in the Quadro GP1 and GV1 and the new Quadro RTX 5000, 6000 and 8000.
In XB1, NVLink support is limited to two GPUs of the same type: that is, both RTX or non-RTX cards.
Other previously announced features may slip to 2019.1
Other features previously announced for OctaneRender 2018.1 include a new "anime kernel" – which seems to be a fancy name for a cel shader – and AI-based viewport image upsampling.
Otoy also announced that the Scene AI system for handling out-of-core geometry will get a disk cache for "instant reloading", while the new ubermaterial added in OctaneRender 4.0 will get support for subsurface scattering, new shading options, and a dedicated AI-based spectral denoiser for hair.
Of those, some – but not all – are still scheduled for 2018.1.
Otoy says that the feature list is now "largely locked", and that "anything that requires retraining the AI denoiser" will now be in the following release, OctaneRender 2019.1.
The firm says that it now plans "one to two more" preview releases of 2018.1 before moving to release candidate builds, and finally, a stable commercial release.
In the case of OctaneRender 4.0, that process took seven months, although the firm is presumably hoping to get through the release cycle faster this time.
OctaneRender 2019.1 is currently "in active development for early next year", so Otoy will need to get 2018.1 out of the door quickly if it wants to avoid version overlap.
Pricing
Whereas OctaneRender 4.0 is free to users of version 3.x, OctaneRender 2018.1 will be a paid upgrade.
Otoy says that it is moving to "an annual 'all-access' maintenance plan for all boxed licences that want updates past V4, at the same $20/month we charge for monthly subs".
Offline mode for OctaneRender 4.0 is "never going away", so users cancelling their maintenance plans will be able to revert to their old V4 licences: just not use later updates.

Updated 12 March 2019: Otoy has released the first stable build of OctaneRender 2018.1 itself. Updates to the integration plugins for DCC software "will follow shortly".
At the time of posting, it isn't possible to buy a new licence of OctaneRender 2018.1 in Otoy's online store, but you can upgrade from OctaneRender 4.0 using the download links in this forum post.

Availability and system requirements
OctaneRender 2018.1 is for Windows, Linux and macOS. The update is currently only available to users with Studio or Enterprise subscriptions.
Prices start at $20/month for Studio and $699/year for Enterprise, which also includes a perpetual licence of the Standalone edition of the renderer.
Read a full list of features in OctaneRender 2018.1 on Otoy's forum
Tags: AI Denoiser, anime kernel, cel shading, Cryptomatte, CUDA, denoising, GPU rendering, level set, new features, non-photorealistic rendering, NVIDIA, NVLink, OctaneRender 2018.1, OctaneRender 2018.1 XB1, OctaneRender 2019.1, OctaneRender 4.0, OctaneRender 5, OctaneRender 5.0, Otoy, preview, price, procedural lighting, procedural primitive, procedural uberprimitive, release date, rendering, roadmap, Scene AI, Spectron, ubermaterial, VDB, vector attribute, Vectron, Volume, volumetric rendering