Monday, January 1st, 2018

Posted by Jim Thacker
NewTek ships LightWave 2018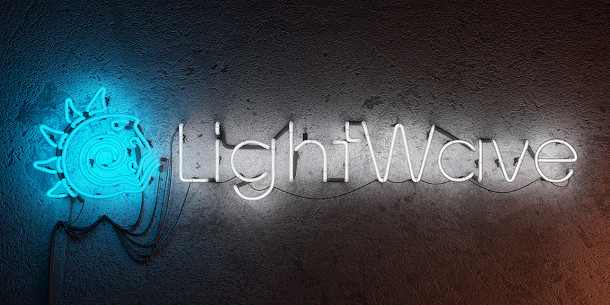 Originally posted on 13 December 2017. Scroll down for news of the final release.
NewTek has announced that LightWave 2018, the long-awaited new version of its 3D modelling and animation software, will ship on 1 January 2018.
The update adds a new PBR and volumetric rendering system, a 3ds Max-style modifier stack, and greater synchronisation between the software's component applications, Modeler and Layout.
Although the release itself has been over three years in the making, the announcement still comes as something of a surprise, following ten months of silence on NewTek's development blog.
The release formerly codenamed 'LightWave Next'
We first started writing about LightWave 2018 over two years ago, when NewTek originally launched its development blog, at which point it was still just codenamed 'LightWave Next'.
The blog posts are still the best source of information on the new features, so for more detail, check out our original stories: one on the features announced in 2015 and 2016 and one on those announced in 2017.

The headline feature of LightWave 2018 is the new render engine, which supports both physically based shading and improved handling of volumetrics. Demo by NewTek UX/product design manager Matt Gorner.

New in LightWave 2018: PBR rendering and better volumetrics
Of the new features, the most obvious is the physically based rendering system.
On the development blog, the new engine was described as removing the distinction between the Viewport Preview Renderer and final-quality rendering "because those are now the same thing entirely".
In addition to improving visual fidelity, the engine introduces new functionality for rendering volumetrics, with the option to assign physically based properties like scattering, absorption and emission.
As well as its own native volumetric render primitive, LightWave 2018 can also now read data exported from other DCC applications in OpenVDB format.
Updates to shading, lighting and FiberFX
The new render engine brings corresponding updates to LightWave's Surface Editor and lighting system.
The latter include new physical lights, which can be made visible or invisible to the camera; the option to covert any geometry into a mesh light; and better handling of real-world IES lighting data.
Updated 27 December 2017: NewTek has posted a blog update showing some of these features in more detail, along with the new node-based shading system for lights.
FiberFX, LightWave's hair system, has been integrated more closely with the new features: fibers are now true raytraced primitives, and can be reflected, refracted, and affected by volumetrics, DoF and motion blur.
LightWave 2018 also improves handling of render buffers, including the option to preview individual render passes in the VPR; and the option to define presets for custom combinations of buffers exported.
There is also one other new feature not covered in the original blog posts: a denoise filter for cleaning up fast, low-sample renders, along the lines of those now standard in renderers like RenderMan and V-Ray.

LightWave 2018's new non-photorealistic rendering features in action: an animated tribute to Go Nagai's Mazinger Z, created by LightWave 3D content and character technology lead Lino Grandi.

New cel-shading options, plus better OpenGL previews of render effects
As well as photorealistic output, the changes to the render architecture extend to non-photorealistic rendering, with the addition of a new Cel Shader Integrator.
The new product website describes it as "[enabling] gradient-based cel shading, while Edge Rendering can now use any material available in the Surface Editor to shade any line".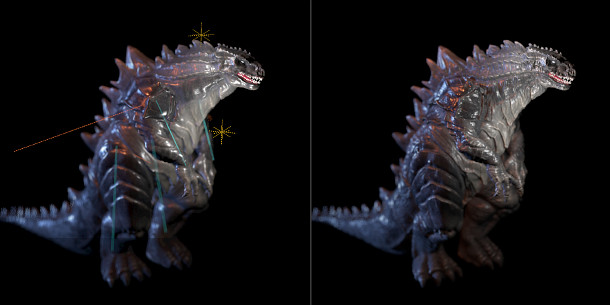 The new PBROpenGL mode in the LightWave 2018 viewport (left) vs the VPR display (right).

Cel shading is also accurately represented in the OpenGL preview – considerably improved in LightWave 2018, to judge from the test images above – speeding up look development.
New unified mesh system marks the start of under-the-hood changes to Modeler and Layout
Under the hood, the release introduces a new unified mesh system across the two separate applications that make up LightWave: Modeler and Layout.
Although LightWave 2018 preserves that same love-it-or-loathe it split, workflow between the two apps has been streamlined a bit, including the option to show the current Layout camera view within Modeler.
Perhaps more significantly, the unified mesh system – based on that of sister app ChronoSculpt – promises performance improvements when working with dense meshes.
NewTek hasn't put any figures on that speed boost, but forum posts from beta testers suggest that it can be significant in production.
The update also introduces a new 3ds Max-style modifier stack, enabling users to add, reorder or disable modifiers to a mesh non-destructively.
Unlike the existing Deform tab, it works with any deformer, and enables users to control the order of execution precisely: for example, meshes can be deformed before or after subdivision.
Other changes: new VR camera, UDIM support, UI updates
Other new features in LightWave 2018 include a new virtual reality camera for rendering 360-degree footage in spherical or cylindrical formats; and support for parametric shapes in Layout.
For users who need to get data into other DCC tools, LightWave now supports the UDIM UV layout format used in tools like Mari; and, according to forum posts, it is possible to export FBX files directly from Modeler.
The interface has also been partially overhauled: according to UX and product design manager Matt Gorner, parts of the GUI now use industry-standard programming framework Qt, "but the rest … needs to updated".
We don't have a detailed run-down of the changes, but the product website lists support for floating viewports as one of the new workflow features.

Although not part of the core application, LightWave 2018 will be able to read procedural materials in Allegorithmic's Substance format, via third-party developer Origami Digital's upcoming add-on tools.

Support for key third-party plugins from day one
According to posts in the announcement thread on NewTek's forum, many of the key third-party plugins should be available for LightWave 2018 from day one.
Those confirmed to work in 2018 include cloth simulator SyFlex, GPU renderer OctaneRender and modelling toolset LWCAD, while fluid simulator TurbulenceFD "mostly works".
Updated 27 December 2017: db&w also confirms that most of its shading and rendering plugins will be available for LightWave 2018 on is release.
There is also one significant new plugin: as well as making its existing tools ready for LightWave 2018, Origami Digital is working on an importer for materials in Allegorithmic's widely used Substance format.
Mixed reactions from long-term LightWave users
Reactions to the announcement of LightWave 2018's feature set and release date could broadly be summarised as either 'at long last' or 'too little, too late'.
In the former camp, more common on NewTek's own forum, users have welcomed the new physically based renderer, more streamlined shading workflow, and better interactive performance.
In the latter, users point out that the release comes over three years after LightWave 2015, which itself was felt to be more of an iterative improvement than a real game-changer.
In particular, the lack of major updates to the modelling tools comes under fire, as does the continued separation of Modeler and Layout.
A change of leadership for LightWave?
The release may also mark a change of product leadership: according to this thread on Foundry's forum, Rob Powers – president of NewTek's LightWave group, and the man responsible for steering development for the past seven years – has announced in a now-removed Facebook post that he has left the company.
We'll update if we confirm that, but it seems to be borne out by the fact that the shipping date for LightWave 2018 was announced not by Powers himself but by NewTek VP of marketing Donetta Colboch.
In her forum post, Colboch writes: "I realise you may have a lot of questions about why things have unfolded the way they have over the last couple of years, but in all honesty, I do not know."
In a nod to the slow development process and lack of status updates over the past year, Colboch comments:
"I have read the discussions and completely understand your pain and frustration. Believe me… no company sets out to disappoint their loyal fans. I hope you'll give us the opportunity to earn your trust again."

Updated 1 January 2018: LightWave 2018 is now officially shipping. As well as the links below, you can find the full online documentation here.

Pricing and availability
LightWave 2018 is available for 64-bit Windows 7+ and Mac OS X 10.7.5+. New licences cost $995, and users of any previous version of LightWave can update for $295 until 31 March 2018.

Read NewTek's forum post announcing the release date for LightWave 2018
Read an overview of the new features in LightWave 2018 on NewTek's new product website