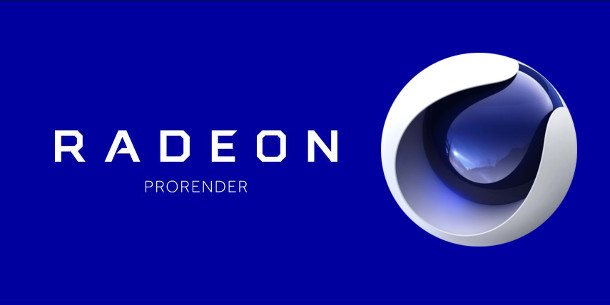 Maxon has announced that it is to adopt Radeon ProRender, AMD's OpenCL-based render engine, for GPU rendering within Cinema 4D.
The integration, which is being developed by both Maxon and AMD's development teams, will be rolled out "over several release cycles" of the software.
The first native implementation of ProRender
The announcement is a significant endorsement for ProRender, which has been slowly gaining ground since its initial proof-of-concept release under the name FireRender at Siggraph 2014.
An unbiased path tracer with the basic range of features you would expect in a physically correct renderer, ProRender now comes with plugins for 3ds Max, Maya, Rhino and SolidWorks.
While the former was co-developed by Corona Renderer creator Render Legion, the C4D implementation will be the first time that a major DCC tools developer has adopted ProRender as its native GPU renderer.
One of the few cross-platform GPU-based rendering solutions
In Maxon's case, a key deciding factor will have been the popularity of Macs among its user base.
With AMD's GPUs the only discrete graphics cards offered in the Mac Pro – and now the new MacBook Pros – the company needs a GPU rendering solution that supports AMD hardware.
That means one based on the cross-platform OpenCL GPU computing framework, not CUDA, Nvidia's proprietary alternative.
Although there are a number of existing third-party GPU renderers for Cinema 4D, the majority – including OctaneRender, Iray and FurryBall – are CUDA-based.
ProRender is one of relatively few available OpenCL-compatible solutions.
While Blender's Cycles engine – which forms the basis for Insydium's upcoming Cycles 4D render plugin – is OpenCL-compatible, The Blender Foundation hasn't always seen eye to eye with Apple over OpenCL.
According to Maxon: "ProRender will fully support Nvidia as well as [AMD] graphics cards on Windows, and as the vendor of choice for Apple hardware, AMD is in the best possible position to support [Mac OS X]."
Feature list and release dates not yet confirmed
Maxon's announcement, which was posted by the company's director of engineering, Karsten Jancke, doesn't go into detail about how or when ProRender will be integrated into Cinema 4D.
On the former point, Jancke notes that ProRender currently supports "virtually all the physical rendering attributes you'd expect", and that Maxon is working with AMD to "add key features".
The implementation looks likely to be in addition to C4D's existing Physical Renderer, not as a replacement for it: Jancke comments that "we continue to believe that there's a place for CPU rendering solutions".
On the latter point, if Maxon follows its usual annual release cycle, we'd expect ProRender to make its first appearance within Cinema 4D R19 next year.
According to Jancke, "We'll be working over several release cycles to bring you more great features based on ProRender and fully support the fundamental feature set of Cinema 4D."

Read more about Maxon's adoption of Radeon ProRender in Cinema 4D on the company's blog
Tags: AMD, Blender, C4D, Cinema 4D, Cinema 4D R19, CUDA, Cycles, Cycles 4D, Featured Articles, FireRender, FurryBall, GPU rendering, GPU-accelerated, GPU-based, Insydium, iray, Karsten Jancke, Mac OS X, Mac Pro, MacBook Pro, Maxon, NVIDIA, OctaneRender, OpenCL, Physical renderer, Radeon ProRender, release date, rendering