Thursday, December 19th, 2013

Posted by Jim Thacker
New Mac Pro looks like a trash can, goes like a rocket
Originally posted on 11 June 2013. Scroll down for updates.
Apple has announced the specfications of its new Mac Pro workstation, promising "breakthrough performance" in a unit an eighth the size of its current desktops – and a completely different shape.
Announcing the new Mac Pro during his presentation at Apple's Worldwide Developer Conference (above), Apple SVP Phil Schiller drily commented: "Can't innovate any more, my ass."
As anyone who remembers old Mac workstations like the ill-fated Cube will know, 'innovative' doesn't necessarily mean 'practical', 'expansible' or 'affordable'.
Fortunately, the information so far suggests that the new Mac Pro fares well on at least two of those fronts.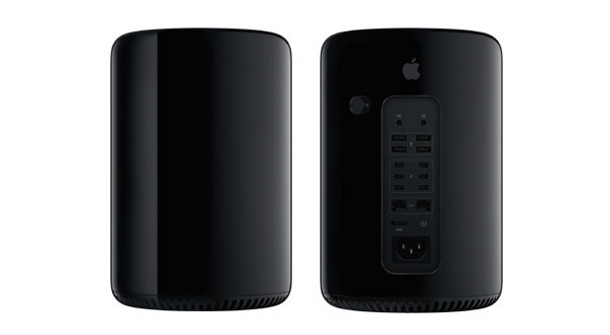 Sleek power tool, or space-age trash can?
The most obvious talking point is the shape: the new Mac Pro is a sleek aluminium cylinder.
Detractors have already been having fun mocking the design as a 'trash can' or an 'ashtray' – but whether you love or hate the look, you can't argue that it isn't distinctive.
And at 9.9″ tall and 6.6″ in diameter, it lives up to Apple's claim to be "a pro desktop computer that can actually sit on your desk".
(Of course, whether you actually want it on your desktop depends on how noisy it is – about which, more later.)
But being cylindrical, this is definitely a workstation, rather than a machine to put in a farm: as one CGTalk user put it: "How the hell do you rack mount this thing?"
Good on CPU cores, great on memory
Inside, the new Mac Pro uses the Intel Xeon E5 chipset, "with configurations offering up to 12 [processing] cores".
That's pretty impressive, although existing top-of-the-range Windows workstations go up to 16 cores. It will be interesting to see how easy Apple makes it to upgrade.
Memory looks good, though: the Mac Pro features a four-channel DDR3 controller running at 1866MHz, as opposed to the standard 1600MHz; and delivering up to 60GB/s memory bandwidth – up from 30GB/s on the current model.
Top-of-the-range graphics
For graphics, the new Mac Pro uses two "state-of-the-art" AMD FirePro GPUs with 6GB of dedicated VRAM.
That's also pretty cool, although we're not sure whether "state-of-the-art" means that these are AMD's existing top-of-the-range W9000s or a small form-factor equivalent – again, with implications for upgrades.
Fast storage – but not cheap or internal?
The Mac Pro uses PCIe flash storage. Apple notes that this is "up to 2.5 times faster than the fastest SATA-based solid-state drive and up to 10 times faster than a 7200-rpm SATA hard drive" – but it probably won't come cheap.
And since the size and casing design of the workstation limits internal upgrades, it's probably also going to mean that most grahics professionals will wind up using external drives.
Fortunately, the new Mac Pro comes with a lot of ports: six Thunderbolt 2, four USB3, two Gigabit Ethernet and an HDMI 1.4 port. Since you can daisy-chain up to six peripherals via Thunderbolt 2, that should mean a lot of external storage capacity without having to create a cat's cradle of cables.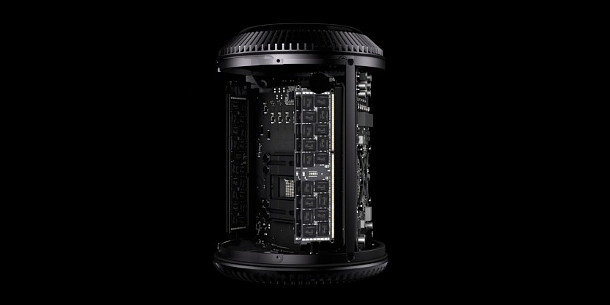 Innovating cooling design
One of the most intriguing things about the new Mac Pro is the cooling system (above): rather than using individual fans and sinks, the system is built around a single piece of extruded aluminium designed to maximise airflow.
Since the CPU and GPUs share the core, if one processor isn't running under high load, the 'spare' cooling power can be used by the others.
According to Apple: "No computer has been built this way before. And yet it makes so much sense, it's now hard to imagine building one any other way."
How well that claim stands up depends on how well the system functions when everything is under load – and, given that the Mac Pro is specifically designed to sit on a desktop, how much noise it kicks out: good cooling is little comfort if your workstation sounds like a jet engine.
Powerful on paper – and maybe more?
Unsresolved details aside, the new Mac Pro looks to be a powerful machine, and on paper, one that should hold its own against existing top-of-the range Windows workstations from vendors like HP and Dell.
In fact, reports from the privileged few working on test units suggest that it may even be better, with The Foundry product manager Jack Greasley commenting: "It [has] the best off-the-shelf performance I have ever seen."
Ingriguingly, Greasley also responds to a comment noting that you could build a Windows machine with more processor cores and RAM by noting: "Don't assume that there will be just one of anything."
Updated: Jack Greasley has been in touch to expand on his forum post. He notes that while he has no specific information on the Mac Pro specifications, "the architecture seems to be flexible … and I think that this machine could be even more powerful".
No shipping or pricing information yet
Apple hasn't released any information about pricing or shipping dates yet, beyond simply 'later this year'.
Whether it's quite the revolution in workstation design the company is claiming remains to be seen – but from what we've seen so far, the new Mac Pro is a machine that a lot of people will be very interested to get their hands on.

Updated 23 October: Apple has revealed the prices and base specs for the Mac Pro.
The basic model, which features a 3.7GHz quad-core Intel Xeon E5 processor, 12GB of DDR3 memory and dual AMD FirePro D300 GPUs, will set you back $2,999.
In terms of compute performance and memory bandwidth, the D300 is broadly in line with AMD's existing high-end FirePro W7000 – although the W7000 has more on-board memory: 4GB compared to the D300's 2GB.
$3,999 gets you a Mac Pro with a 3.5GHz six-core E5 processor, 16GB DDR3 RAM, and dual 3GB FirePro D500 GPUs: again, similar to the W7000 in terms of compute performance, but with much higher memory bandwidth.
A competitive offering?
There have already been rumblings online about lack of extensibility and price – but for an off-the-shelf professional machine, the new Mac Pro holds up reasonably well.
While it's difficult to make an exact comparison, the prices are (very) roughly what you'd expect to pay for a similarly specced Windows-based professional workstation from a large vendor like HP or Dell.
The most unusual part of the spec is that you get dual GPUs as standard, but only a single CPU. How useful that is to you really depends on whether your key software can take advantage of those graphics processors.
Updated 19 December: The new Mac Pros are now available to order. Read Apple's news release, or visit the company's online store. According to Apple, orders placed now should ship in February.
Read more about the new Mac Pro on Apple's teaser site
Watch Engadget's video showing the internal workings of a new Mac Pro