Tuesday, June 6th, 2017

Posted by Jim Thacker
Apple unveils the iMac Pro

Apple has unveiled the iMac Pro, an "entirely new workstation-class product line" aimed at graphics pros.
The system, which features the same all-in-one design as current iMacs, will come with a 5K display, up to an 18-core Intel Xeon CPU, an AMD Radeon Pro Vega GPU, and up to 128GB of RAM.
The iMac Pro was announced at Apple's WWDC 2017 developer conference, and is due to ship in December.
Pitching to reclaim the high-end graphics market
The announcement continues Apple's renewed focus on the high-end graphics market – a sector that it has tacitly admitted that it has not served well in recent years – following its recent revamp of the Mac Pro.
In terms of both specifications and price – it starts at $4,999 – the iMac Pro will become Apple's flagship professional system on its release in December, clocking in above both existing Mac Pros.
The system features the same all-in-one design as existing iMacs, here with a 27-inch Retina display with a maximum resolution of 5,120 x 2,880px and full support for the DCI-P3 colour gamut used in digital cinema.
That alone goes a long way towards justifying the cost: for comparison, HP's new top-of-the-range DreamColor 31x display has a slightly lower maximum resolution and colour gamut, and will cost $3,999.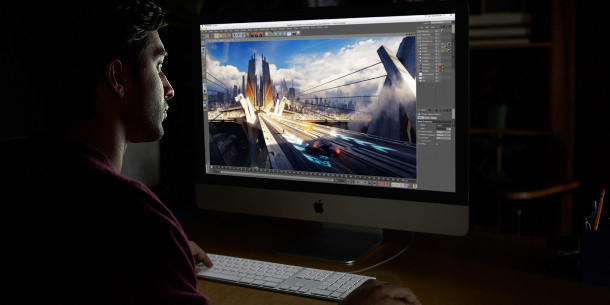 A single, high-core Intel Xeon CPU and AMD Radeon Pro Vega GPU
Like the current Mac Pros, the iMac Pro is a single-CPU machine, albeit a more powerful one: although Apple hasn't released details of the exact chips available, they will be 8-, 10- or 18-core Intel Xeons.
Unlike the Mac Pros, it's also a single-GPU machine, although Apple has stuck with its recent all-AMD policy: users will have a choice of AMD's upcoming Radeon Pro Vega 56 or 64 graphics cards.
On paper, the new GPUs have higher specs than the Radeon Pro WX Series, AMD's current-generation Windows workstation cards, so it will be interesting to see how the iMac Pro performs in benchmark tests.
You also get more memory than either current Mac Pro: a more industry-standard 32GB of 2,666MHz DDR4 RAM, upgradeable to 64GB or 128GB; and a 1TB SSD, again upgradeable to 2TB or 4TB.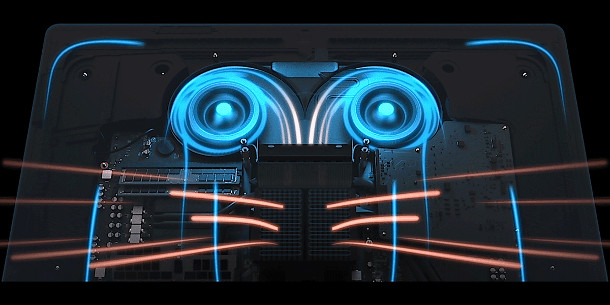 Apple's visualisation of airflow within the chassis of the iMac Pro. The firm claims that the resulting 80% increase in system thermal capacity over current-gen iMacs will allow the system a 500W power supply.
Upgradeability still a consideration, but connectivity and cooling are improved
As with current iMacs and Mac Pros, limited chassis space is going to make upgradeability a question, but you do get four Thunderbolt/USB-C ports and four USB 3.0 ports for connecting external devices.
The system is also the first Mac to support 10Gb Ethernet.
Apple has worked on thermal cooling inside the case, with the iMac Pro's 500W power supply putting it on a par with a mid-range professional Windows desktop workstation like HP's Z440.
A useful marker for the next-gen Mac Pros?
It remains to be seen whether the iMac Pro will be sufficient to reverse the drift of the graphics market – particularly DCC, but also editing and grading – from Macs to less expensive Windows and Linux boxes.
However, it is the first Mac in recent years with specifications truly comparable to current off-the-shelf professional Windows workstations, and a useful marker for Apple's next generation of pro machines.
Although Apple hasn't released details yet, it has confirmed that it is working on new modular Mac Pros, due for release some time in 2018 – and presumably, with specifications a notch higher than the iMac Pro.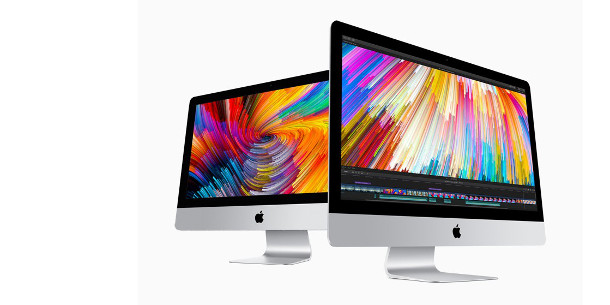 Out now: new iMacs, MacBooks and MacBook Pros
In the shorter term, Apple has also refreshed its existing iMac product line-up.
The new iMacs feature the same display technology as the Mac Pro – and, in the case of the 27-inch model, what looks to the the exact same 5K display: something of a bargain, considering the $1,799 starting price.
The other components are similar, but scaled down: the iMac Pro's Xeon CPUs become Core i5s or Core i7s: dual or quad-core in the case of the 21.5-inch models, higher-end quad-cores in the 27-inch model.
The GPUs have also been upgraded, although to AMD's new Radeon Pro 500 series rather than the Vegas.
In terms of memory, you get between 8GB and 64GB of RAM; and between 128GB and 2TB of SSD storage – more if you opt for Fusion Drive, Apple's proprietary hybrid storage solution.
According to Apple, "the 21.5-inch model delivers up to three times faster performance and the 27-inch model is up to 50% faster" than their previous-gen equivalents.
The firm has done a similar refresh of its MacBook and MacBook Pro lines of mobile workstations.
Pricing and availability
The iMac Pro is expected to ship in December, with prices starting at $4,999.
The new iMacs are available now, with the 21.5-inch models starting at $1,099 for HD displays and integrated graphics, or $1,299 for Retina displays and AMD graphics; and at $1,799 for the 27-inch model.

Read more about the new iMac Pro on Apple's product website
Find full specifications for the new iMacs in Apple's online store