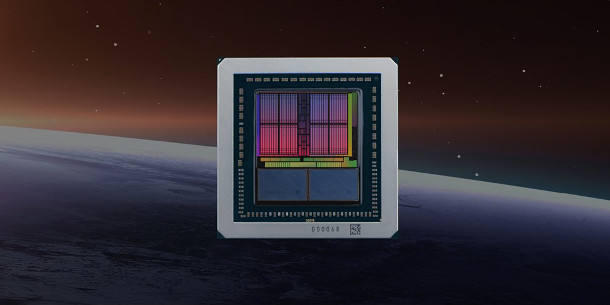 AMD has unveiled seven new professional workstation graphics cards in its Radeon Pro line-up: the high-end Vega 64 and 56, and the five new cards of the Radeon Pro 500 Series: the 580, 575, 570, 560 and 555.
All of the cards were announced at WWDC 2017, Apple's worldwide developer conference: the Radeon 500 series is shipping in Apple's new iMacs, while the Vega cards will follow in the iMac Pro this December.
AMD's new Vega GPU architecture: high data throughput and memory switching
At the top of the range, the Vega 64 and 56 will be based on AMD's Vega architecture, which introduces its new NCU (Next-Generation Creation Unit) technology, and uses HBM2 memory in place of GDDR5.
The former – the next iteration of or successor to AMD's GCN (Graphics Core Next) tech, depending on how you view it – improves processing of 8-bit and 16-bit data types, speeding up tasks for which full 32-bit floating-point precision is not needed: in which category, AMD includes ray tracing and video processing.
It also features a new programmable geometry pipeline with double the peak throughput per clock.
The latter trades high-clock-speed, lower-bandwidth memory for lower-clock-speed, high-bandwidth memory with the aim of improving performance when data sets are larger that can fit into local storage: for example, in DCC work, when a scene being rendered on the GPU is larger than the available graphics memory.
Unlike the original HBM used in AMD's Radeon R9 gaming cards, HMB2 is not capped at 1GB per memory stack, raising the maximum total graphics memory per card from 4GB to a theoretical 32GB.
This increased capacity makes HBM2 a better fit for tasks involving large data sets, like GPU rendering.
The new Radeon Pro Vega 64 and 56: outperforming AMD's current Windows GPUs
The Vega 64 and 56 are the first cards using the new Vega architecture to be pitched unambiguously at artists: the Vega Frontier Edition, unveiled in May, was marketed more towards data scientists.
AMD hasn't posted details on its website yet, but according to Wccftech, the Vega 64 has pretty much the same specs as the Frontier Edition: 13 Tflops of single-precision compute performance and 16GB of HBM2.
The Vega 56 features a "cut-back" architecture with 56 compute units instead of 64, giving it a peak single-precision floating-point compute performance of 11 Tflops; and it comes with 8GB HBM2.
However, that still makes it more powerful than any of AMD's current cards for Windows workstations: the high-end Radeon Pro WX 7100 has a peak performance of 5.7 Tflops and 8GB of GDDR5 memory.
The Radeon 500 series: similar but lower specs to the equivalent Windows cards
In contrast, the Radeon Pro 500 series use the same Polaris architecture as the Windows cards, which means GCN generation 4 instead of NCU, and GDDR5 memory instead of HBM2.
Their specs are also similar to the equivalent Windows cards, if slightly lower.
The top-of-the-range Radeon Pro 580 has a peak single-precision performance of 5.5 Tflops, compared to 5.7 Tflops for the Radeon Pro WX 7100, although both have 8GB of graphics memory.
The mid-range Radeon Pro 570 has a peak performance of 3.6 Tflops and 4GB of graphics memory, compared to 3.9 Tflops and 8GB for the Radeon Pro WX 5100.
The low-end Radeon Pro 560 has a peak performance of 1.9 Tflops and 4GB of graphics memory, compared to 2.5 Tflops and 4GB for the Radeon Pro WX 4100.
The other two new cards, the Radeon Pro 575 and 555, have intermediate specs: 4.5 Tflops and 4GB, and 1.3 Tflops and 2GB of graphics RAM – the latter of which seems a bit under-powered for modern DCC work.
All of the cards support OpenCL and Apple's own Metal GPU computing API, which makes them compatible with most DCC applications that actually run on a Mac – although it does rule out several third-party renderers that use Nvidia's CUDA API, including OctaneRender, Redshift and Mental Ray for Maya.
Pricing and availability
The Radeon 500 series cards are available now in Apple's current-gen iMacs: the Radeon Pro 580, 575 and 570 in 27-inch models, and the 560 and 555 in 21.5-inch models.
The Radeon Vega 64 and 56 will ship with the iMac Pro in December 2017.

Read more about the new Radeon Pro 500 series GPUs on AMD's website
Read more about the new Radeon Pro Vega architecture on AMD's website
Tags: 16-bit precision, 32-bit floating point precision, 8-bit precision, AMD, Apple, compute performance, floating-point, GCN, GDDR5, GPU rendering, graphics memory, graphics pipeline, HBM2, High Bandwidth Memory, iMac, iMac Pro, memory, NCU, OpenCL, Polaris architecture, price, Radeon Pro, Radeon Pro 500 series, Radeon Pro 555, Radeon Pro 560, Radeon Pro 570, Radeon Pro 575, Radeon Pro 580, Radeon Pro Vega, Radeon Pro Vega 56, Radeon Pro Vega 64, Radeon Pro Vega Frontier Edition, ray tracing, single precision, specifications, speed, Vega architecture, video processing, VRAM, WWDC 2017