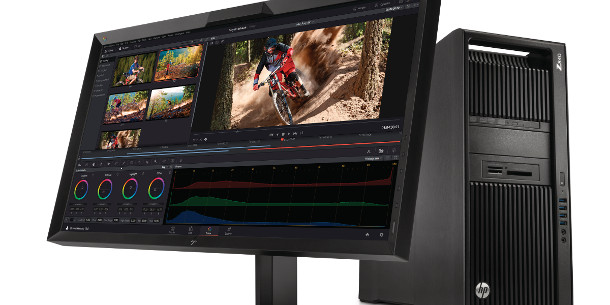 HP has announced two new models in its DreamColor line of professional displays for CG artists, the top-of-the-range DreamColor Z31x, and the firm's cheapest model to date, the DreamColor Z24x G2.
Both were announced to coincide with NAB 2017, along with four new HP ZBook mobile workstations.
The DreamColor Z31x: a new top-of-the-range display
At the top of the range, the new 31-inch Z31x joins the existing Z32x.
Although fractionally smaller than its predecessor (it's 31.1″ as opposed to 31.5″), it has a higher maximum resolution, supporting Cinema 4K (4,096 x 2,160px) as well as standard 4K (3,840 x 2,160px).
It also features what HP describes as "true 2K", displaying 2K footage pixel-for-pixel, without scaling.
Like the Z32x, it's an IPS panel, and supports 100% of the sRGB and Adobe RGB colour gamuts, along with 99% of the DCI-P3 gamut used in digital cinema projection, and 80% of the BT.2020 UHDTV gamut.
The static contrast ratio is higher than the Z32x (1,500:1 as opposed to 1,000:1), which HP says should result in richer blacks; and like the Z32x, it has a 178-degree viewing angle.
Connectivity is similar, though the Z31x also has a USB-C port, on top of HDMI 2.0 and DisplayPort 1.2.
Built-in colorimeter and KVM switch
However, the most visible difference between the Z31x and its predecessor is its built-in hardware. The display features its own built-in colorimeter, which extends down from a hood at the top of the screen.
Calibration can be controlled remotely by studio administrators, with use cases cited by HP includihg recalibrate every artist's display automatically overnight after a set number of hours of work.
The display also features its own KVM switch, intended for artists who want to use a single display with separate Linux and Windows workstations – for 3D software and Adobe tools, for example.
You really do pay for the extra kit, though: at the time of posting, you can buy a Z32x from HP's website for $1,399, whereas the Z31x is expected to cost over twice that – a whopping $3,999.
The DreamColor Z24x G2: like the Z24x, but cheaper
A far more affordable option is the new 24-inch DreamColor Z24x G2, which replaces the existing Z24x.
Aside from minor changes to the connectivity, the specs are virtually unchanged (1,920 x 1,200px maximum resolution, 99% Adobe RGB colour gamut, 1,000:1 static contrast ratio, 178-degree viewing angle).
However, it is $40 cheaper than its predecessor: $559, as opposed to $599.
Pricing and availability
The DreamColor Z24x G2 display is due to ship in early July, and will cost $559. The Z31x will be available "later this year", and will cost $3,999.
Read more about HP's DreamColor displays on the firm's product website
Tags: AdobeRGB, BT.2020, Cinema 4K, colorimeter, connectivity, DCI-P3, display, DisplayPort, DreamColor, HDMI, high color gamut, HP, IPS panel, KVM switch, monitor, NAB 2017, price, professional display, resolution, shipping date, sRGB, true 2K, UHDTV, USB-C