Tuesday, June 4th, 2019

Posted by Jim Thacker
Apple unveils 'modular, flexible' new 2019 Mac Pro

Originally posted on 4 June 2019. Scroll down for news of the commercial release.
Apple has unveiled its long-awaited new design for its Mac Pro professional workstation at WWDC 2019.
Described as being designed with a focus on "modularity and flexibility", the new machines will come with up to a 28-core Intel Xeon W CPU, 1.5TB RAM and up to four AMD Radeon Pro Vega II GPUs.
The new Mac Pro is expect to begin shipping this fall, with key DCC software developers including Adobe, Autodesk, Foundry, Maxon, Otoy, SideFX and Unity already having announced support in their software.
Addressing the failings of the 2013 trash can Mac Pro?
The new model is the first major overhaul of the Mac Pro since 2013's opinion-dividing 'trash can' design.
It would come to be seen as a misstep by many in the industry, with Apple later admitting that it "didn't well suit some of the people we were trying to reach".
For graphics professionals, a key concern was the trashcan design's lack of upgradability: with limited scope to swap out internal components, you were stuck with the default single-CPU, dual-CPU configuration.
Choice of GPU was also an issue: with only AMD cards available, it was pointless to use GPU renderers that required Nvidia's CUDA API, like OctaneRender and Redshift.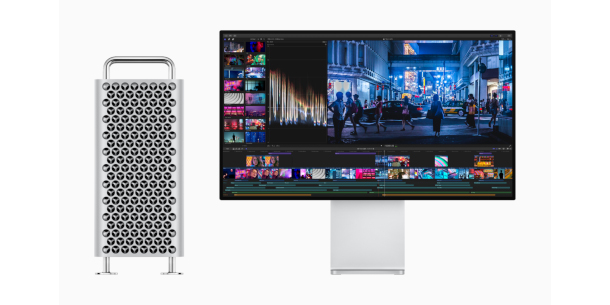 A new take on the old 'cheese grater' chassis
The new design – a return to the Mac Pro's old 'cheese grater' look – addresses at least the first of those concerns, dividing the internal subsystems into literal modules.
Within them, components can be swapped or added, making it possible to upgrade – within limits, at least.
One restriction is that, unlike many current high-end Windows workstations, the new Mac Pro is a single-processor design: there are five different CPUs available, offering between 8 and 28 CPU cores.
Interestingly, given Apple's relationship with AMD, all are Intel Xeon W processors: it hasn't opted for AMD's higher core-count Threadripper chips, like the 32-core Ryzen Threadripper 2990WX.
For system memory, the new Mac Pro uses either 2666MHz or 2933MHz DDR4 ECC RAM. There are 12 separate DIMM slots, making it possible to install up to 1.5TB of memory.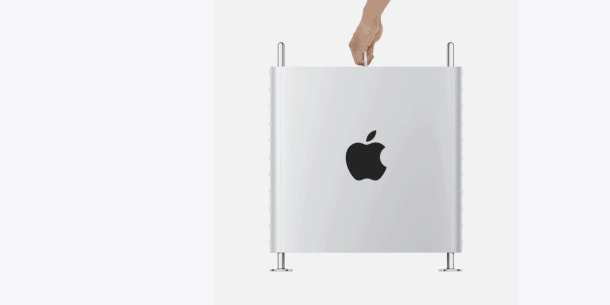 Available GPUs include AMD's new Radeon Pro Vega II
During his section of the WWDC keynote – you can find it at 01:20:00 in this video – Apple VP of hardware engineering John Ternus described the design as "bringing PCI expansion back to the Mac in a big way".
That means eight PCIe slots, although one is occupied by an I/O card, leaving a total of seven into which you can actually plug your own hardware.
They're a mixture of x8 and x16 slots, with how many of each you get depending partly on whether you choose to install Apple's Mac Pro Expansion (MPX) modules.
Each one holds up to two GPUs – there is a choice of AMD's Radeon Pro 580X or its new Radeon Pro Vega II and Radeon Pro Vega II Duo – and you can have up to two modules, making up to four GPUs in total.
With each module, the GPUs are connected via AMD's Infinity Fabric interconnection technology.
In his speech, Ternus described the combination of two Radeon Pro Vega IIs as forming "the world's most powerful graphics card", although – on paper, at least – that's debatable.
Each Vega II offers 32GB of HBM2 memory and an FP32 compute performance of 14.2Tflops, compared to 48GB of GDDR6 memory and 16.3TFlops for Nvidia's Quadro RTX 8000, which can also be linked in pairs.
And while that difference in specs will probably be of limited concern to all but extreme power users, there was no mention at all of support for Nvidia GPUs during the keynote.
New Afterburner card accelerates video editing and grading
One other interesting optional piece of hardware is Apple's Afterburner card: a customisable FPGA designed to accelerate video editing workflows.
According to Ternus, a Mac Pro with an Afterburner card can play back up to three streams of 8K ProRes RAW footage or 12 streams of 4K ProRes RAW footage, removing the need for proxies.
More standard external connectivity and system storage
For external connectivity, the new Mac Pro comes with dual 10GB Ethernet ports, plus two Thunderbolt 3 and two USB3 ports on the I/O card, and two further Thunderbolt 3 ports on the top of the chassis.
That's a lower total than many high-end Windows systems – although if you opt for the Radeon Pro Vega II, each GPU comes with four Thunderbolt 3 ports of its own, so that may be a moot point.
Internal storage is purely SSD-based: you can have up to two SSDs, providing a total storage capacity of between 256GB and 4TB.
Quiet and well-cooled, but still needs a hefty power supply
To feed all of those components, the Mac Pro comes with a pretty mammoth 1.4kW power supply.
That fact was announced with some pride during the keynote, although given that increased power consumption also increases a workstation's running costs, users may be more ambivalent.
Cooling makes use of that cheese grater design, although this time round, the air vents on the chassis are larger, divided into two layers, and fed by three system fans.
The keynote didn't show a real machine in action, but Ternus commented that it should run as quietly as current models.
One other nice touch is the wheels at the foot of the chassis: they're optional, but should prove handy for anyone who has to move workstations around the studio a lot.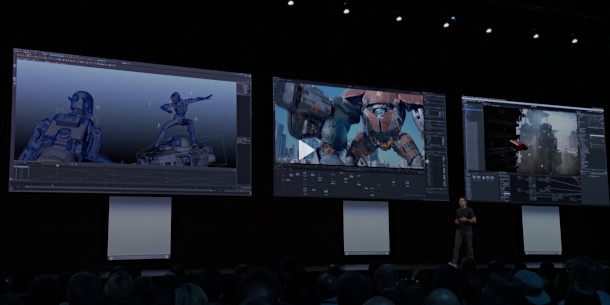 Support among DCC tools developers – including new versions of Redshift and OctaneRender
Another interesting part of the keynote was the section on the DCC software available for the Mac Pro.
A range of key tools developers have already announced support for the new model, including Adobe, Autodesk, Avid, Blackmagic Design, Foundry, Maxon, Pixar, Serif, SideFX and Unity Technologies.
Interestingly, Apple also revealed that both Maxon and Otoy are working on new versions of Redshift and OctaneRender optimised for its Metal API – in tweets, Otoy refers to the latter as 'Octane X'.
That should make it feasible to use two of main GPU renderers available for macOS without a Nvidia GPU – although it still leaves two key upcoming CUDA-based render engines: Arnold GPU and RenderMan XPU.
Pricing and availability
The new Mac Pro is due to ship 'this fall'.
Prices start at $5,999, which will presumably be for a machine with an 8-core GPU, 32GB RAM, single Radeon Pro 580X GPU and single 256GB SSD: expect to pay much more for higher-end systems.
Updated 11 December 2019: The new Mac Pro is now shipping.
Prices range from $5,999 to well over $50,000, while the tech press has had a lot of fun with the fact that even the optional wheels for the chassis cost $400.

Read Apple's official announcement of the 2019 Mac Pro
See the technical specifications for the 2019 Mac Pro on Apple's website