Wednesday, December 5th, 2012

Posted by Jim Thacker
Review: Dell Precision T5600 workstation



Dell's new mid-end professional workstation packs a lot of power into a small, neatly designed chassis.
Jason Lewis compared it to HP's top-of-the-range Z820 in a set of real-world tests, and came away impressed.
In my experiences, most people couldn't care less about the technical specs of the hardware they use on a daily basis. They think that even knowing what kind of technology is powering your desktop, laptop or tablet should be reserved for IT professionals, or hardcore gamers. But there is one group of computer power users that often goes unnoticed – and that is CG artists.
Creating CG content is one of the most system-intensive tasks that can be performed on a computer: even more so than gaming, and only exceeded by large-scale scientific simulations. Performance-oriented hardware is essential to your efficiency, productivity, and even your enjoyment, when creating CGI. Love it or hate it, pro or enthusiast, hardware plays a significant role in your day-to-day life, and as such, it deserves your attention.
Which is why, in this review, we are going to look at some rather high-end hardware from one of the top three PC manufacturers in the workstation arena: Dell's Precision T5600.
The T5600 in visual effects production
Dell's main competitor, HP, enjoys technology partnerships with many of the larger animation and visual effects studios. Dell is now making inroads into the same community, helping to develop technology solutions and infrastructure for some notable CG houses.
One example is the recent partnership between Dell and Tippett Studio, showcased by Tippett's recent work on The Twilight Saga: Breaking Dawn – Part 2: specifically, the development, animation, and rendering of the werewolf characters. Tippett reports a fivefold increase in the level of detail of its hair simulations, going from 2 million hairs per wolf on New Moon to 10 million hairs per wolf on Breaking Dawn – made possible, in part, by the deployment of Dell's new T3500 and T5600 workstations, along with an almost fourfold increase in the capacity of its renderfarm, which consists of Dell PowerEdge servers.
The studio claims that this new hardware pipeline – which enables it to deliver 1,000 shots per year to client as opposed to its previous maximum of 200 – has enabled it to be more competitive in an economic climate that has seen many small-to-medium-sized US facilities close up shop. A vote of confidence in Dell, then. So how will the T5600 perform in our own benchmark tests?
External specifications
In my previous review, I looked at HP's top-of-the-range Z820 workstation. The T5600 is the mid-range machine in Dell's recently redesigned Precision line-up, so the direct comparison to HP's product range would be to the Z620. But despite it being a mid-range machine, the T5600 is specced quite similarly to the Z820.
Both machines are equipped with a pair of Xeon E5-2687W eight-core CPUs running on a C602 chipset motherboard, and both are equipped with a Nvidia Quadro 5000 professional GPU. Where they differ is in the amount of RAM installed, hard drive configuration, power supply output and case layout.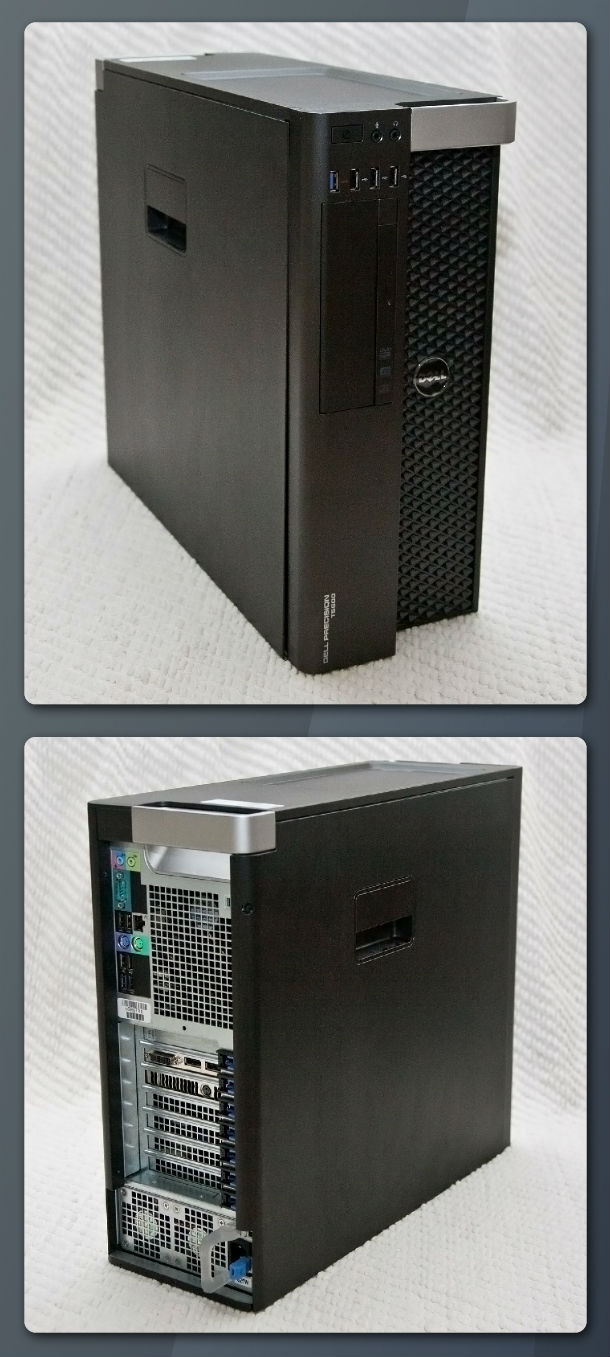 The T5600 comes in what can only be described as a compact mid-tower case. It is slightly smaller than a standard mid-tower, and significantly smaller than the deep-tower case of the Z820. The new design is significantly more compact than the previous-generation Precision workstations, and the exterior is – at least in my opinion – aesthetically more pleasing, featuring an asymmetrical front-panel design with I/O ports and an optical media drive running vertically down the left side of the case, and a large cooling vent running the length of the right side. Another small detail worth mentioning is the carry handles integrated into the top of the system. These are a welcome addition for anyone who needs to transport the system on a regular basis.
In terms of external connectivity, the T5600's array of ports is adequate, but not as comprehensive as most other professional systems of this class. On the front, there are three USB 2.0 ports and one USB 3.0 port, as well as mic and headphones jacks. On the rear are five USB 2.0 ports, one USB 3.0 port, 1 Gigabit Ethernet jack, a pair of legacy PS/2 ports for mouse and keyboard, a legacy serial port, a single mic jack and an audio line out jack.
(As an aside: I find it odd that Dell and HP include so many obsolete legacy ports in their high-end systems, where the space could better be devoted to more USB 3.0 ports, FireWire or eSATA, or even Intel's new Thunderbolt technology. If legacy ports were needed, they could simply provide a bracket housing a serial port to go into one of the expansion slot covers, and PS/2 ports that could plug in to a header on the motherboard.)
Internal layout
The internal layout of the T5600 is simple and clean. Along the top are the two Xeon CPUs with their good-sized heat pipe tower coolers, surrounded by their DDR3 memory slots. Along the bottom is the system's power supply and the two internal hard drives. In between, there is a lot of space for graphics cards and any other expansion or I/O cards. The internals are uncluttered, with cables tied and routed behind the drive bays and motherboard to allow for unrestricted airflow through the case and promote better cooling. Like the HP systems, the expansion cards and drive bays use quick-release tabs to allow for completely tool-less installations and removals.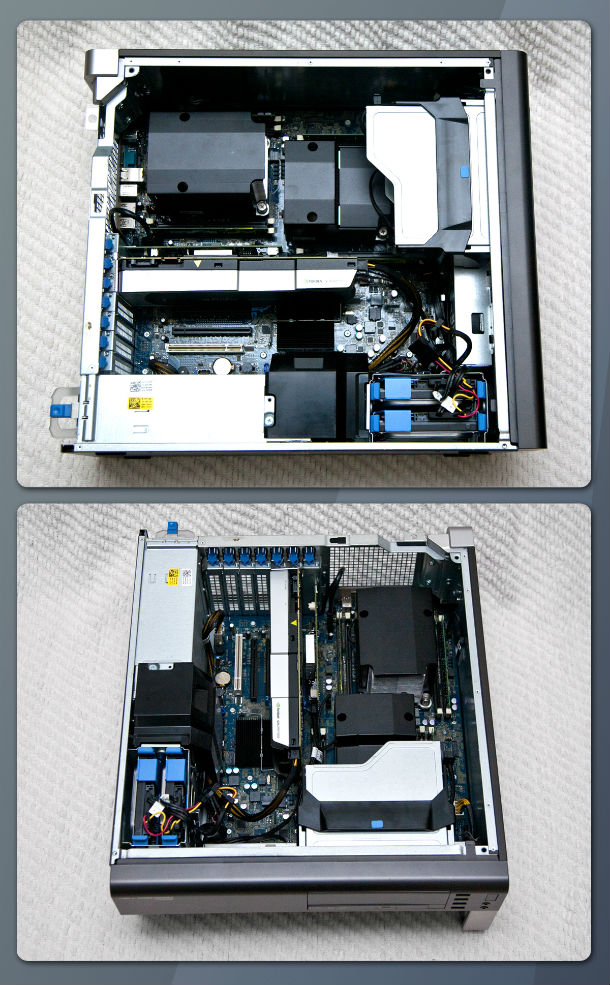 Core specifications
The T5600 is a dual-socket system supporting all of Intel's latest Xeon E5 four, six and eight-core CPUs, thereby permitting configurations running between four and 16 cores. (For a discussion of the impact of multi-core processing on the CG industry, check out 'The increasing core count' in my review of the HP Z820.) It sports quad-channel memory per CPU and has eight memory slots, and can thus support up to 32GB of RAM if using unbuffered DIMMs, or 128GB of RAM if using 16GB registered DIMMs.
Our test system came equipped with two of Intel's new Xeon eight-core E5-2687W CPUs, based on the 32nm Sandy Bridge architecture. These run at a clock speed of 3.1GHz (3.8 GHz in turbo mode when running lightly threaded applications) and support Hyper-threading, so a 16-core system can process up to 32 threads simultaneously. Our system shipped with an entry-level 8GB of DDR3 RAM.
The T5600 sports two PCI Express 3.0 x16 slots, one PCI Express 3.0 x4 slot, one PCI Express 2.0 x4 slot, one PCI Express 2.0 x1 slot and one legacy PCI slot. It has room inside for either two 3.5″ hard drives, or four 2.5″ hard drives or SSDs, as well as a single external 5.25″ drive bay. Our test system came equipped with a pair of 256GB 7200RPM SATA hard drives in a RAID 0 configuration occupying the internal drive bays.
Dell offers the entire line-up of Nvidia and AMD professional GPUs: our test system came equipped with a Nvidia Quadro 5000. Other features of note are a slimline DVD writer, and a 90% efficient 820W power supply.
Test procedure
For comparison, we also tested the following systems:
Alongside the T5600, we tested the HP Z820. Like the T5600, it has two Xeon E5-2687W CPUs and a Nvidia Quadro 5000 GPU. But whereas the mid-range T5600 has 8GB of DDR3 memory and a pair of 256GB 7200RPM SATA drives in RAID 0 configuration, the high-end Z820 has 32GB of DDR3 memory and a 300GB 15,000RPM SAS drive and a 1TB 7200RPM SATA drive.
I have also included an entry-level HP Z210 system, as it is a good baseline system with specs similar to many mid-to-high-end consumer desktops. It sports a Xeon E3 1270 quad-core CPU running at 3.4GHz on a custom-built motherboard running an Intel ID0108 chipset, 8GB of DDR3 RAM, a 160GB SSD for the system drive, and a 1TB data drive. It is equipped with an AMD FirePro V7900 GPU. (You can read a review of the Z210 here.)
For benchmarking, we used the following standard suite of DCC and rendering applications:
DCC packages
3ds Max 2012, Maya 2012, Softimage 2012, Mudbox 2012, ZBrush 4, Premiere Pro CS5.5, Fusion 6.2 LE, RealFlow 2012
CPU-based renderers
mental ray 3.9, V-Ray 2.0, Brazil r/s 2.0, Maxwell Render 2.5
GPU-based renders
iray (3ds Max 2013)
Synthetic benchmarks
Cinebench 11.5
All of our test systems ran Windows 7 Professional 64-bit with all the latest service packs and updates, and the benchmarks were recorded on a HP LP3065 30? LCD display, running at its native resolution of 2,560 x 1,600.
Benchmark results
3ds Max 2012
First up, we have the 2012 version of Autodesk's 3ds Max modeling, rendering and animation software. Together with Maya, it probably makes up a little over 80% of the DCC market: an estimate based both on information from Autodesk and my own anecdotal experience.
The following benchmarks show average viewport frame rates for rotating, panning, vertex and face editing for each model displayed. All were performed with the Nitrous viewport?s Realistic shading mode.
Viewport frame rate benchmarks with 3ds Max reveal both expected and unexpected results. As expected, given that they are running the same GPU, the T5600 and Z820 perform almost identically on the Audi A5 model. What is unexpected is that the Steampunk Tank scene runs significantly slower on the T5600, perhaps due to its lower system RAM. Generally speaking, 3ds Max performance seems to favor the Z820 slightly over the T5600.
Maya 2012
Like 3ds Max, Maya is one of the most widely used 3D applications in film, television and videogame development. Unlike 3ds Max, its core does not seem to be multi-threaded: only the rendering, dynamics and simulations. (This conclusion is based on observing CPU load monitors while working with the software: if anyone has information to the contrary, I'd be interested to hear it.)
As with the 3ds Max benchmark, the Maya benchmark is also comprised of averaged viewport frame rates for rotating, panning, vertex and face editing for each of the models shown.
As with the 3ds Max benchmarks, we have one scene that runs at very similar frame rates on the T5600 and the Z820, and one in which performance differs greatly – but this time favoring the T5600. The Landing Pad scene results are as expected, but the Troll model runs significantly faster on the T5600: odd, given that the T5600 has a significant RAM penalty over the Z820, and the troll model is so polygon-heavy. Overall, Maya seems to favor the T5600 slightly over the Z820 in terms of general responsiveness and speed.
Maya 2012 cloth dynamics
Next we have a cloth simulation done with Maya 2012?s cloth dynamics tools. The simulation is a basic flag with a Gravity and Wind force applied to it, simulated over 140 frames of animation.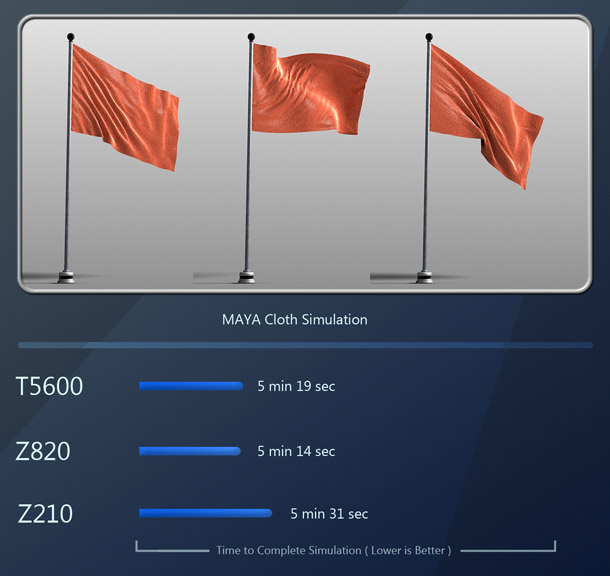 Since the cloth simulation isn't particularly memory-intensive, thus negating the Z820's RAM advantage, the results are as expected: both systems give near-identical results.
Softimage 2012
Softimage is the third DCC application in Autodesk?s line-up. It is a full-featured 3D modeling, animation and rendering package. Again, the benchmark consists of averaged frame rates for viewport rotating, panning, vertex and face editing for the scene shown.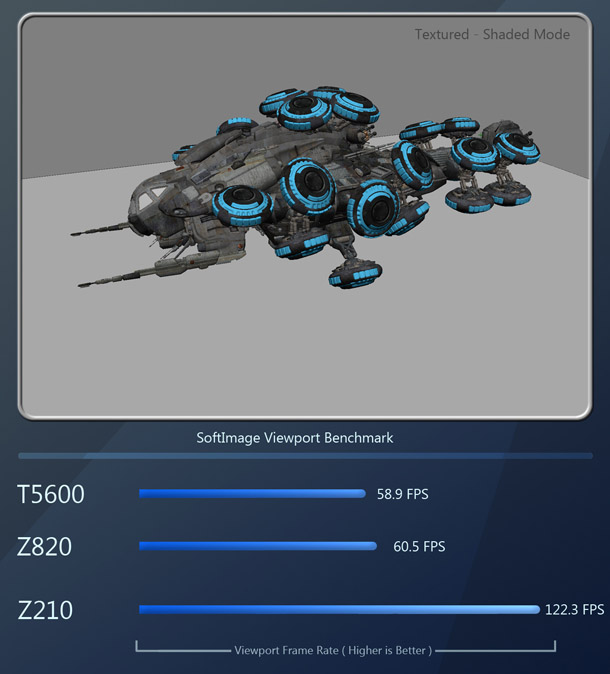 The Softimage benchmark also shows what you would expect from two systems running the same CPUs and same graphics card, with near identical results for the T5600 and Z820.
Mudbox 2012
The last piece of Autodesk software used for our benchmarks is Mudbox 2012. Unlike 3ds Max, Maya, and Softimage, Mudbox is a digital sculpting program similar to ZBrush. Sculpting applications tend to be optimised to display much higher polygon counts than their traditional DCC cousins. With this benchmark, we will look at simple viewport performance, as well as sculpting performance.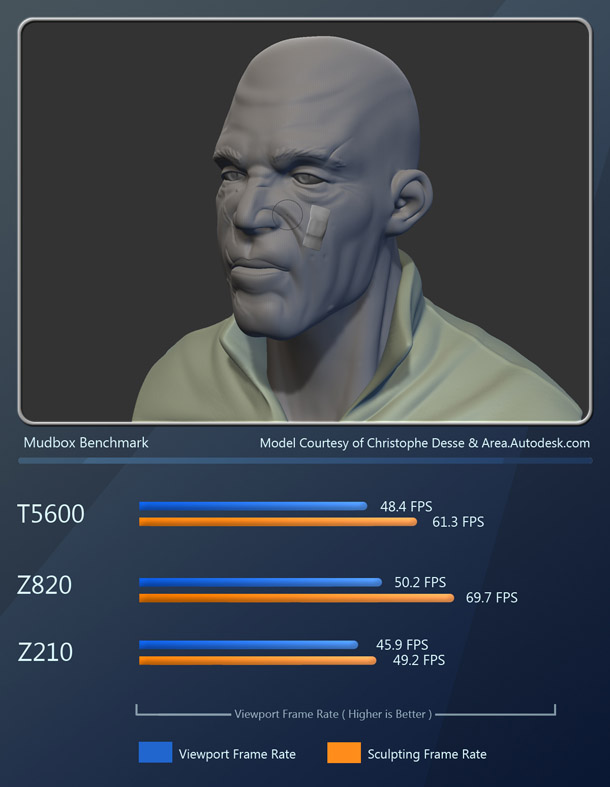 With our Mudbox benchmark, the Z820 takes a small lead over the T5600, but hardly a significant one.
ZBrush 4
ZBrush, like Mudbox, is a digital sculpting application. But whereas Mudbox taxes both the CPU and GPU, ZBrush only uses the CPU to render geometry to screen. Unfortunately, there is no way to view or record frame rate in the ZBrush viewport while sculpting an object (at least, not one that I am aware of: if you know of one, please post it in the comments to the review). Fraps will not give a readout in ZBrush, possibly because ZBrush uses its own rendering system rather than OpenGL or DirectX, so Fraps doesn't see it as a 3D application.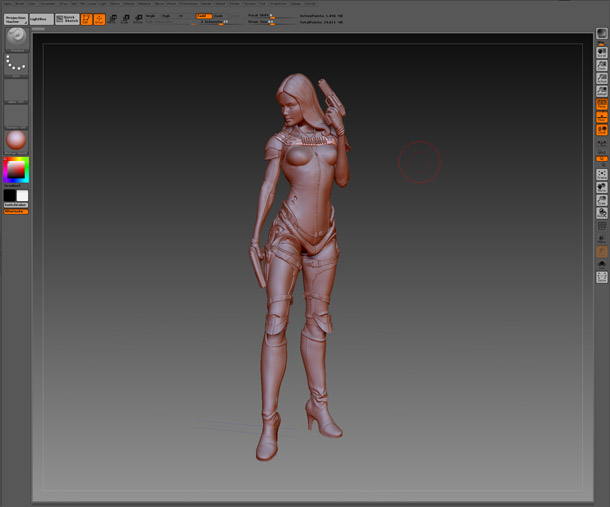 All I can really do here is convey my personal experience of using ZBrush on the test systems. ZBrush works well on almost any modern system with a fast quad or greater-core CPU. Since it is still a 32-bit application, it can only address 4GB of available system RAM, so it performs identically on the T5600 and the Z820.
Premiere Pro CS5.5
Premiere Pro is a video editing package from Adobe that is very popular in the professional DCC market. For this test we are encoding a 123-second HD 1080p video clip in the H.264 video format.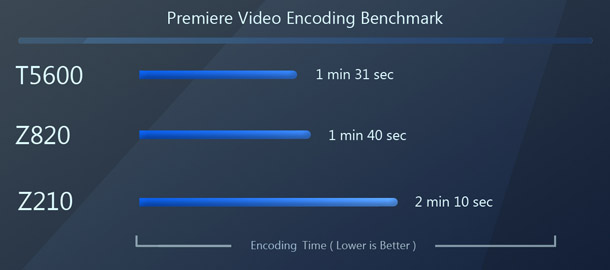 With our video encoding benchmark, the T5600 takes a slight lead over the Z820.
Fusion 6.2 LE
Fusion is a node-based compositing application. For this benchmark, we have a moderately complex composition that is 141 frames long, rendered at HD 720 resolution.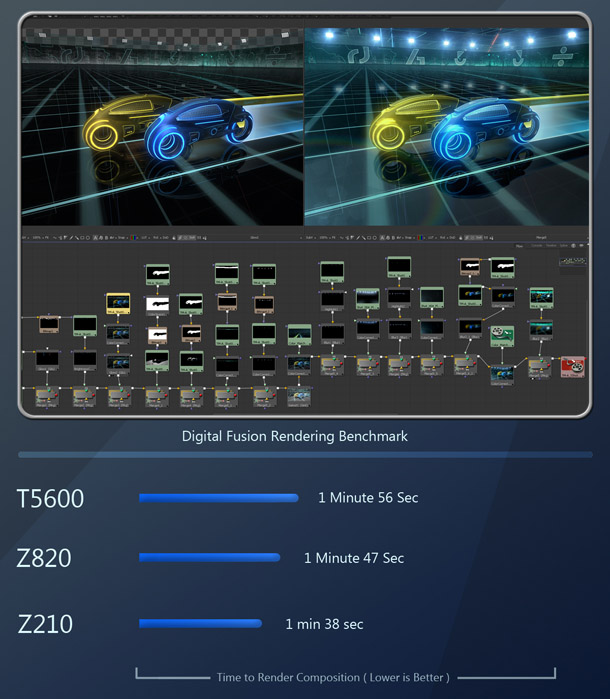 As with many of the benchmarks here, the performance of the T5600 and the Z820 is very similar.
RealFlow 2012
Next up is a new benchmark using RealFlow 2012: a hybrid grid/particle-based fluid simulation package that has become popular in commercials, broadcast and movie work. Our benchmark consists of a 700-frame simulation with one emitter and one collision object. The particle count tops out at 1.6 million.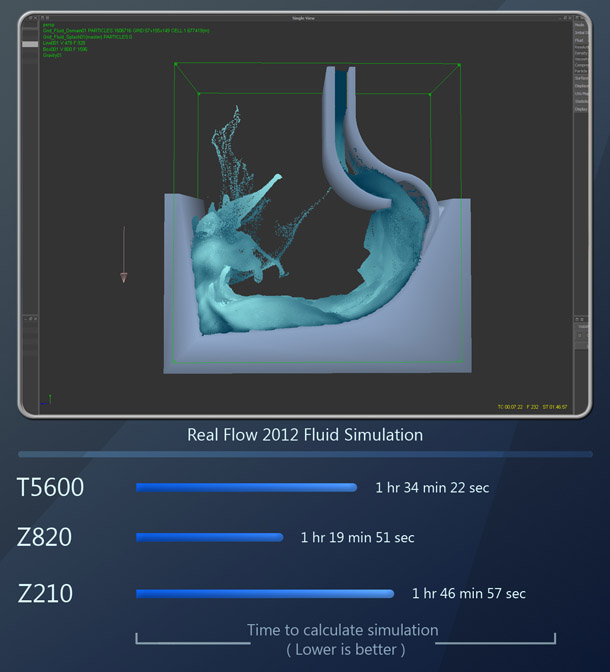 The Z820 takes the lead here. Since generating millions of particles is a memory-intensive task, I would imagine that its peformance advantage relates directly to its greater system RAM.
mental ray 3.9
Our first CPU-only rendering benchmark is mental ray 3.9. Owned by Nvidia, it has a large share of the rendering market for entertainment and visualisation. If you read my Z820 review, you will remember that rendering is where we really put the system to the test. It is here that we can stress all available CPU cores, and the data pipeline to and from the system RAM. Let's see how the T5600 holds up against the current rendering champ, the Z820.
Honours are divided here, with the T5600 taking the lead on the Demon Head, and the Z820 in the Classroom scene. The Classroom scene is memory-intensive, so I would imagine that the T5600's paltry 8GB of RAM is to blame for its significant performance deficit here.
V-Ray 2.0
V-Ray is a third-party renderer for 3ds Max, Maya, Softimage, SketchUp, Rhino and Cinema 4D. Used primarily for visualisation work, it has recently been making inroads into visual effects, although it does not yet have the same market share there as RenderMan or mental ray. Although V-Ray has a GPU-accelerated preview renderer, we're using the CPU alone here.
As with the mental ray benchmarks, the T5600 takes the lead in one of our test scenes, the Steampunk Tank; the Z820 in the other, the indoor GTR scene. Like the mental ray Classroom scene, the GTR scene is quite memory-intensive, with the 3ds Max process alone topping out at almost 15GB of RAM. I would imagine that this is the biggest factor in the Z820's significant lead.
Maxwell Render 2.5
Maxwell Render was one of the first commercial renderers based on unbiased rendering technology. Unbiased renderers have the advantage of a simplified user experience and realistic output, but are significantly slower than their Reyes-based counterparts. Again, it uses the CPU.
In both Maxwell benchmarks, the T5600 falls slightly behind the Z820, but by a very small margin. In practice, I would say that this difference would be negligible.
Brazil r/s 2.0
Brazil was one of the first GI renderers to become commercially available. Its current owner, Imagination Technologies recently announced the end of life for the software in its present form, but it remains in our benchmark tests for the time being. Once again, it is CPU-based.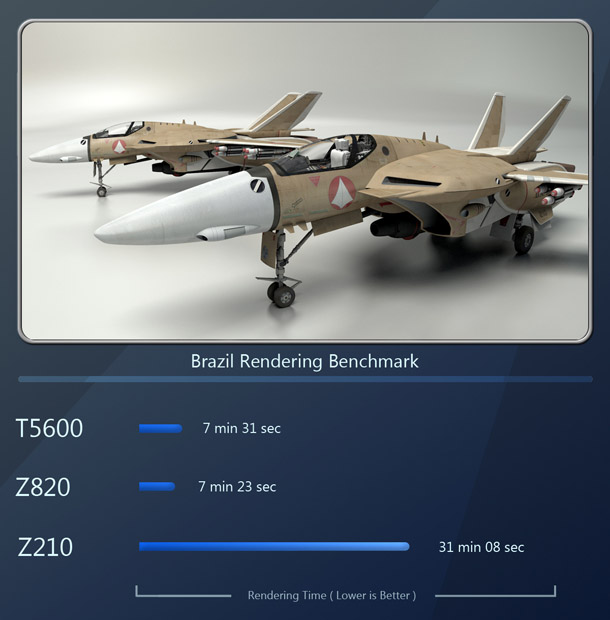 Our Brazil scene doesn't seem to exceed 5GB of RAM, so with the Z820's RAM advantage nullified, its performance is very similar to that of the T5600.
Brazil r/s has a unique feature: you can set the number of threads the software will spawn manually. While the next benchmark doesn't compare the T5600 to a competing system, it does show how well rendering software is designed to take advantage of multi-core CPUs. I have disabled Hyper-threading so that we know a whole CPU core is assigned to each thread spawned.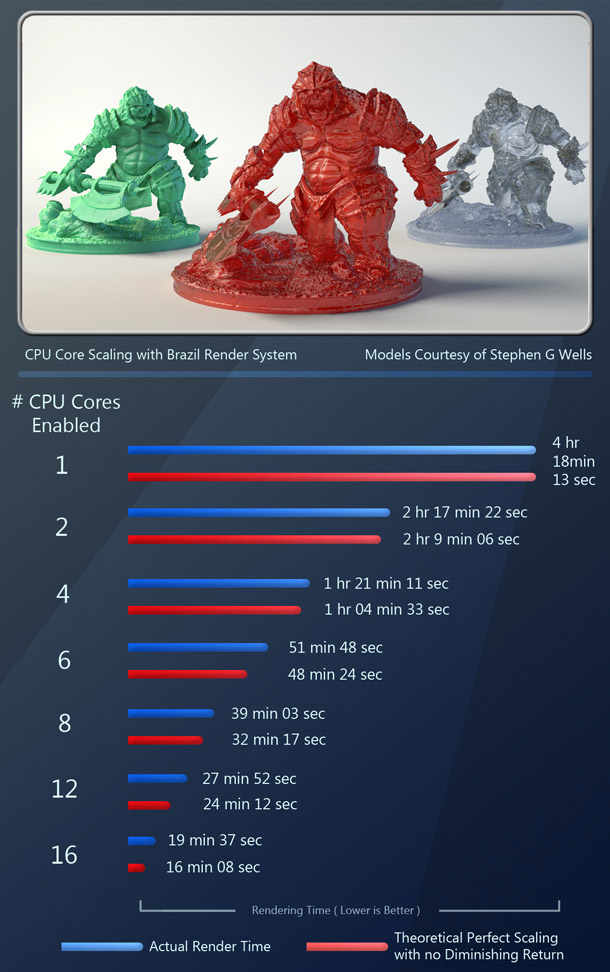 Although the actual figures are slightly different, the overall trend is the same as when I ran this benchmark as part of the Z820 review: rendering performance scales almost linearly with CPU count.
iray
Developed by Nvidia, iray is one of the most popular GPU-accelerated renderers on the market. It is integrated into 3ds Max 2012 and 2013. This test makes use of Nvidia's new material plugin, which allows iray to simulate subsurface scattering, metallic flakes and thin film coatings. It is only compatible with 3ds Max 2013, so unlike the 3ds Max benchmark itself, I am using 2013.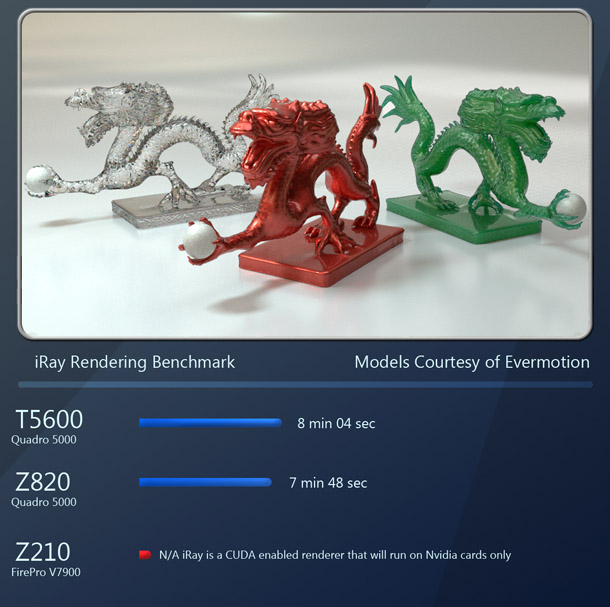 Here, the T5600 falls behind the Z820, but in my opinion, as with the Maxwell Render benchmarks, the difference isn't big enough to make any practical difference.
Cinebench 11.5
Those of you who are familiar with my previous reviews will know that I am not a fan of the synthetic benchmarks that so many other reviewers rely on. This is simply due to the fact that the results they generate do not reflect the performance you would find in real production situations. Despite this, I have had requests from readers to include Cinebench results, so it is the one synthetic benchmark I include. You can download it here.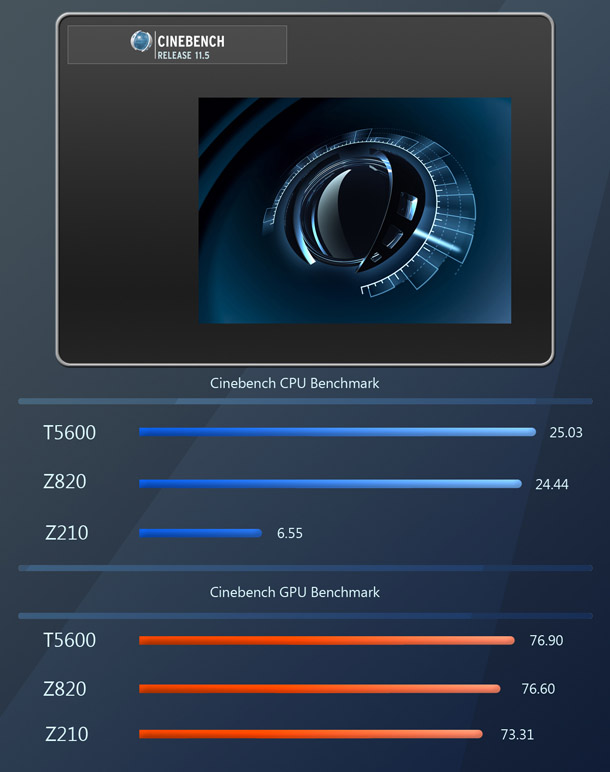 Cinebench scores are also very similar, with the T5600 taking a very slight lead over the Z820 in both the CPU and GPU tests.
Other charactersistics
Acoustic performance
There are several other characteristics of a workstation that are almost as important as performance, particularly when deployed on a large scale in a studio. First, let's look at acoustic performance. While not as important in renderfarms, where high noise levels are acceptable and even expected, acoustic performance is important when the systems are to be used as workstations, where fan noise can be quite distracting.
The noise levels generated by the T5600 vary according to the fan speed settings in the system BIOS. There are four settings: high, medium, low and automatic. As expected, high offers the best cooling performance, but at the cost of increased noise levels – loud, but nowhere near the jet engine level of the Z820 at its highest fan speed setting. The medium setting offers a much more tolerable noise level, although cooling performance, while adequate when the system is at light-to-moderate load, suffers a bit under full load, with the CPUs reaching temperatures of 77-79°C. On the low setting, the T5600 system is whisper-quiet: so quiet, in fact, that you wouldn't even realize it was on without looking at the illuminated power button. Under light-to-moderate loads, CPU temperature is only slightly higher than on the medium setting, but under full load, the CPUs become dangerously hot, reaching temperatures of 88-91°C.
The final setting – and, in my opinion, the best one – is automatic, in which fan speed is dynamically adjusted according to the workload of the CPUs. When the system is set to auto, the T5600 remains near-silent under light-to-moderate loads, with CPU temperature fluctuating between 44 and 51°C; under full load, the fans spin up to a speed just higher than under the medium setting, with CPU temperatures hovering around 74-76°C.
When set to automatic, the T5600 remains extremely quiet when working in Photoshop or a 3D app, with fan noise only becoming noticeable while rendering. Even then, the noise levels are not overly distracting: while I don't have a decibel meter to hand, I would say it is no louder than an average high-end consumer desktop.
Power consumption
Next, we will look at power usage. With the ever-increasing cost of electricity, power usage has become a very real concern when choosing a new workstation. While it is true that throwing more and faster hardware at a system will increase its performance, this also increases its power usage, and when you have an animation studio filled with hundreds of workstations, the difference between a system that draws 100W of power and one that draws 500W can mean thousands of dollars in electricity bills per year. Even for individuals, power usage can make a noticeable difference if you leave your system on all night, or even if you just use it frequently.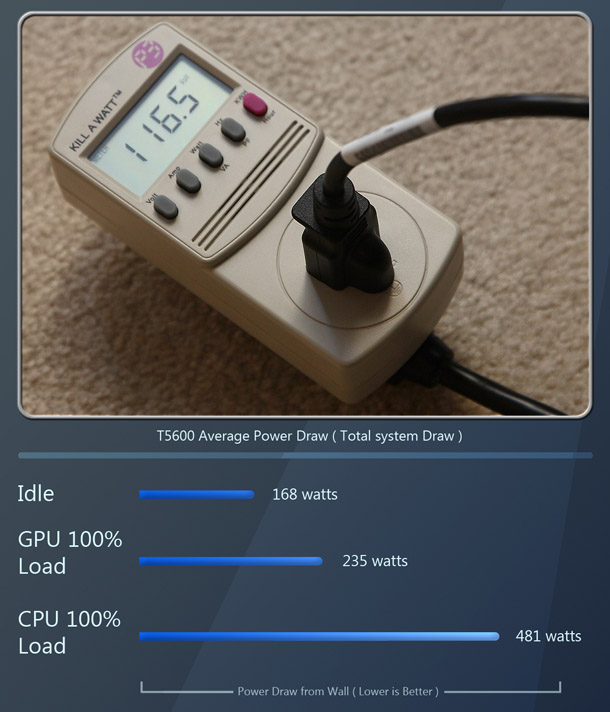 Power usage for the T5600 is excellent, especially for a system with 16 CPU cores and a Quadro 5000 GPU. In fact, I have seen many high-end consumer desktops draw more power than this.
The T5600's figures of 168W while idle, 235W under full GPU load and 481W under full CPU load also beat the Z820's scores of 261/375/575W by a disturbingly wide margin for two systems with such similar specs. Granted, the Z820 is running a 15,000 RPM SAS drive and has an extra 24GB of RAM, but that alone shouldn't cause such a large difference, leading me to suspect that the Z820's BIOS settings may need adjusting.
Pricing
Finally, let's talk about pricing. I talked about this briefly in my Z820 review, but it's worth going over again here. Professional workstations are considered premium-level products so they typically carry a premium price point: the T5600 starts at $1,479 and goes up quickly from there – our system came in at $7,038.
Before you wince, stop for a minute and look at who the Z820 system is marketed for. Modern films and games have budgets that range from millions to hundreds of millions of dollars. Purchasing a handful of workstations in this price range is a tiny fraction of that budget and with development and shooting schedules becoming shorter every year, the phrase 'time is money' can be interpreted quite literally in the DCC market. In many cases, if a visual effects studio runs over deadline, it has to fund the remaining work itself.
However, the price does keep high-end hardware like the T5600 out of the hands of many CG hobbyists and freelancers. Unfortunately, I don't see this changing in the near future: the biggest contribution to the cost of a dual-socket graphics workstation is its processors, and companies like Intel and Nvidia mark up their workstation and server-level parts significantly. Wile most mid-to-high-end consumer CPUs fall in the $150-350 range, their server-class counterparts can cost as much as $2,000.
So is the T5600 worth the money? It depends who you're asking. There is no arguing that the system performs well, and while the price tag will put it out of the reach of many potential users, the ones who specifically need it in a production environment would say that the cost of the system is relatively minor compared to the savings it offers in terms of production efficiency.
Overall verdict
The Dell Precision T5600's performance is at the very high end of any modern desktop system, and it delivers that performance in an efficient, well-designed and relatively small package. In some ways, this is simply par for the course: since joining CG Channel as a reviewer, I have yet to review a poorly designed or poorly performing professional-class workstation from either Dell or HP, and while I haven't yet had the chance to test similar systems from vendors such as Boxx or Lenovo, I would imagine their build quality is similar.
But how does the T5600 stack up against the Z820? Overall, performance is very similar, although there are differences. It's curious that a high-end system like the T5600 comes with so little RAM, and those benchmarks on which the Z820 outperforms it significantly are those which exceed its 8GB of RAM: notably, the RealFlow simulation and several of the rendering tests. However, some benchmarks actually favored the T5600 over the Z820 by a noticeable margin: a finding confirmed anecdotally in my conversations with Tippett Studio.
So it really comes down to quality, design and support. Speaking personally, I prefer the design of the Precision workstations slightly over the relatively standard tower cases of the HP Z series. However, the Z series seems to offer a better overall fit and finish, with nice brushed aluminum siding and a sturdier chassis; as well as higher-quality internals such as the CPU cooling towers, blower fans for the memory modules and quick-release hard-drive trays. It may be that this is simply because I'm comparing a top-end Z series machine to a mid-range Precision, but I would expect build quality to be standard across the range.
Dell vs. HP aside, a wider question that I have addressed in past reviews is: who really needs a workstation this powerful? If the bulk of your work is asset creation, a high-end dual-socket system like this is probably overkill. However, anyone who does a lot of rendering, simulation or video encoding will benefit greatly from a workstation with these kind of specs.
Overall, the T5600 is a significant improvement over Dell's previous-generation Precision workstations in both design and performance, packing a lot of power into a small, quiet, attractive package. It's nice to see Dell pushing to gain market share in high-end animation and visual effects.
Jason Lewis has over a decade of experience in the 3D industry. He is currently Senior Background Artist at Electronic Arts and CG Channel's regular technical reviewer. Contact him at jason [at] cgchannel [dot] com
Read our reviews policy FAQs document
Acknowledgements
I would like to thank the following vendors and individuals who contributed to this article:
Autodesk
Adobe
Nvidia
AMD
Chaos Group
Brett Jacobs of Dell
Stephen G Wells