Tuesday, April 24th, 2012

Article by Jason Lewis
Dell unveils new Precision pro desktop workstations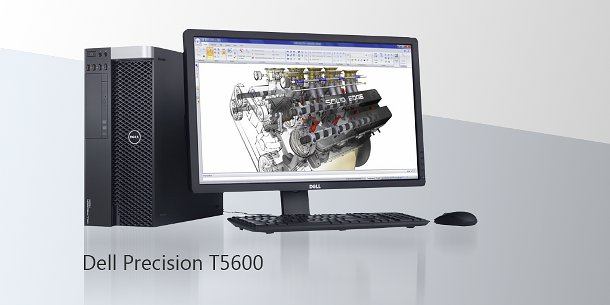 The Precision T5600: one of three new professional desktop workstations announced by Dell.
Dell has announced its new Precision T5600 desktop workstation. Aimed at graphics professionals, the latest Precision sports a completely redesigned chassis for toolless assembly and disassembly, and supports the newest Xeon E5-2600 series processors based on Intel's Sandy Bridge architecture.
The T5600 is Dell's mid-range desktop workstation, capable of supporting up to 16 CPU cores (32 Hyper-Threaded cores) by accepting up to E5-2600 CPUs with four, six or eight cores each. The T5600 also supports up to 128 GB of quad-channel DDR3 1333 or 1600 ECC memory; and the full lineup of Nvidia and AMD professional graphics accelerators, as well as Nvidia's Tesla GPU cards, for GPGPU computing.
Our initial testing has shown that a T5600 equipped with two eight-core Xeon E5-2687W CPUs performs around 10-20% faster than a dual-socket workstation using a pair Intel's previous generation Westmere six-core CPUs. Look out for a full review in the near future.
Pricing for the new Precision T5600 workstation starts at $1,879. Two new sister workstations, the T3600 and T7600, are also available. You can read the official product announcement on Dell's website.
Other upcoming workstation reviews
In addition to Dell, HP has recently added several new products to its Z series of desktop workstations, including the Z420, Z620, Z820 and the all-in-one Z1.
We will be reviewing the new ultra-high-end Z820 against a previous-generation Z800 in the near future to see what kind of gains can be had with the new Intel Xeons and the Z820's higher level of expandability.
Pricing for the Z820 starts at $2,499. You can read the official announcement on the HP website.