Friday, September 20th, 2019

Posted by Jim Thacker
Andrei Sarmadac and Kun Shi release Rocket 3F 1.8

Originally posted on 3 January 2017. Scroll down for news of the 1.8 update.
Developers Andrei Sarmadac and Kun Shi have released Rocket 3F, a streamlined new polygonal and subdivision surface modeling application with a number of interesting features.
The software – the '3F' stands for 'fast, fun and friendly' – is intended to give concept artists and designers a more intuitive route into 3D modelling than conventional DCC software.
From the developer of Nvil
Rocket 3F shares a code base with Nvil – formerly known as VoidWorld – Kun Shi's existing modeling software, which also remains in active development.
Offering a highly customisable toolset and user interface, Nvil has been described by users as an extremely quick modeler, although time-consuming to set up.
Rocket 3F looks to preserve some of the unique features of Nvil, but with a workflow geared more towards artists who are new to 3D modeling.

Solid basis poly and sub-D modelling tools, plus a few interesting features
At the time of posting, the Rocket 3F website doesn't include a written summary of the software's features, so the simplest way to get a feel for what it does is to check out the video tutorials.
The software includes a standard basic range of tools for creating and editing polygonal and sub-D geometry, including a scene hierarchy and simple array, Boolean and instancing functionality.
More unusual features include the workflow, which is geared towards mouse or stylus-only input, and what Sarmadac describes as "absolutely unique" crease tools.
There is also the option to display models in silhouette-only mode, which looks useful for concept design.
Rocket 3F also comes with bridging plugins to intuitive NURBS modeler MoI, voxel sculpting and retopology tool 3D-Coat, and Luxion's KeyShot renderer.
Feedback from early testers – this thread on The Foundry's forum dates back to the beta release – has been broadly positive, with criticism centring mainly around the visual style of the UI, which was described by one poster as having an "ice-cream shop look".

Updated 4 April 2017: The Rocket 3F developers have released a new Pro edition of the software, enabling users to customise the key bindings and interface, and to set up their own custom composite tools.
You can see how the new functionality works in the video above.
Since we last wrote about Rocket 3F, there have been a steady stream of updates – you can find the changelogs here – adding, among other things, new modelling tools like Cap and Multi-Bridge, and an interesting-looking Pattern Selection tool for selecting repeating arrays of faces on the surface of a model.
The developers have also gone some way towards standardising the UI, with a new dark theme and, in the most recent 1.3.5 update, support for single, quad and ortho views in the viewport.

Updated 29 January 2018: Rocket 3F 1.4 is now available.
The release, described as a "very, very huge update", adds a new set of brush tools, intended both for basic freeform sculpting of organic models and as a quick way of adjusting hard-edge models.
There is also now support for MatCap materials, which work in a similar way to one familiar to ZBrush users, and which provide a quick way of generating realistic-looking renders.
The update also adds a Draw Mesh tool, which enables users to create polygons by drawing grid lines. It can be used to retopologise existing high-resolution models in a similar way to Maya's Quad Draw tool.
There is also a longish list of bugfixes and smaller features – in particular, the Boolean tool is described as being "faster and more reliable" – which you can find in the online changelog.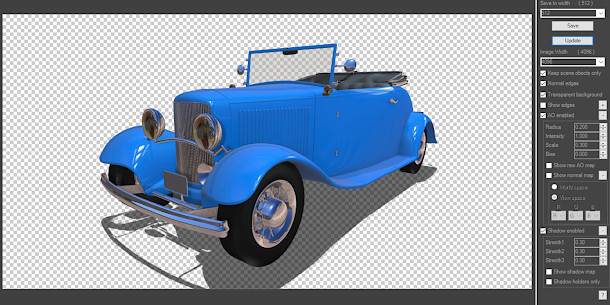 Updated 18 June 2018: Rocket 3F 1.5 is now available.
The update adds a new render engine to the software. There isn't much documentation available, but the forum post announcing the release mentions lights, a customisable field of view, and a shadow catcher.
The existing snapshot option (shown above), which captures the model from the software's viewport, gets support for AO and shadows.
The Basic edition of the software – which contains all of the tools, but isn't customisable – is now available free, having previously been priced at €55; and the price of the Pro edition has been cut from €155 to €79.

Updated 31 July 2018: Rocket 3F 1.6 is now available.
It's a varied update, adding a new Pull tool, described as like SketchUp's Push/Pull tool, but for polygons; plus new tools for creating hard edges on models automatically, and undoing chamfer operations.
There are also new options to import a reference image into the 3D view – you can also use it as a backplate when rendering – plus new two, three or four-viewport layouts, and an autosave feature.
You can find a full list of changes in this forum post.

Updated 20 September 2019: Rocket 3F 1.7 is now available.
New features in the 1.7.x updates include support for snapping when scaling sub-objects, and two new tools, Edge Path Strip and Edge Path Strip (Spline), for adding geometry between two selected edges.
Other than that, the changes are largely performance and workflow improvements to existing tools. You can read a full list in the forum posts for Rocket 3F 1.7 itself and Rocket 3F 1.7.1.

Updated 5 October 2020: Rocket 3F 1.7.8 is now available.
The release itself is a UI update but is accompanied by a new add-on Bridges tool, making it possible to export assets from Rocket 3F to Blender and vice versa.

Updated 24 May 2021: Rocket 3F 1.8 is now available. The release itself adds new options for creating lattice objects, plus workflow improvements to other tools.
There is also now a portable edition of Rocket 3F that can be run directly from the .exe file without the need to install it first, making it possible to use the software from a flash drive or other removable media.

Pricing and availability
Rocket 3F is available now for 32 and 64-bit Windows 7 and above.
The Basic edition is free, but is only licensed for non-commercial use; the Pro edition, which lets you customise the UI and tools, and which adds the functionality of Nvil, costs €79 (around $97).