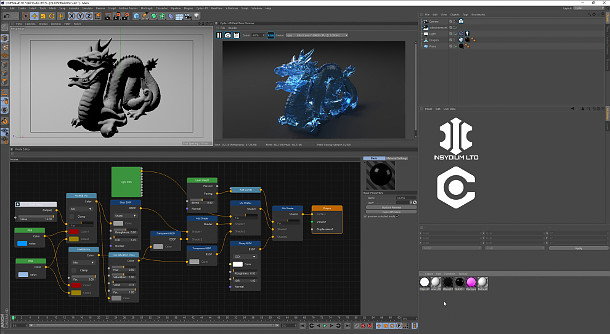 Originally posted on 13 August 2016. Scroll down for updates.
X-Particles developer Insydium is working on Cycles 4D, an implementation of Cycles, Blender's GPU-based production renderer, within Cinema 4D.
The announcement was made in the developer's email newsletter, and confirmed in a thread on C4D Cafe.
A faithful recreation of Cycles within Cinema 4D
At the minute, few details are available about the new integration, but it looks to be a faithful recreation of Blender's own implementation of the Cycles render engine.
According to a post by Insydium founder Mike Batchelor on C4D Cafe: "We have made it so you can follow any Blender Cycles tutorials 1:1 in Cycles 4D, so if you see a cool set up you will be able to rebuild it."


The system will not be compatible with standard Cinema 4D materials, but will ship "with a bunch of presets".
Judging by the preview screenshot above, the renderer will also integrate with X-Particles, Insydium's versatile Cinema 4D particle simulation plugin.
The latest DCC software to integrate Cycles
The announcement makes Cinema 4D the latest DCC application to get an implementation of Cycles, which The Blender Foundation made available under an Apache open-source licence in 2013.
The underlying technology was integrated natively into Poser and Poser Pro last year, and Rhino developer McNeel maintains a Rhino integration plugin.
There is also a work-in-progress 3ds Max implementation of the renderer, which is being developed by Jeffrey Witthuhn.

Updated 4 October 2016: Insydium has announced pricing for Cycles 4D. New licences will cost £185 (around $237), including three render nodes; additional nodes will cost £60 ($77). Both prices exclude tax.
The plugin comes with "full X-Particles support", and X-Particles licence holders will receive an "exclusive discount", although Insydium's newsletter doesn't say how much this will be.
You can see the software in action in the new demo video above: the first half of the video shows standard meshes being renderered; the second half shows X-Particles systems and volumetrics.

Updated 11 October: Insydium just posted an FAQs page about Cycles 4D on its website. The discount for X-Particles 3.5 licence holders is confirmed as 15%. The software is due for release in November.

Hat tip to BlenderNation for first spotting this story.
Tags: 3ds max, Blender, Cycles, Cycles 4D, download, Featured Articles, GPU-accelerated, GPU-based, Insydium, open source, physically accurate, Poser, price, release date, renderer, Rhino, X-Particles