Thursday, November 19th, 2015

Posted by Jim Thacker
Smith Micro ships Poser 11 and Poser Pro 11
Smith Micro has released Poser 11 and Poser Pro 11, the latest updates to its veteran figure-posing and animation software, adding a new physically based render engine and improvements to toon rendering.
New in Poser 11: SuperFly render engine, better toon shading
The biggest change common to both versions of the software is the new SuperFly rendering engine: a GPU-accelerated renderer based on Blender's Cycles engine.
The new engine enables users to create physically based renders directly inside Poser, instead of relying on plugins like Prêt-à-3D's Reality, or exporting assets to standalone renderers.
Smith Micro describes the new release as adding support for area lights, caustics, volumetrics and layered materials – presumably also as a result of the new engine.
In addition, the previously rather limited toon-shaded Comic Book Preview mode added in Poser 10 gets a Geometric Edge Lines option to generate adjustable 'ink' outlines round figures.
There are also a number of workflow improvements, including a selection history stack for the objects in a scene and the option to customise keyboard shortcuts or create custom palettes for common parameters.
The GUI has also been updated to scale better to modern high-density displays.
New standard figures
In addition, there are new stock human figures – or a new stock female figure, at least.
According to a forum post from product manager Charles Taylor, while Poser 11 Pro includes Pauline, her male counterpart Paul "missed the boat for launch day" and will be provided as a free update in "a few weeks".
However, the update doesn't add native support for DAZ 3D's Genesis 3 figures – a common user request when Smith Micro previewed the new features in Poser 11 on its blog earlier this year.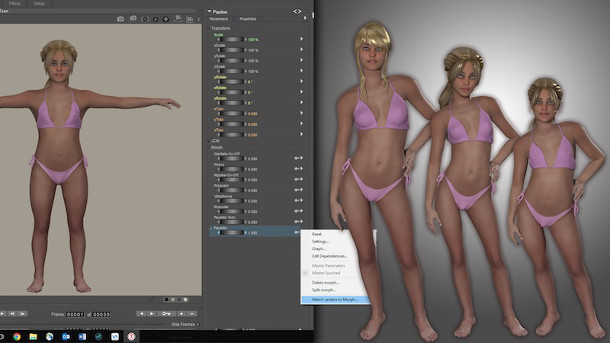 Poser Pro 11's new adaptive rigging functionality in action. Users of the Pro edition also now get Alembic export, plus tools from the previous Game Dev edition of the software, including FBX import/export and poly reduction.
New in Poser Pro 11: improved rigging, game dev options, Alembic export
If you're using the Pro edition of the software – which, in a change of version numbering policy, is now Poser Pro 11 rather than Poser Pro 2016 – you also get a range of extra features.
Character rigging has been improved, including a new adaptive rigging option that automatically moves rotation centres for joints to accommodate extreme morphs, creates necessary dependencies and matches clothing.
In addition, users can set up "smooth, weight-mapped linear translation of body parts" for better joint translation; while the orientation of joints can now be controlled by morphs, to enable really extreme poses.
Handling of morph targets has been updated, with the option to create targets at subdivision level, and to save a distributable morph injection file directly from the Export menu.
Users can also export or merge partial scenes, selecting which figures, props, lights and cameras to include.
Artists working in studio pipelines get Alembic export, plus features from the previous Game Dev edition of the software, which was particularly aimed at creating content for use in Unity.
These include FBX import and export, Kinect for Windows support, and polygon reduction and unseen polygon removal tools.
The update also adds support for accurate in-scene measurements and text props: a feature aimed at forensic animators. There is also quite a long list of smaller changes, which you can find via the links below.
Pricing and availability
Poser 11 and Poser Pro 11 are available now for Windows 7+ and Mac OS X 10.9+. Poser 11 has an MSRP of $199.99 and Poser Pro 11 has an MSRP of $499.99, but both are currently available at launch discounts.
Read a full list of the new features in Poser 11 and Poser Pro 11 on Smith Micro's website
See a feature comparison chart for Poser 11 and Poser Pro 11