Thursday, June 25th, 2015

Posted by Jim Thacker
DAZ 3D ships Victoria 7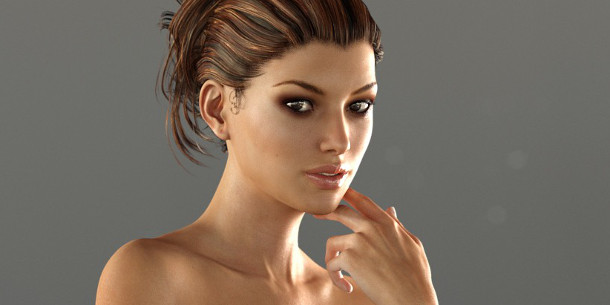 DAZ 3D has released Victoria 7, the latest update to its popular stock female figure, adding a new facial rig and new features designed to increase compatibility with standard professional 3D applications.
Support for industry-standard technologies like UDIM and OpenSubdiv
Although we don't often cover DAZ's content on CG Channel, it is frequently used for professional work, and the new Genesis 3 platform on which Victoria 7 is based has quite a few points of interest for CG artists.
One is OpenSubdiv, Pixar's open-source subdivision surface modelling libraries, which DAZ implemented in DAZ Studio, its free figure posing and rendering software, in 2013.
According to DAZ, this means "substantially higher definition than [previous-gen] figures, but almost 20% lower poly counts". Victoria 7 now features moulded-in nail beds, and more detail in the mouth and teeth.
Other new industry-standard features in the Genesis 3 platform include dual-quaternion skinning, an LoD mesh, and support for the UDIM UV format used in applications like Mari.
In addition, Victoria 7 introduces a new facial rig with "33 more points of articulation than the previous morph technology", plus expanded rigs for metacarpals and metatarsals.
According to DAZ, "Most of these advancements are intended specifically for increased compatibility with other industry-standard 3D applications [like 3ds Max and Maya]."
Pricing and availability
Victoria 7 is available now. The content is compatible with DAZ Studio 4.8, and includes material presets for the software's integrated 3Delight and Iray renderers.
The base model has an MSRP of $44.95, while the Starter and Pro bundles, which include additional poses, hairstyles and clothing, cost $89.95 and $134.95. All are currently discounted in DAZ's online store.