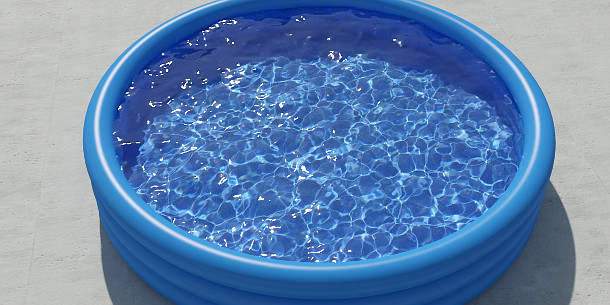 Arion 2.5's new caustics and importance-based sampling systems in action: a render of a paddling pool illuminated using an HDR image of the sky as an environment map.
Originally posted on 14 August 2013. Scroll down for updates.
RandomControl has posted previews of Arion 2.5, its hybrid CPU/GPU physically based renderer, including new Caustics and Shadows AOVs and a new importance-based sampling system for scenes with HDR lighting.
New caustics controls
Caustics have received quite a significant boost, thanks to the new-ish Metropolis Light Transport sampler, and improvements to the Physical Sun/Sky system, which now includes the option to change the size of the sun.
In situations where noise or render times are still an issue, the new Caustics AOV (Arbitrary Output Variable) enables users to split out and denoise caustics separately.
The new AOV is intended as a more flexible alternative to the old Disable Caustics option.
Overhauled shadows and sampling algorithms
The existing Shadows AOV has also been overhauled, and now includes shadow contributions from every part of the engine, including contributions from GI and the Physical Sun/Sky.
Shadow AOVs are now generated as HDR RGB images, not grayscale LDRs.
There is also a new importance-based sampling system which increases the speed at which scenes lit with HDRs resolve, particularly those in which bright areas like the sun or studio lights appear as small pinpricks.
You can see side-by-side comparisons with Arion 2.4 on RandomControl's blog, and new sneak peaks are being added fairly regularly.
Due out later this summer
RandomControl says that it hopes to release Arion 2.5 "before the summer ends" both as a standalone edition and the application-specific Max Live and new Rhino Live editions.
Work on the much-delayed XSI Live edition will not resume until after 2.5 is released.
Updated 30 September: Arion 2.5 is shipping. The standalone edition costs €195 (around $265).
As well as the features listed above, and those covered in earlier previews, the update features an increase in core raytracing speed, the option to render images up to 16,000 x 16,000 pixels on the GPU, support for render regions and per-object renders.
There is also a new connection to HDR Light Studio, Lightmap's real-time image-based lighting tool (above).
Read more about the new features in Arion 2.5
Tags: 3ds max, AOV, Arion, Arion 2.5, caustics, CPU, GPU, HDR Light Studio, hybrid, IBL-IS, importance sampling, LightMixer, new features, performance, RandomControl, raytracing, render region, renderer, rendering, Rhino, shadows, softimage, speed