Tuesday, September 12th, 2023

Posted by Jim Thacker
Adobe unveils new Substance 3D Connector

Adobe's Fall 2023 livestream on its Substance 3D applications. The section on the new Substance 3D Connector starts at 00:17:25.

Adobe has unveiled the Substance 3D Connector: a new open-source plugin architecture that will let artists send assets directly from its Substance 3D applications to DCC software like 3ds Max, Blender and Maya.
The new functionality was announced during a livestream last week, along with Substance 3D Modeler 1.4 and Substance 3D Sampler 4.2.
Send data from the Substance 3D tools directly to other DCC software
The new Connector system will extend the existing Send To functionality in the Substance 3D applications, which makes it possible to transfer data between them directly, without having to export then re-import a file.
The demo from the livestream shows both a material and a 3D model being transferred directly from 3D capture and material-authoring tool Substance 3D Sampler to Blender, with the material properties remaining editable inside the open-source 3D software.
Only transfer from Sampler to Blender was shown, but Adobe says that it aims to make the system a two-way live link between the Substance 3D apps and third-party tools.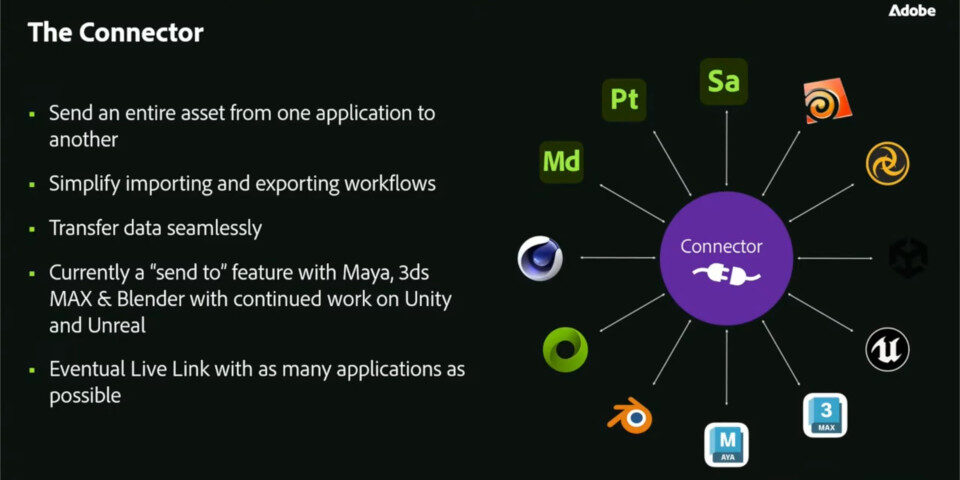 Initially for Blender, 3ds Max and Maya, with other apps due in future
Adobe says that it is currently doing internal tests with Blender, 3ds Max and Maya, but that it aims to support more DCC applications with the connector in future.
The slide above from the livestream shows Cinema 4D, Houdini, Katana and Omniverse.
As well as Substance 3D Sampler, the slide shows the logos of 3D texture painting app Substance 3D Painter and virtual reality modeling tool Substance 3D Modeler.
Price, system requirements and release date
Adobe aims to make the underlying library for the Connector and sample plugins available open-source "early next year". It hasn't announced an exact release date yet.
You can find prices and system requirements for Substance 3D applications in our stories on the current releases of Substance 3D Designer, Modeler, Painter, Sampler and Stager.
Visit the Substance 3D Collection website

Have your say on this story by following CG Channel on Facebook, Instagram and X (formerly Twitter). As well as being able to comment on stories, followers of our social media accounts can see videos we don't post on the site itself, including making-ofs for the latest VFX movies, animations, games cinematics and motion graphics projects.