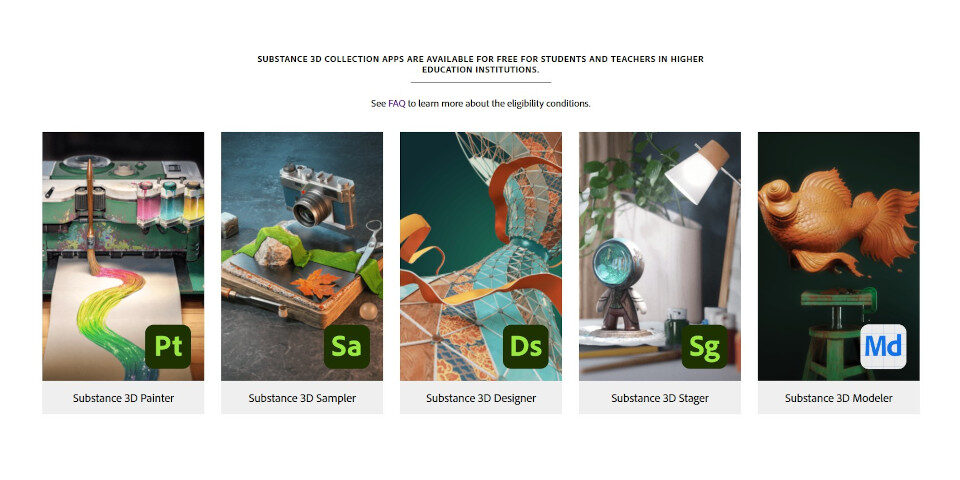 Adobe has made its entire Substance 3D Suite of texturing software available free to students and teachers, including new products Substance 3D Stager and the upcoming Substance 3D Modeler.
The company's 12-month educational licences give college students and teachers access to all five of the Substance 3D applications for non-commercial use, including to create portfolio material.
Now includes Substance 3D Stager and Modeler as well as Designer, Painter and Sampler
Adobe's educational licences already covered some of the Substance 3D products, but only the older ones: material authoring tools Substance 3D Designer and Substance 3D Sampler, and 3D texture painting app Substance 3D Painter.
To that, the company has now added its latest products: scene layout and virtual photography application Substance 3D Stager and upcoming virtual reality modelling tool Substance 3D Modeler.
Licence conditions, application instructions and system requirements
Educational licences are available free to students and teachers at "accredited higher education institutions" – so not high school students or self-taught artists – in countries outside of Adobe's restricted list.
They provide 12 months' access to all five applications, renewable at the end of the year, for personal study and non-commercial projects, including to create material for use in a portfolio.
To apply, you will need to register for a free Adobe account, then to fill out the online application form, and provide proof of eligibility if necessary.
You can find system requirements for the Substance 3D products in Adobe's online documentation. Educational licences only provide access to the Windows and macOS editions of the software.

Read Adobe's FAQs about its free Substance 3D education licences
Register for a free educational licence for the Substance 3D Collection
Tags: 3D modeling, 3D texture painting, apply for Substance 3D eductional license, conditions, educational license, free, free to students, material authoring, rendering, restrictions, scene layout, student license, Substance 3D Collection, Substance 3D Designer, Substance 3D Modeler, Substance 3D Painter, Substance 3D Sampler, Substance 3D Stager, texturing, virtual photography, virtual reaity