Wednesday, June 7th, 2023

Posted by Jim Thacker
Adobe releases Substance 3D Designer 13.0

Adobe has released Substance 3D Designer 13.0, the latest version of its material-authoring software.
The update adds a new set of Spline and Path tools for generating and manipulating 2D shapes, and adds new 'portal' functionality to the Dot node to help keep node graphs organised.
However, the software's procedural geometry toolset has been discontinued, with model graphs removed from Substance 3D Designer entirely, less than two years after they were introduced.

New Spline and Path tools for manipulating 2D shapes
The update introduces a new set of Spline and Path tools, for generating and working with 2D shapes, either as continuous splines or a series of line segments.
The Spline tools consist of 25 new nodes for generating, merging, transforming and rendering splines.
The Path tools consist of 10 nodes to generate paths from grayscale masks, then convert them to splines.
The resulting splines can then be rendered directly to generate surface patterns for materials; used to control the scattering of other patterns; or used to control the warping of images.

Other changes: Dot node gets new 'portal' system, support for loops in function graphics
Other changes include an update to the Dot node, used to visually simplify node graphs by rerouting and grouping connections between nodes.
In Substance 3D Designer 13.0, it gets new portal functionality, making it possible to transfer data from one point on the graph to another without generating a wire connecting the two points.
In addition, the underlying architecture has been updated to Substance Engine 9, which introduces support for loops, making it possible to repeat functions within Substance Function Graphs.
Use cases shown in this video tutorial include generating a grid of sample points to create a custom blur.
The update also introduces a Home Screen similar to those in other Adobe products, providing quick access to tutorials and project settings; and native French, Italian and Portuguese language editions.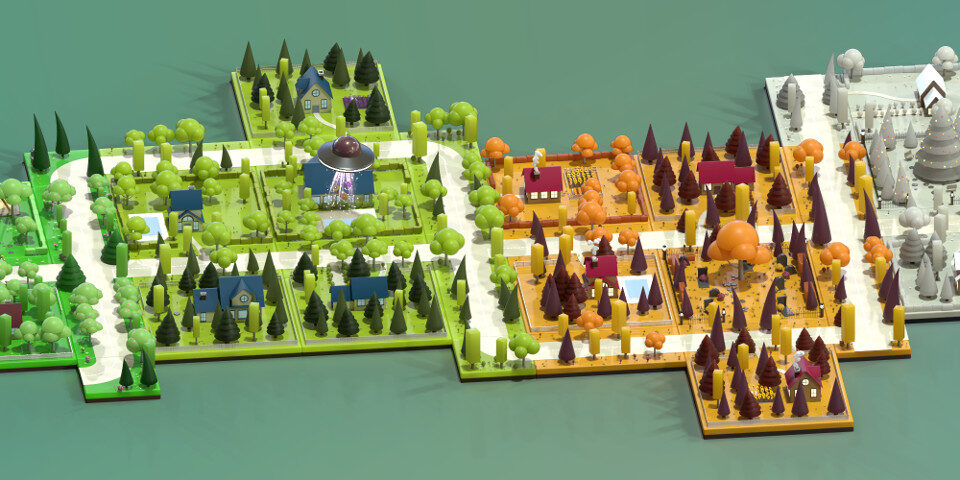 But model graphs have been removed from Substance 3D Designer entirely
However, perhaps the biggest change in Substance 3D Designer 13.0 is not what has been added, but what has been taken away.
Substance model graphs, the basis of the software's procedural geometry system, have been removed, less than two years after they were originally introduced in Substance 3D Designer 11.2.
The new release can no longer open or edit model graphs created in previous versions of the software.
In a post on its community support forum, Adobe attributed the decision to lack of user uptake:
"Our team has [analysed] adoption rates for the feature, and we've come to the conclusion that Designer is not the optimal platform for procedural geometry within the Substance 3D ecosystem.
"To fully concentrate on delivering [new features] for material artists, we have made the pragmatic decision to cease development of Substance model graphs and remove the feature from Designer entirely."
The decision returns the software to what it was two years ago: a dedicated material-authoring tool.
Price and system requirements
Substance 3D Designer 13.0 is available for Windows 10+, CentOS 7.0/Ubuntu 20.04+ and macOS 11.0+
Perpetual licences of the software are available via Steam and cost $149.99.
It is also available via Adobe's Substance 3D subscriptions. Substance 3D Texturing subscriptions cost $19.99/month or $219.88/year; Substance 3D Collection subscriptions cost $49.99/month or $549.88/year.
Subscriptions to the Linux edition require a Creative Cloud Plan for Teams priced at $1,198.88/year.

Read a full list of new features in Substance 3D Designer 13.0 in the online release notes