Wednesday, May 17th, 2023

Posted by Jim Thacker
Autodesk ships Maya 2024.1 and Maya Creative 2024.1

Autodesk has released Maya 2024.1, the latest version of its 3D modelling and animation software, and Maya Creative 2024.1, its pay-as-you-go edition.
Both releases feature updates to new USD-based look dev toolset LookdevX, while animators get further updates to the Time Slider, Skin Clusters and the Proximity Wrap and Lattice deformers.
The updates also introduce Hydra for Maya, an experimental new Hydra viewport render delegate system, available via the latest version of the official USD for Maya plugin.
Look development: workflow improvements to LookdevX
Maya 2024.1 builds on the changes made in Maya 2024 earlier this year, including an update to one of the main new features it introduced: USD-based look development system LookdevX.
The toolset, which lets artists author USD material graphs inside Maya, gets a number of workflow improvements, including the option to create custom tabs in the LookdevX Graph Editor.
The tabs can then be used to filter shading graphs from different scenes.
Other changes include the option to set node backdrops to keep complex graphs organised, and to automatically expand a node compound's attributes by holding [Ctrl] while hovering over it.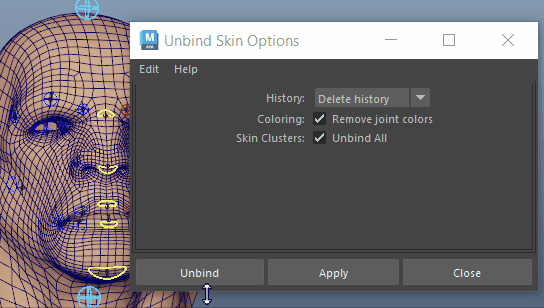 Animation: more updates to Skin Clusters and the Proximity Wrap and Lattice deformers
Animators get further updates to the Skin Cluster system, which was updated in Maya 2024 to support multiple clusters on a single piece of geometry.
The Unbind Skin options now let you choose whether to unbind all skin clusters or to unbind clusters individually, and the Bake Deformer now supports multiple clusters.
The Proximity Wrap deformer gets a new Scale Compensation attribute, and the Lattice deformer gets a new Minimum Size option to avoid artefacts resulting from scale values of 0.
The Time Slider gets workflow improvements including the option to hold [Ctrl] to copy multiple keyframes.
UX: delete multiple layers simultaneously in the Display Layer Editor
Other changes include the option to delete multiple layers via a contextual menu option in the Display Layer Editor, something previously only possible in the Animation Layer Editor.
USD for Maya: experimental new Hydra for Maya viewport delegate
Outside the core software, there has also been a significant update to USD for Maya, the USD plugin bundled with both editions of the software.
USD for Maya 0.23, the latest version of the plugin, introduces a technology preview of Hydra for Maya.
Eventually intended to supersede the old Maya to Hydra (MtoH) plugin, it makes it possible to use Hydra render delegates as viewport renderers inside Maya as an alternative to Viewport 2.0.
As well as the USD framework's native HdStorm, renderers with Hydra delegates include Autodesk's own Arnold, plus MoonRay and RenderMan.
In the current release, Hydra for Maya is not intended for use in production, and is only supported on Windows and Linux, not macOS.
Maya 2024.1 only: new version of Bifrost for Maya
Maya users also get an update to Bifrost for Maya, the multiphysics and effects-authoring plugin bundled with the full edition of the software, but not Maya Creative.
You can read a full list of new features in Bifrost for Maya 2.71 in a separate story.
Price and system requirements
Maya 2024.1 is available for Windows 10+, RHEL and Rocky Linux 8.6, and macOS 11+. The software is rental-only. Subscriptions cost $235/month, or $1,875/year.
Maya Creative is available pay-as-you-go, with prices starting at $3/day, and a minimum spend of $300/year.
In many countries, artists earning under $100,000/year and working on projects valued at under $100,000/year, qualify for Maya Indie subscriptions, now priced at $305/year.

Read a full list of new features in Maya 2024.1 in the online documentation
Read a full list of new features in Maya Creative 2024.1 in the online documentation