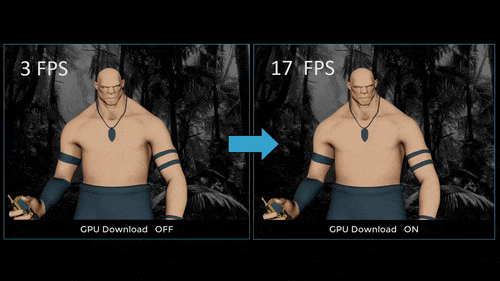 Autodesk has released Maya 2023.2, the latest version of its 3D modelling and animation software.
The update improves performance and workflow in Maya's animation toolsets, reworking GPU acceleration for animation playback, and adding new options to the character rigging tools, Graph Editor and Blue Pencil.
In related news, Autodesk has also just announced Maya Creative, a new cut-down edition of the software aimed at freelancers and smaller studios, and charged at $3/day.
Better GPU acceleration improves viewport animation playback
Maya 2023.2 is largely a workflow update, particularly to Maya's animation tools, where there have been "significant" performance improvements, especially when playing back animation on complex character rigs.
Key changes include a reduction in the number of times that the scene graph needs to be rebuilt for evaluation on the GPU, particularly when making visibility changes to a character rig.
Support for GPU readbacks also improves performance of rigs that include CPU nodes like UV Pin.
In the case of the rig shown at the top of the story, where UV Pin is used to attach the pendant to the character's necklace, the change raises viewport playback speed from 3fps to 17fps.
Other changes to character rigging and animation
In addition, the UV Pin and Proximity Pin deformers and skinCluster node get a new Relative Space mode menu, enabling users to switch between local, world and custom co-ordinate space.
Other rigging changes include a new Joint Draw Style, intended for rigs with multiple child joints in a small area where joint influences can be difficult to see with existing display styles.
Animation changes include new tangent angle and weight controls in the Graph Editor toolbar.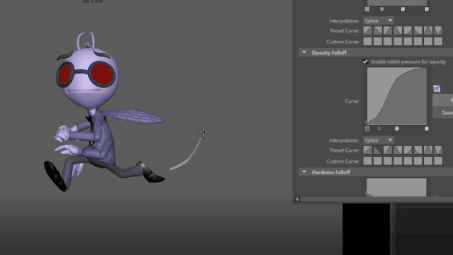 New falloff curves and support for touch sensitivity in Blue Pencil
Blue Pencil, the new viewport annotation and animation toolset introduced in Maya 2023 itself, has also been updated, with support for touch sensitivity when drawing Blue Pencil strokes on a graphics tablet.
In addition, there are new falloff curve controls for brush size, hardness and opacity.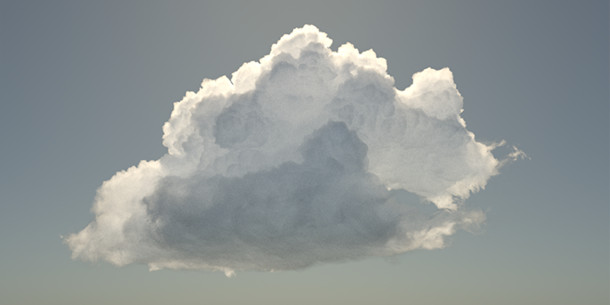 Updates to the Arnold, Bifrost, Substance and USD plugins
Outside the core application, Maya's Arnold, Bifrost, Substance and USD plugins have all been updated.
MtoA 5.2.0, the new version of the Arnold integration plugin, improves viewport rendering workflow, with a new crop render tool letting users select a crop region without needing to render the full viewport first.
Volume rendering has also been improved, with the standard_volume shader getting new dual lobe phase function parameters to better mimic the way that clouds scatter light, as shown above.
In addition, the Hydra render delegate now supports Cryptomatte.
Bifrost for Maya 2.5.1, the latest version of the simulation toolset, adds new USD nodes for binding materials and working with collections.
Substance in Maya 2.3, for editing Substance materials inside Maya, adds support for physical size.
USD for Maya 0.19 adds support for display layers on USD objects, and better support for Maya references.
Pricing and availability
Maya 2023.2 is available for Windows 10+, RHEL/CentOS 7.6-7.9 or 8.5 and Rocky Linux 8.5, and macOS 10.14+. The software is rental-only. Subscriptions cost $225/month or $1,785/year.
In many countries, artists earning under $100,000/year and working on projects valued at under $100,000/year, qualify for Maya Indie subscriptions, now priced at $290/year.

Read an overview of the new features in Maya 2023.2 on Autodesk's website
Read a full list of new features in Maya 2023.2 in the online documentation
Tags: 3D modeling, animation, animation playback, Arnold, autodesk, Bifrost, Bifrost for Maya, Bifrost for Maya 2.5.1, Blue Pencil, character rigging, crop render, Cryptomatte, falloff curve, game art, game development, GPU acceleration, graph editor, Hydra render delegate, Maya, Maya 2023, Maya Indie, motion graphics, mtoa, MtoA 5.2.0, new features, plugin, price, Proximity Pin, rendering, simulation, skinCluster, Substance in Maya 2.3, Substance plugin, system requirements, touch sensitivity, Universal Scene Description, USD, USD for Maya, USD for Maya 0.19, UV Pin, vfx, viewport animation, viewport annotation, visual effects, volumetric rendering