Guerilla Render developer Mercenaries Engineering has released Rumba, its promising standalone character animation tool for visual effects and feature animation work.
The software, which is designed to be used in existing Maya-based production pipelines, is intended to provide an intuitive real-time animation workflow, even when working with complex rigs.
It has a number of interesting features, including the option to pose characters by moving their geometry directly, and to work on successive poses in parallel in an onion-skinned display.

Removing the creative stumbling blocks from character animation
First previewed in 2018, and in closed beta since the start of this year, Rumba is pitched as "the best professional 3D animation solution on the market".
The software is intended to remove traditional creative stumbling blocks from animation work, enabling animators to work directly on a character without the need to do any unnecessary technical set-up.
Its novel features include the option to pose characters directly by manipulating their geometry, rather than a control rig: a workflow previously available mainly in the in-house tools of big animation studios.
Animators can also work on multiple poses in parallel, via an onion-skinned view that displays a character at successive frames of the animation simultaneously, as shown in the video below.

A range of toolsets for non-destructive animation workflows
Rumba doesn't break with conventional 3D animation workflows entirely: it also includes most of the toolsets that you would expect in traditional animation software.
That includes a channel view, timeline, curve editor, non-destructive animation editing via animation layers and constraint layers, pose and clips libraries, and the option to display motion trails in the viewport.
You can find a brief overview of the key features in the online documentation.

Designed to slot into traditional Maya pipelines, not replace them
Unlike some unconventional tools, Rumba is also designed to play nicely in conventional pipelines – in this case, traditional Maya-based production pipelines – rather than supplanting them.
Users rig characters in Maya, then export them to Rumba via the accompanying mtorba plugin.
As well as native Maya rigs, it is possible to use those generated by key third-party autorigging tools including mGear, The Setup Machine and Advanced Skeleton.
Props and scene geometry can be exported as standard Alembic files, and the completed animation can also be exported back to Maya as Alembic caches, or in FBX format.
As with its sister application, production renderer Guerilla Render, Rumba is intended to handle assets of the complexity used in typical VFX and feature animation pipelines.
According to Mercenaries Engineering, its automatic caching system makes it possible to play back "dozens" of character rigs in real time.
For pipeline integration, Rumba comes with a C++ and Python API – the software also has a built-in Python script editor – and supports key techologies including OpenSubdiv, OpenImageIO and IlmBase.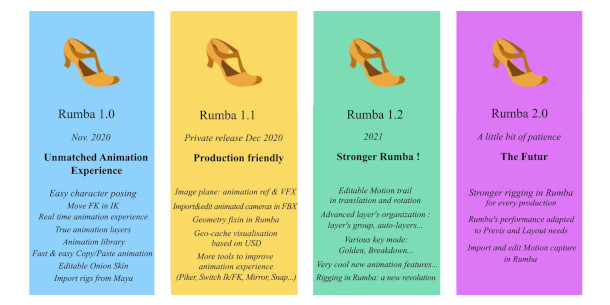 Limitations of the 1.0 release
However, in the 1.0 release, Rumba has some key limitations, identified in the product roadmap above.
Initial support for the increasingly important USD scene description format is due in Rumba 1.1 later this year, as is the option to import and edit camera animations.
Native rigging tools are due in Rumba 1.2 next year, but support for motion-capture-based workflows, as opposed to pure keyframe animation, is just listed as planned for the "future".
We've also contacted Mercenaries Engineering to ask if it plans to support exporting character rigs to Rumba from software other than Maya, and will update if we hear back.
Updated 17 November 2020: Support for importing rigs in FBX format is planned in Rumba 1.2.
Pricing and system requirements
Rumba 1.0 is available for Windows 7+ and glibc 2.17+ Linux.
The software is rental-only, with Freelance licences – restricted to one per facility or project – costing €200/year (around $235/year) and Studio licences costing €600/year ($705/year).
If you want to try before you buy, Mercenaries Engineering also provides free, fully featured Enthusiast and Education licences, for non-commercial use only.

Visit the Rumba product website
Read more about Rumba workflow in the software's online documentation
Tags: Advanced Skeleton, Alembic, animated camera, animation layer, API, C#, channel view, Character Animation, character rigging, clip library, constraint layer, curve editor, direct manipulation, FBX, feature animation, free edition, Guerilla Render, IlmBase, keyframe animation, limitations, Maya, Mercenaries Engineering, mGear, mocap, motion capture, motion trail, mtorba, non-destructive, onion skinning, OpenImageIO, OpenSubDiv, pose library, price, product roadmap, Python, real time, restrictions, Rumba, Rumba 1.0, Rumba 1.1, script editor, system requirements, The Setup Machine, timeline, USD, vfx, visual effects