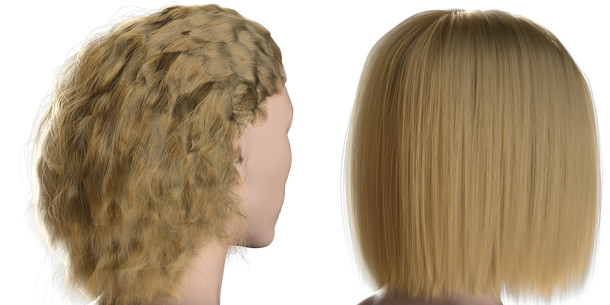 Mercenaries Engineering has released Guerilla Render 1.4.1: a sizeable update to its look development, lighting and rendering system that adds a new physically based hair shader and a render denoising system.
The 1.4 series of releases also adds support for Maya's XGen instancing system, crowd simulation tool Golaem, and ZBrush's new vector displacement textures.
In addition, the renderer now supports OpenEXR/Id, Mercenaries Engineering's own open-source file format for storing per-object masks within rendered images for use in compositing software.
A heavyweight renderer for movie effects and feature animation
First released in 2013, Guerilla Render is intended as a heavy-duty production rendering system for both visual effects and feature animation.
The software is designed to provide fine control over complex real-world render set-ups, offering light/trace linking and light override options, and supports common pipeline technologies.
It has been used on a range of commercial projects, including Onyx Films' animated features Mune: Le gardien de la lune and The Little Prince, the latter directed by Kung Fu Panda's Mark Osborne.
New render denoising system
New features in the 1.4 series of releases include a Denoising system, along the lines of those recently introduced in RenderMan and V-Ray.
The system is applied as a post-process to fast, noisy raw renders, generating a clean image more quickly than allowing the render to resolve to the same point unaided.
Guerilla Render is also now compatible with Altus, innoBright Technologies' standalone denoising tool.
New hair, toon and car paint shaders, plus improved workflows on complex scenes
Other changes include a fast new physically based hair shader; a new toon shader; and a flake shader for rendering car paint.
There are also new options to isolate the effect of any component of a shader in the viewport; and to isolate or override any individual instance in a scene.
Mercenaries Engineering has also added a new Archives system, enabling users to pack large sets of static objects, lights and shaders into .rib archives and manipulate them as single files.

OpenEXR/Id helps isolate objects within renders inside compositing software
Another interesting addition is support for OpenEXR/Id, Mercenaries Engineering's new open-source file format for storing per-object matte data within rendered images.
Described as an "innovative extension [of the OpenEXR format] to store masks and colors on a per-object basis", the technology works along similar lines to Psyop's Cryptomatte system.
Using the OpenFX plugins provided, users can import renders in OpenEXR/Id format into compositing software and isolate individual objects within them automatically via object names or expressions.
Support for XGen, Golaem and ZBrush 4R8's vector displacement textures
The renderer also now supports a wider range of common pipeline technologies, including a new procedural for Maya's XGen instancing system, and native support for crowd simulation tool Golaem's own procedural.
The renderer can also now process the new vector displacement textures generated by ZBrush 4R8.
In addition, the renderer's Surface shader is available for Mari, enabling users to paint Surface maps directly in the texturing software and see the results in real time.
Guerilla Render also now supports the OpenColorIO colour-management standard.
In addition, there are a number of performance improvements and smaller new features, which you can read about via the links at the foot of the story.
Pricing and availability
Guerilla Render 1.4.1 is available now for 64-bit Windows and Linux. Workstation licences cost €2,000 (around $2,120); render node licences cost €700 ($740).
You can also download one licence free, which may be used in commercial work.

Read a full list of new features in Guerilla Render 1.4.1 in Mercenaries Engineering's Facebook post
Read about features in the Guerilla Render 1.4 series of releases on the product website
Tags: car paint shader, crowd simulation, denoising, feature animation, Golaem, Guerilla Render, Guerilla Render 1.4, hair shader, instancing, Maya, Mercenaries Engineering, new features, OpenColorIO, pipeline, price, production renderer, rendering, RIB archive, toon shader, vector displacement, visual effects, XGen, ZBrush, ZBrush 4R8