Thursday, July 16th, 2020

Posted by Jim Thacker
Foundry releases Mari 4.6v4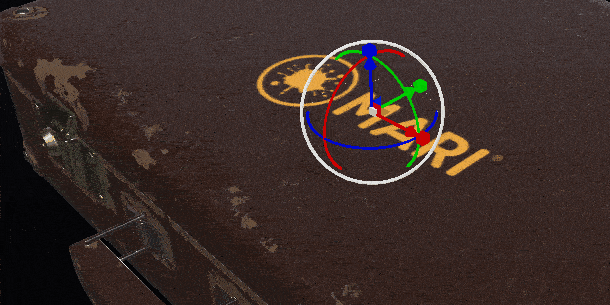 Foundry has released Mari 4.6v4, the latest update to its 3D texture painting software.
Although it's officially described as a maintenance release, it actually adds quite a number of new features, including a new local space mode for the transform tool and improvements to baking workflow.
Since the orignal release of Mari 4.6, Foundry has also restored the macOS edition of the software to parity with the Windows and Linux versions, with 4.6v4 available for all three operating systems.
New local space mode for the transform tool
Foundry describes Mari 4.6v4 as falling midway between a conventional maintenance release and a feature update, introducing "lower risk features" that studios can implement in live productions.
Those new features include a local space mode for the Transform Selected Objects tool, shown above.
Users can also now hold [Ctrl] while manipulating the control handles to perform a transformation in incremental steps; and the hit area for the tool has been increased, making it easier to select the handles.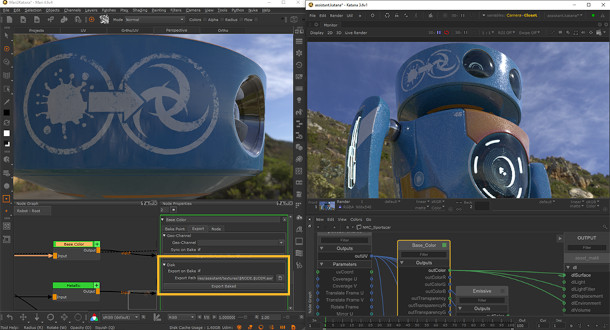 Improved texture baking workflow, particularly for complex assets
The release also updates baking workflow, with a new Limited Patch Range option for the Bake Point node.
Previously, baking would flatten the upstream node graph for every UDIM patch within a project, even if the result would be masked for a small range of patches downstream.
The new setting enables users to limit baking to a range of patches, avoiding wasted processing time.
The Bake Point node also gets a new Export on Bake option, shown in the image above, which automatically exports the result of a bake to disk, rather than relying on the user to do so manually.
Foundry describes the functionality as "tightening the loop" between Mari and software that ingests texture maps generated in Mari, like Katana, its lighting and look development toolset.
Performance and workflow improvements
Other changes include a new option to pause viewport canvas rendering when the mouse cursor is outside the canvas, reducing unnecessary GPU usage.
There are also a number of UI and workflow improvements, particularly when working with node graphs: you can find a full list of changes via the links at the foot of the story.
Source code available for a new USD import plugin
Outside the core application, Foundry has "taken ownership" of a USD mesh importer plugin originally developed at Pixar, for importing assets in USD format directly into Mari.
The Foundry's version, the source code of which is available under an Apache 2.0 licence as a resource for pipline devs, currently only supports meshes and transforms.
Support for shading, cameras and other USD schemas should follow soon, along with the option to export assets in USD format, as part of a wider move to support a USD-native workflow within Mari.
Mac versions of Mari 4.x finally available again
In addition, Mari 4.6v4 is available for macOS as well as Windows and Linux.
The reintroduction of a macOS release – it actually happened with Mari 4.6v2 in January – ends a two-year period during which the latest version of the software was not available for macOS.
The hiatus originally occurred as a result of support for VFX Reference Platform 2017 in Mari 4.0, which caused changes to the Qt libraries used for Mari's user interface.
Pricing and availability
Mari 4.6v4 is available for Windows 7+, CentOS/RHEL 6+ Linux and macOS 10.14+.
Since the original 4.6 release, the cost of both node-locked and floating licences has risen by $100, to $2,168. Rental now costs $62/month or $629/year.

Read an overview of the new features in Mari 4.6v4 on Foundry's website
Read a full list of new features in Mari 4.6v4 in the online release notes

Correction: This story originally stated that the new local space mode applied to the Transform Paint Buffer tool, not the Transform Selected Objects tool. Apologies for the error.