Foundry has released Mari 4.0, the latest version of its texture painting software.
The update focuses on workflow and under-the-hood changes, radically decluttering the user interface, reducing setup time when creating new projects, and improving interoperability with other DCC tools.
Decluttered new UI gives more screen space to the asset being painted
The most visible change in Mari 4.0 is the new interface design, which Foundry previewed earlier this year.
Designed to maximise the screen space occupied by the asset being painted, the update relocates the HUD to the bottom right of the the viewport and relocates palettes in a vertical toolbar to the right of the screen.
By default, palettes pop out of the toolbar temporarily, rather than remaining on screen at all times, although it's still possible to dock them permenantly if required.
The update also reduces the number of palettes, merging Painting and Projection, and removing the Brush Editor palette entirely. Brushes can now be customised via Tool Properties.
Workflow updates streamline project set-up and improve precision when picking colours
Workflow updates include changes intended to reduce the time taken to set up a project, with the New Project dialog getting new tabs for setting up project lighting, channel presets and colour space settings.
When using channel presets, Mari now builds a shader automatically and connects the channels created to their corresponding Node Graph inputs, rather then requiring the user to do so manually.
The Colors palette has been redesigned to improve precision when selecting colours, with pickers and sliders now resizing with the palette, and sliders displaying colour gradients.
Curve controls get a similar change, displaying as a scalable Curve Editor window and greyscale gradient.
There is also a new drag-and-drop mechanism for filling selections with colours. It works with face, patch and object selections, or fills the selected area of the texture buffer when using the Marquee Select tool.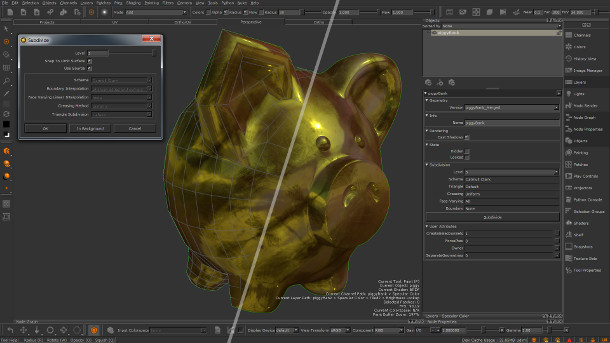 Mari 4.0 now supports VFX Reference Platform 2017, including version 3.1 of Pixar's OpenSubdiv libraries.
Improved interoperability with other standard tools in VFX pipelines
Under the hood, Mari 4.0 now conforms to the VFX Reference Platform: in this case, the 2017 specification, as opposed to the recently ratified 2018 spec.
The platform is intended to minimise pipeline conflicts between software packages, providing a set of target versions for common programming libraries, open standards and file formats like FBX and Alembic.
Other changes designed to improve pipeline interoperability include a new Export Manager dialog for configuring batch exports of Channels and Bake Point Nodes.
The dialog makes it possible to create multiple export targets from a single project, with format conversions being performed during export, making it easier to get texture maps created in Mari into other apps.
Mari also becomes the latest app to get a shader based on Disney's principled BRDF model, which should improve consistency between the way assets display in Mari and in other tools that support the model.
Other changes: browse Megascans from within the software
Other changes include a new Texture Sets palette for managing texture sets, including a dedicated tab for browsing Quixel's Megascans library of scanned real-world materials from within the software.
The update also removes the Basic mode for the node graph, meaning that Advanced mode is now standard; and that the full node graph is now accessible in the Non-Commercial edition of the software.
Early reactions: welcome time-saving improvements, but no major new features
As a workflow-focused release, Mari 4 will be a mixed blessing for users looking for major new features, with the pace of development of tools like Allegorithmic's Substance Painter being cited in several forum threads.
However, feedback from early adopters and beta testers has been generally positive, particularly from artists working at large studios, with both the new interface and start-up workflow described as time-savers.
Pricing and availability
Mari 4.0 is available for 64-bit Windows 7+ and CentOS/RHEL 6+ Linux. Both nodelocked and floating licences have an MSRP of $2,049. New rental options are also available, discussed here.
The Mac version has been delayed by changes to the Qt UI libraries as part of support for VFX Reference Platform 2017: according to Foundry's FAQs, it's in progress, but there isn't a definite release date.

Read a full list of new features in Mari 4.0 in Foundry's release notes
Visit the Mari product website
Tags: 3D painting, color picker, Colors palette, Disney, Disney principled material, Disney principled shader, Export Manager, Foundry, GUI, HUD, interoperability, Mac version, Mari, Mari 4.0, Megascans, new features, new interface, node graph, Palettes toolbar, pipeline, price, Quixel, texturing, UI, VFX Reference Platform, VFX Reference Platform 2017