Friday, March 19th, 2021

Posted by Jim Thacker
Foundry reveals its 2021 Mari product roadmap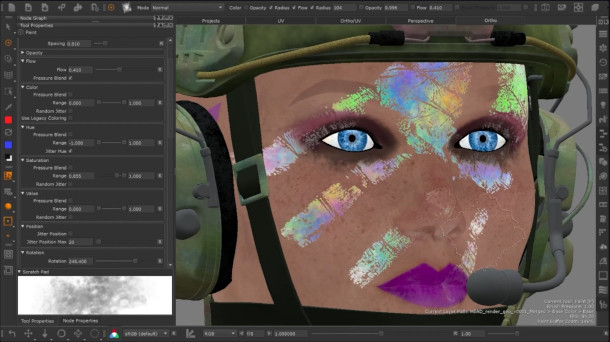 HSV jittering being used to create multi-coloured paint strokes in Mari: just one of the new features due to be added to the brush engine in Foundry's 3D texture painting software this year.

Foundry has previewed its 2021 development roadmap for Mari, its 3D texture painting software, during a livestream at this week's Foundry Live 2021 user event.
Key changes due to be made to the software this year include support for Python 3.7, a new USD-based workflow for exchanging materials data with Katana, and support for multiple colours in paint strokes.
The company hasn't announced in which version of the software in which the new features will appear, but given the scale of the work involved, we assume it will be Mari 5.0 rather than a point update.
A move to Python 3 as part of support for VFX Reference Platform CY2020
Foundry's key objective for the year – from the point of view of development effort, at least – is to address what product manager Rory Woodford described as "our Python-3-shaped elephant in the room".
Despite Python 2 having reached the end of its life in 2020, the firm has yet to update Mari to version 3 of the programming language, unlike other major DCC applications.
Foundry says that Mari will move to Python 3.7 as part of wider support for the VFX Reference Platform CY2020 specification, which governs common technologies used in visual effects software.
New USD-powered look dev workflows between Mari and Katana
Another key goal for 2021 is what Woodford described as "reduc[ing] pipeline friction by introducing interop workflows between Mari and Katana with USD".
Foundry has introduced UsdPreviewSurface, the standard preview material specified by the Universal Scene Description framework, into Mari as a new shader type.
The firm now plans to make it possible to export a UsdPreviewSurface representation of a material, along with its flattened input channels, to texture maps and a UsdShade look document.
The workflow will make it possible to transfer materials authored in Mari to Katana, Foundry's lighting and look dev software, or other USD-compatible apps, with a "pre-authored rich viewport representation".
The firm is also working on the ability for users to be able to author separate looks for both preview and render contexts during look development work.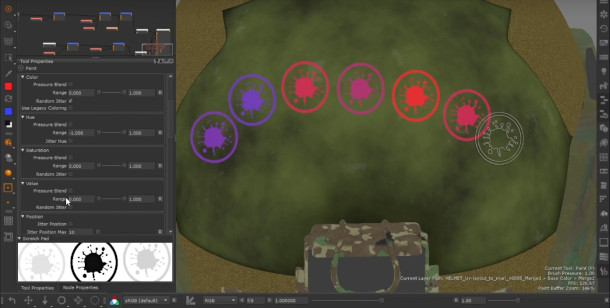 Support for multiple colours in brush strokes, new HSV adjustment brush
However, for many artists, the biggest day-to-day change may be the new quality-of-life features.
They include an update to the brush engine – little changed since Mari 1.0 – which now supports multiple colours for the 'splats' that make up brush strokes composited to the paint buffer.
As well as making it possible to paint strokes with a gradient between a foreground and background colour, Mari will support HSV jittering of brush colour: a much-requested feature.
In addition, when painting through images onto the canvas, it will be possible to stamp the same image multiple times with different colour adjustments.
It will also be possible to use the luminance of an image to define the shape of the brush tip, as well as the image's RGBA channels.
Ailing Mac edition finally gone for good
One thing that isn't on the roadmap is the Mac edition of Mari. In an advisory notice posted on its website last month, Foundry announced that the current release, Mari 4.7, would be the last to support macOS.
The firm will continue to release maintenance updates to Mari 4.7 on macOS until the end of 2021.
The announcement follows a previous two-year hiatus during which latest version of the software was not available for macOS, finally ended with the release of Mari 4.6v2 last year.
Foundry's advisory cites the development effort required to create a version of Mari that runs natively under Apple's Metal API, following Apple's decision to deprecate OpenGL in macOS 10.14 in 2018.
"We debated for a long while whether or not to knuckle down and make the transition or to end of life our support for the macOS platform," the firm wrote.
"Unfortunately, it became clear that for the sake of forward development for the majority of the Mari user base, who use Windows and Linux, the appropriate choice was sadly to cease Mari development on macOS."
The move does not affect Foundry's other software, particularly Nuke and Modo, both of which are much more widely used on macOS, and where native support for both Metal and Apple's new M1 chips is planned.
Pricing and availability
Foundry hasn't announced a release date for Mari 5.0 or any further updates in the 4.x series.
The current version, Mari 4.7v2, is available for Windows 7+, CentOS/RHEL 6+ Linux and macOS 10.14+. Both node-locked and floating perpetual licences now cost $2,280. Rental starts at $65/month or $659/year.