Pixologic has announced that ZBrush 4R8, the long-awaited update to its sculpting software, will ship today.
The release was due to become available within an hour of today's Livestream showcasing the new features – that is, by 4pm PDT – so if you're lucky, it should be out by the time you read this.
Updated: The release is available to download now.
An unexpected release for an unexpected update
First announced at Pixologic's ZBrush Summit user event last year, ZBrush 4R8 was an unexpected extra stop on the way to the even-more-long-awaited ZBrush 5: the next commercial release of the software.
Most people expected it to ship within a few months, but since then, Pixologic has maintained radio silence – as you can see by the increasingly despairing series of user comments on our original ZBrush 4R8 story.
As a result, today's Livestream was a complete – and very welcome – surprise: while users hoped that the firm would announce a release date for ZBrush 4R8, few expected that release date to be the same day.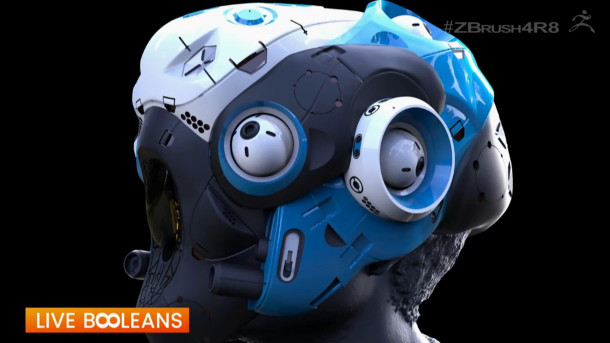 Live Booleans: a dynamic, non-destructive, real-time Boolean modelling system
For many artists, the key addition in ZBrush 4R8 will be Live Booleans, a new real-time Boolean modelling system along the lines of Modo's MeshFusion toolset.
It lets users perform standard Boolean operations – union, subtraction and intersection – non-destructively as a render-time effect, making it possible to edit the original SubTools and see the result update in real time.
Once a design is finalised, the render preview can be converted to actual geometry using the new Make Boolean Mesh command.
To judge by the demos from the Livestream, the conversion process is pretty fast, even on complex models: the multi-million-poly helmeted bust above processed in under 25 seconds.
Works with existing geometry types and sculpting tools
As well as simple primitives, the system works with subvided geometry and DynaMeshes, making it possible to use ZBrush's standard tools to sculpt on top of a Boolean while it is still live.
That includes the InsertMultiMesh brush, making it possible to create very complex forms indeed.
The operations only change topology along the surfaces of intersection between SubTools, meaning that you can also use Live Booleans with retopologised geometry generated by the software's ZRemesher tool.
Booleans also preserve Polypaint and material data from the original SubTools.
And since operations follow a model's existing hierarchy, it's also possible to adjust the output of complex multi-Boolean set-ups by reordering parts in the SubTool palette.
"Live Booleans allow you to create shapes faster: things that would take a long time using conventional techniques," said Pixologic creative development manager Joseph Drust. "You have a lot of flexibility."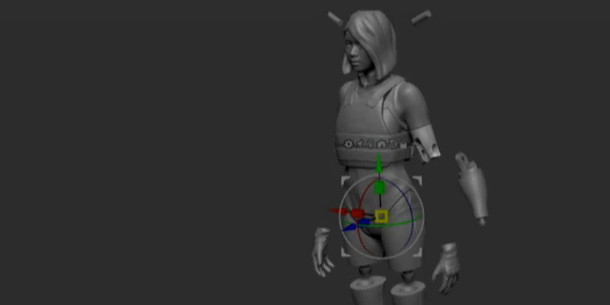 One group of users who will particularly benefit from the new Live Booleans toolset are those creating designs for 3D printing, like props or collectible figures.
In his demo, Drust showed the system in action to add articulation to the joints of the female figure above, simply by Booleaning a pre-made peg-and-hole joint with the character's knees and elbows.
Another demo showed the toolset in use to design a matrix mould, using the real-time preview to show cross-sections of the outer shell, and the standard sculpting tools to fix any thin spots on its walls.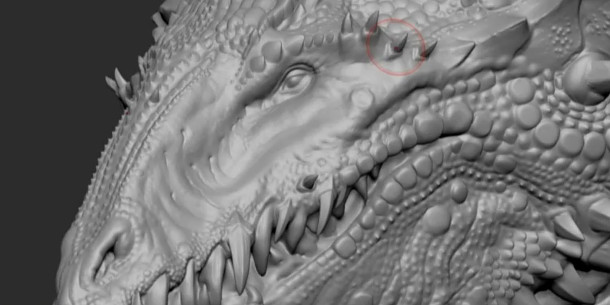 Multi Vector Displacement Mesh: sculpt with '3D alphas'
Another major new feature is the Multi Vector Displacement Mesh system (MVDM or just VDM): effectively a 3D version of the software's existing alpha sculpting functionality.
Rather than deforming the surface of the model using a standard 2D alpha, it uses a vector displacement map, making it possible to generate complex 3D geometry, complete with undercuts.
"It's really a 3D mesh that's on your brush," said Pixologic 3D product development manager Paul Gaboury.
As well as importing existing vector displacement maps – which can be done as 32-bit EXR files – you can design your own vector displacement meshes directly within ZBrush, starting with simple presets.
From the demos in the Livestream, the system looks a good way to add complex surface detail to sculpts very quickly: for example, the bony spikes on the head of the dragon shown above.
The only limitation is that you can't start out with DynaMesh geometry: the base mesh must be even quads.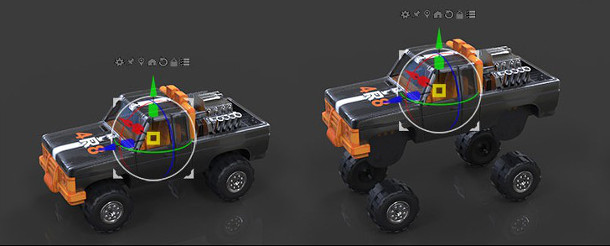 New universal transform gizmo
Pixologic has also overhauled a lot of ZBrush's existing modelling workflows, bringing them more in line with conventional 3D modelling applications.
The most obvious change is the new universal transform gizmo, which provides an alternative to the old Transpose line for move, rotate and scale operations.
Among other things, the row of icons above the gizmo let you unlock its pivot point, move it – or snap it to a new part of the geometry – then relock it, adjusting where the transform is applied.
It's also possible to apply a transform to multiple SubTools simultaneously, either by using the icons, or simply by marquee-selecting the SubTools in the viewport in the same way that you would apply a mask.
"This has been huge," said Joseph Drust. "I rarely use [the old Transpose line] now."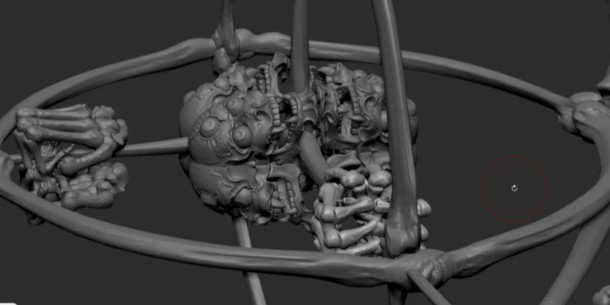 But ZBrush being ZBrush, the gizmo doesn't work in quite the same way as the ones in 3ds Max or Maya.
One unique feature is the option to use a custom 3D model in place of the standard gizmo, including meshes sculpted in ZBrush itself: like this mind-bending bone cage from beta tester Thomas Wittelsbach.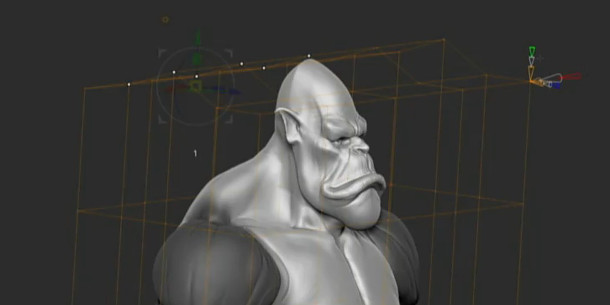 Eight new deformers, including a customisable freefrom lattice deformer
Another new feature that will be familiar from other 3D modelling tools is a new set of eight deformers, including a much-requested lattice deformer along the lines of Maya's freeform deformation system.
An accompanying gizmo – the set of cones at the top right of the image above – lets you adjust the number of divisions in the deformation cage, or the smoothness of the deformation, directly in the viewport.
It's also possible to marquee-select and move cage points around directly.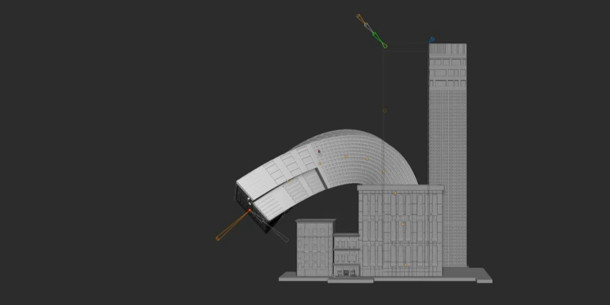 Handy Bend Curve, Bend Arc and Extender deformers
Other new deformers include Bend Curve and Bend Arc, which deform flat geometry into curves or tubes.
As well as the crazy Doctor Strange-style city-warping effect above, other demos showed them in use to shape the straps of a backpack, and to create knobs and buttons for a futuristic watch.
The latter looks a likely use case, since the system enables artists to design parts for hard-surface models in isolation, then use the new deformers to fit them to existing curved surfaces.
The update also adds an Extender deformer for adding edge loops or extrusions to a mesh; and Flatten, Twist, Taper and Multi Slice deformers – not shown in the live demo, but presumably fairly self-descriptive.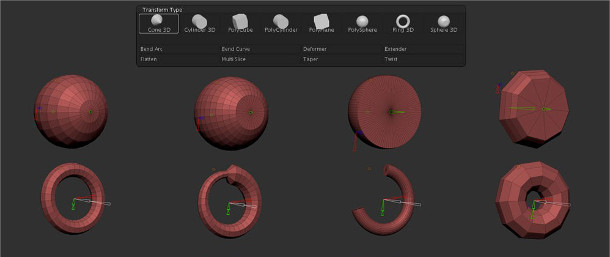 A complete new 'Interactive Primitives' toolset
As you can see from the image above, the floating palette containing the new deformers also provides access to a set of standard 3D primitives: collectively, the basis of ZBrush 4R8's new Interactive Primitives.
When applied to primitives, the deformers turn simple geometry into "a whole library of sculptable shapes".
As well as being used as components of more complex models, the Interactive Primitives combine well with the new Live Booleans system, since their parameters remain fully editable after they have been created.
New 3D text and vector shape functionality
Another new feature revealed in the Livetream is the new 3D Text & Vector Shape palette, which enables users to create 3D forms based on text or imported SVG files.
It comes with standard Extrusion, Spacing and Bevel settings – and again, workflow is non-destructive, making it change the font used for 3D text without destroying the existing bevel, for example.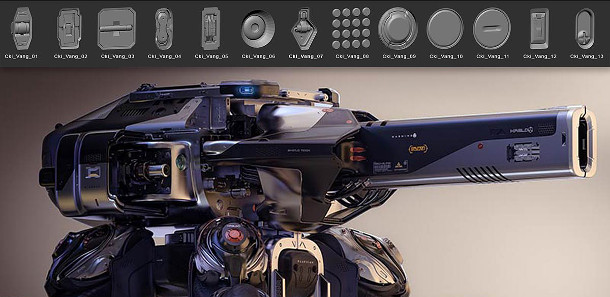 The InsertMultiMesh brush's new IMM Selector. Image: CKI Vang

Workflow changes: improvements to the IMM brushes, LazyMouse and alphas
There are also some nice workflow changes, like the InsertMultiMesh brush's new IMM Selector: a ribbon-like on-screen browser showing the component meshes available.
By swiping left or right, it is possible to swap any inserted mesh for another in the set in real time; and it's possible to copy and paste meshes from one brush to another, including the new VDM brushes.
The LazyMouse system, which smooths out jitter when drawing onto the surface of a model, also gets a new LazySnap system, enabling users to pause, rotate the model, then extend an existing stroke seamlessly.
Other changes include the option to magnify an alpha while sculpting with it by changing the pressure of the stylus on your graphics tablet; and a new Alpha Streak mode, which gives painterly, smudged effects.
New language editions and export plugins
Outside of the art tools, ZBrush 4R8 now comes in localised English, Simplified Chinese, French, German, Japanese, Korean and Spanish-language editions; and UI text now scales properly on high-res displays.
There are also several new plugins designed for exporting sculpts for 3D printing, or to other DCC tools.
These include a ZBrush to Sculpteo plugin, which exports the model to the Sculpteo 3D printing service; and Scale Master, which makes it easier to set ZBrush to use real-world measurements, or rescale sculpts.
The existing 3D Print Exporter has been replaced with a new 3D Print Hub plugin.
There is also a new ZBrush to Photoshop CC plugin, designed for exporting BPR render passes to Photoshop with more control over how material and render properties are divided into individual layers.
The GoZ exporter, which provides a live link between ZBrush and other DCC applications, also gets an update – among other things, improving performance and enabling Polypaint data to be sent to Maya.
Pricing and availability
ZBrush 4R8 is available for Windows Vista and above and Mac OS X 10.8 and above.
The update is free to all registered users of the software: the latest in a long line of major feature releases that Pixologic has put out for free. New licences of ZBrush cost $795.
Users of ZBrushCore, the new cut-down version of the software aimed at students and 3D printing enthusiasts, will be able to update to the full version of ZBrush 4R8 for $695.
Read a full list of new features in ZBrush 4R8 on Pixologic's website
Tags: 3D gizmo, 3D Print Hub, 3D printing, 3D text, Alpha Streak, Bend Arc deformer, Bend Curve deformer, Booleans, defomers, DynaMesh, Extender deformer, free, GoZ, HiDPI, IMM Selector, Insert Mesh Selector, InsertMultiMesh, interactive, language editions, Lattice Deformer, LazyMouse, LazySnap, Live Booleans, Magnify, mask, Maya, MeshFusion, modeling, modo, Multi Vector Displacement Mesh, new features, Pixologic, plugin, price, real time, release date, Scale Master, sculpting, SVG, system requirements, UI, universal transform gizmo, update, VDM, Vector Displacement Mesh, vector shapes, ZBrush, ZBrush 4R8, ZBrush 5, ZBrush Core, ZBrush to Photoshop CC, ZBrush to Sculpteo, ZRemesher