Originally posted on 29 March 2018. Scroll down for news of the 2018.1 update.
Pixologic has released ZBrush 2018, the latest update to its industry-standard digital sculpting software, integrating the dynamic tessellation system from sister product Sculptris.
The release, which is free to registered users, also extends the Gizmo 3D universal manipulator system to cover 27 separate deformers and introduces a new automated system for generating poly groups.
Not ZBrush 5 but yet another free update to the software
In some ways, ZBrush 2018 is noteworthy for what it is not: namely, a paid-for upgrade to the software.
Pixologic announced the end of the ZBrush 4 release series as long ago as 2014, but in the end, it squeezed in two further updates, ZBrush 4R7 and ZBrush 4R8.
It has now sidestepped the issue of a paid ZBrush 5 release entirely by switching version numbering.
The changelog of ZBrush 2018 isn't any larger than the previous point updates – arguably, it provides fewer, albeit large, features – but once again, it's a substantial update to the software, entirely for free.
New Sculptris Pro mode adds support for dynamic tessellation
The biggest feature in ZBrush 2018 is also one of the longest-awaited: Sculptris Pro. The new sculpting mode integrates the dynamic tessellation system from Sculptris, the free tool Pixologic acquired in 2010.
Sculptris Pro dynamically changes the polygon density of a mesh as an artist sculpts – in Pixologic's terminology, it 'tessimates' it – rather than requiring them to subdivide it in order to carry on adding detail.
Unlike the existing DynaMesh system, it isn't designed simply for roughing out a model: it should enable users to create detailed finished sculpts from simple primitives without having to retopologise the mesh.
It is also aimed at CAD data or 3D printed models, where topology may not be optimised for sculpting; and for meshes generated by the Live Booleans system added in ZBrush 4R8, where polygon density can vary.
When working in Sculptris Pro mode, UVs are not preserved, and not all of ZBrush's existing brushes, stroke types and masking options will work: you can see a list of restrictions here.
However, Pixologic says that "the majority" of the existing brushes are compatible, and that ZBrush 2018 comes with new Snake Hook brushes specifically designed to work with Sculptris Pro.
The news comes just weeks after Autodesk added its own dynamic tessellation system to Mudbox 2018.2. Both Blender and 3D-Coat also have similar functionality.

Gizmo 3D manipulator now supports 27 deformers, including the new Project Primitive tool
Another key change in ZBrush 2018 is the extension of the Gizmo 3D universal manipulator system introduced in ZBrush 4R8, which now supports 27 separate deformers.
Those newly supported in the update include Scale, Skew, Inflate, Remesh By ZRemesher, Remesh By DynaMesh, Bevel, Crease, Smooth and Offset.


There is also a new deformer, Project Primitive: a "full creation and modification tool" in its own right.
It enables users to modify a mesh by projecting 3D primitives like spheres or cubes onto its surface, deforming the surface in or out. The primitives can remain invisible, or become meshes in their own right.
Users can also turn on symmetry – both "classic axis symmetry" and Project Primitive's own Radial Symmetry mode – making it possible to generate complex surface details on a model very quickly.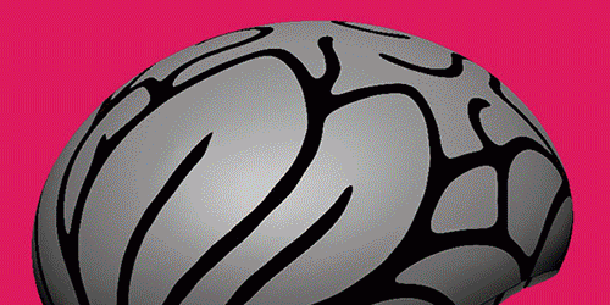 PolyGroupIt automatically generates polygroups based on a model's surface structure
ZBrush 2018 also introduces PolyGroupIt: a new automated system for generating polygroups on a model.
Users can direct the process by clicking on the surface of the mesh to define a 'seed' point around which PolyGroupIt will generate groups, or by painting group boundaries directly with ZBrush's Polypaint toolset.
The resulting groups can be adjusted by moving or deleting seeds, or growing or shrinking group edges.
According to Pixologic, groups are based on surface structure rather than underlying topology, making it possible to use on both hard-surface and organic models, and on models using symmetry or DynaMesh.
New options for working with curves and generating displacement maps
Other new features include new options to reshape or smooth the curves assigned to sculpting brushes after they have been created, and to set Draw Size individually for different brushes.
Workflow improvements include support for vertex colour when importing models in OBJ format, and the option to use a model's HD Geometry as the highest subdivision level when generating displacement maps.
You can read a full list of smaller features here.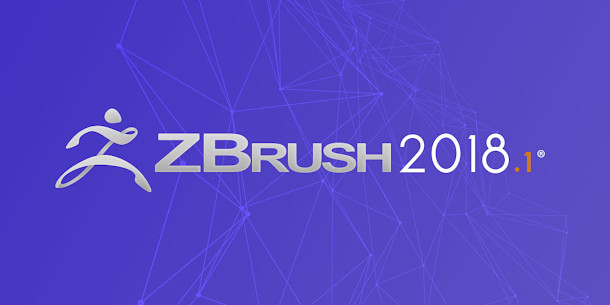 Updated 21 June 2018: Pixologic has released ZBrush 2018.1. It's a free patch, mainly designed to improve stability and sculpting and navigation speed, but there are a few new workflow features.

Pricing and availability
ZBrush 2018.1 is available for 64-bit Windows Vista and above and Mac OS X 10.8 and above. As of the 2018 update, all ZBrush licences are now dual-platform for both Windows and Mac.
The release is free to registered users: the tenth free update in a row. New licences cost $895.

Read Pixologic's official thread announcing ZBrush 2018 on ZBrushCentral
Read a full list of new features in ZBrush 2018 in the online documentation
Read a full list of new features in ZBrush 2018.1 on Pixologic's blog
Tags: adaptive tessellation, brush, curve, deformer, digital sculpting, displacement map, DynaMesh, dynamic tessellation, free, free update, free upgrade, Gizmo 3D, Mudbox 2018.2, new features, new price, OBJ, Pixologix, polygroup, PolyGroupIt, price, price rise, Project Primitive, sculpting brush, Sculptris, Sculptris Pro, Snake Hook, symmetry, system requirements, tessimation, ZBrush, ZBrush 2018, ZBrush 2018.1, ZBrush 5