Saturday, November 22nd, 2014

Posted by Jim Thacker
Videos: Pixologic unveils ZBrush 4R7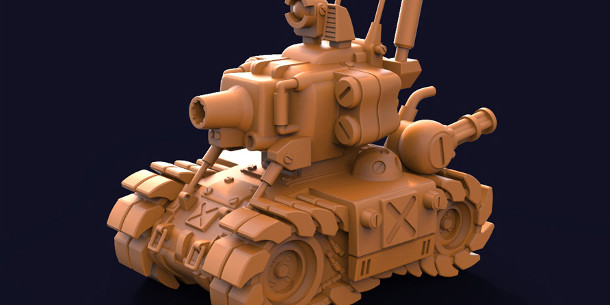 A model by Pixologic's Joseph Drust illustrating two key features of the forthcoming ZBrush 4R7 update: an expanded hard-surface modelling toolset and a live link to Luxion's KeyShot renderer.
Originally posted on 11 August. Scroll down for updates.
Pixologic has announced ZBrush 4R7, the latest free update to the 3D sculpting package, greatly expanding the software's hard-surface modelling toolset and positioning KeyShot as its de facto renderer.
The new version was demoed at the company's ZBrush Summit event, which took place at the Gnomon School of Visual Effects over the weekend.
Not ZBrush 5 – but still pretty awesome
When ZBrush Summit was announced, there was a lot of speculation on the forums that Pixologic would use the event to launch either ZBrush 5 or the long-awaited 64-bit edition of the software.
In the event, it didn't quite do either – but it hinted at both.
Although it's still 32-bit, ZBrush 4R7 will be the last release in the ZBrush 4 series – and there will be a simultaneous public beta of a 64-bit edition. ZBrush 5 will be fully 64-bit on Windows and Mac OS X.
But more significantly for the immediate future, the new tools in ZBrush 4R7 look set to do for box modelling workflows what previous releases of the software have done for organic sculpting.
Pixologic hasn't posted a full feature list or the videos from the live streams yet, but several people have posted their own recordings online: the one above comes from well-known forum member Steve 'cresshead' Gilbert.
You can see the new modelling workflow in action from around 16:00 onwards: note the speed and interactivity with which operations like bridging geometry can be carried out.
The update also introduces what Pixologic terms 'dynamic subdivision', enabling artists to work on the subdivided mesh rather than the lo-res cage and see operations like bevels applied in real time.
Live link to the KeyShot renderer
Another new feature of ZBrush 4R7 can be seen around 39:00 in the same video: the KeyShot for ZBrush Bridge – a live link to Luxion's KeyShot renderer that supports all of ZBrush's materials.
The workflow provides a near-instantly-updated photorealistic view of a model in progress, and seems likely to replace ZBrush's own internal BPR render mode for a lot of users.
You will need a copy of KeyShot 5 to make use of it, of course – but Pixologic has also announced KeyShot for ZBrush: a new lower-cost edition of the renderer designed to work specifically with the bridge.
KeyShot for ZBrush has the same feature set as the $995 KeyShot HD, but will be available at an SRP of $349.
Render resolution is limited to 4.1 Megapixels – somewhere between full HD and 4K – but given that most people will be using it for asset approval or for personal work, that doesn't seem likely to be a major issue.
Pixologic hasn't announced a price for the bridge itself yet, but it will be a commercial add-on.
Another cool new feature in ZBrush 4R7 can be seen around 46:00 in the video above. Referred to variously as 'nano mesh' or 'nano particles', it's a system for distributing instanced geometry across a surface.
We've seen several forum users refer to it as 'InsertMesh on steroids', in reference to the IMM toolset added in ZBrush 4R4 for – among other things – distributing repeated geometry elements along a curve.
Not ZBrush 5 – but still a game-changer
All in all, ZBrush 4R7 is another radical update. The new hard-surface features make the software a plausible poly modelling tool, and with the link to KeyShot – already many users' renderer of choice for personal work – it seems likely that some modellers will eliminate all-round DCC packages like Maya entirely from their workflow.
And while it isn't ZBrush 5, if you're a registered user, it has the benefit of being yet another free update – at least, if you don't want the KeyShot functionality.
The 32-bit edition of ZBrush 4R7, the public beta of the 64-bit edition, KeyShot for ZBrush and the ZBrush to KeyShot bridge are all due to be released simultaneously – although Pixologic hasn't yet announced the date.
Updated 24 November: Pixologic has released its first proper teaser video for ZBrush 4R7.
Although the video, which shows the creation of a jet engine, officially demonstrates the ZBrush to KeyShot bridge, you actually get to see a lot of the new toolsets, including the NanoMesh instancing system.
More significantly, you see ZModeler, the new polygonal modelling toolset, in action, including the multifunctional QMesh brush, and workflow for inserting faces, closing holes and dynamically subdividing the mesh.
Read more about ZBrush 4R7 and KeyShot for ZBrush on the ZBrushCentral forum
(No official feature list yet, but a lot of demo images)