Wednesday, November 15th, 2023

Posted by Jim Thacker
Autodesk releases 3ds Max 2024.2
3ds Max 2024.2's Assign Controller rollout now resizes automatically to fit the Command Panel.

Autodesk has released 3ds Max 2024.2, the new version of its modeling and rendering software.
The update improves performance in several of 3ds Max's key modifiers, including the Boolean modifier, and Push, Relax, XForm and Volume Select – the latter is now "up to 10x" faster.
In addition, the Retopology Tools are now "up to 30%" faster, there are workflow improvements to the animation tools, and OCIO color management is now officially out of preview.
3ds Max's USD plugin and integration plugin for the Arnold renderer have also been updated.
Double the normal development time for a 3ds Max update
While Autodesk usually puts out updates to 3ds Max every three months, it has been six months since the release of 3ds Max 2024.1, and presumably as a result of the extra development time, the changelog for 3ds Max 2024.2 is rather longer than usual.
Although the update doesn't introduce any major new features, there are workflow and performance improvements to a number of the existing tools, some of them quite significant.

3D modeling: speed boosts and workflow improvements for Boolean operations
Those tools include the Boolean modifier introduced in 3ds Max 2024: Autodesk says that processing Boolean operations on meshes is now "35% faster".
In addition, the modifier now supports source meshes with co-planar faces.
Boolean sources now retain their original pivot points, making them easier to reposition; and Boolean operations on OpenVDB volumes now preserve their animation parameters.
3D modeling: updates to Data Channel, Push, Relax, XForm and Volume Select
Several other key modifiers get performance improvements: Push is "up to 1.5x faster", Relax and XForm are "up to 1.7x faster", and Volume Select is "up to 10x faster".
Volume Select also now supports animation of Material IDs and smoothing group values.
The Data Channel modifier gets a number of workflow improvements, including the option to use MAXScript scriptiong to process channel data.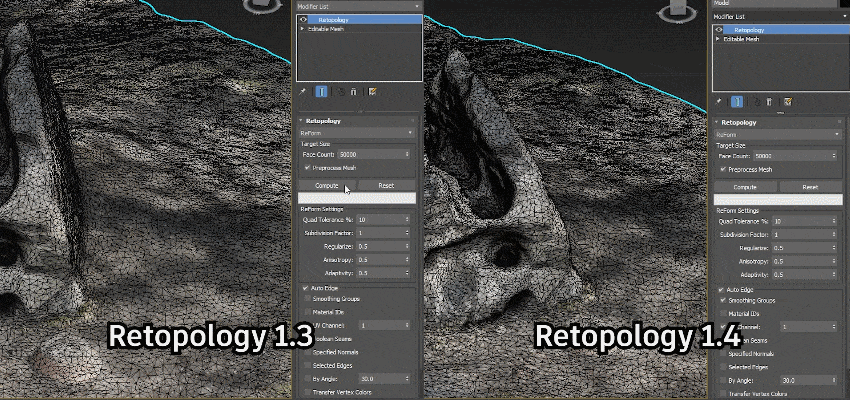 Retopology and UVs: performance and workflow improvements
Performance of the Retopology Tools has also been improved, with an update to the base algorithm, Autodesk ReForm, making processing "up to 30%" faster.
When UV unwrapping meshes, the Unfold3D Peel, Pack and Relax tools in the Unwrap UVW Modifier now respect the current UV selection.
Animation: updates to Assign Controller, Biped and CAT
For animators, the Assign Controller rollout now resizes to fit the dimensions of the Command Panel, with other improvements including an expanded context menu.
Biped and CAT get bugfixes and some smaller workflow improvements.
Other changes: OCIO color management is now production-ready
The new OCIO color management system introduced in 3ds Max 2024 is officially no longer classed as a technology preview, and gets a number of workflow improvements of its own.
In addition, 3ds Max now no longer saves scenes with empty Animation Layers, Note Tracks or Note Keys, reducing file sizes.
Significant updates to the USD and Arnold plugins
Outside the core software, the USD and Arnold plugins have been updated.
USD for 3ds Max 0.5 is a significant update, adding support for MaterialX, and for exporting facial animations created using 3ds Max's Morpher modifier as blendshapes. Find details in this story.
MAXtoA 5.6.5.1 adds support for the new features in Arnold 7.2.4.
Price and system requirements
3ds Max 2024.2 is available for Windows 10+. It is rental-only. Subscriptions cost $235/month or $1,875/year.
In many countries, artists earning under $100,000/year and working on projects valued at under $100,000/year qualify for Indie subscriptions, which now cost $305/year.
Read a full list of new features in 3ds Max 2024.2 in the online documentation

Have your say on this story by following CG Channel on Facebook, Instagram and X (formerly Twitter). As well as being able to comment on stories, followers of our social media accounts can see videos we don't post on the site itself, including making-ofs for the latest VFX movies, animations, games cinematics and motion graphics projects.