Wednesday, November 15th, 2023

Posted by Jim Thacker
Autodesk releases Maya 2024.2 and Maya Creative 2024.2
New features in Maya 2024.2 include the option to solo nodes in LookdevX, the software's new look dev toolset, making it easier to debug USD shading graphs.

Autodesk has released Maya 2024.2, the new version of its modelling and animation software.
The first update to Maya for six months, it features updates to key toolsets including retopology, look development, character rigging and animation, and to the USD for Maya plugin.
Maya Creative, the cut-down edition of the software for small studios, has also been updated.
Retopology: speed boosts and better feature preservation in Retopologize
Retopologize, Maya's automated retopology system, gets another update, with the Symmetry options now respecting the new feature preservation options added in Maya 2024.
The underlying algorithm, ReForm, has been updated, with processing now "up to 30% faster".
Look development: solo nodes in LookdevX
LookdevX, Maya's new toolset for creating USD shading graphs, gets a more substantial update.
New features in LookdevX 1.2 include the option to solo nodes; and a new dynamic port workflow, for working with one unified shader rather than multiple separate shaders.
In addition, it is now possible to use relative USD paths as well as absolute paths, and the LookdevX graph is now controlled by global color management preferences.
There are also a number of workflow improvements, including the option to copy and paste nodes and materials, and to drag and drop files from an external file browser.
Character rigging: updates to Proximity Wrap and the GPU Cache
For character rigging, the Proximity Wrap deformer gets a new Snap mode for when the existing Surface mode creates unwanted deformations.
The GPU Cache plugin, used to speed up playback of complex rigs, now lets users start the cache at a specific frame; and there are 12 new rigging math nodes.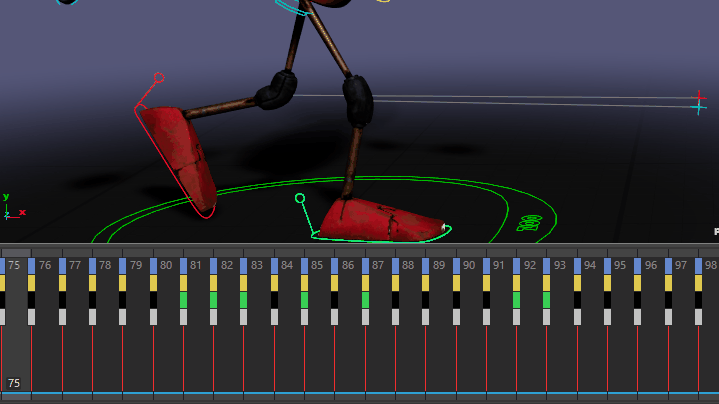 Animation: workflow improvements to the Time Slider and Graph Editor
The Time Slider gets further workflow improvements, with the option to color code keys, as shown above, and the viewport now updating when you [Alt]- or [Shift]-drag keys.
In the Graph Editor, the new system for 'sculpting' animation curves introduced in Maya 2024 can now modify curves on the Time axis as well as the Value axis.
Rig and simulation baking: updates to the Bake Deformer Tool and Bake Simulation options
The Bake Deformer Tool, used to bake down character rigs for export to game engines, now has full Undo support.
In addition, the bake process is now "faster and uses substantially less memory", although the release notes don't put a figure on the performance improvements.
When baking simulations, it is now possible to disable processes that draw processing power away from the simulation in the Bake Simulation options.
Plugins: USD for Maya 0.25, and updates to the Arnold, Bifrost and Substance plugins
Outside the core software, the Arnold, Bifrost, Substance and USD plugins have been updated.
USD for Maya 0.25 is the biggest update of the four, making it possible to save USD files relative to the Maya scene file, and to isolate-select in the viewport.
It also features workflow updates when using the Layer Editor, Attribute Editor and Channel Box.
Arnold for Maya (MtoA) 5.3.4.1 adds support for the new features in Arnold 7.2.4, while Bifrost for Maya 2.7.1.1 is just a bugfix update to version 2.7.1, which shipped with Maya 2024.1.
There are currently no release notes available for the Substance 2.3.4 plugin.
Maya Creative 2024.2 also available
Autodesk has also updated Maya Creative, the new cut-down edition of Maya for freelancers and small studios.
It only lacks simulation tools, so the new features are almost identical to Maya 2024.2 itself, with the exception of the update to the Bifrost plugin.
Price and system requirements
Maya 2024.2 is compatible with Windows 10+, RHEL and Rocky Linux 8.8/9.2, and macOS 11+. The software is rental-only. Subscriptions cost $235/month, or $1,875/year.
In many countries, artists earning under $100,000/year and working on projects valued at under $100,000/year, qualify for Maya Indie subscriptions, now priced at $305/year.
Maya Creative is available on a pay-as-you-go basis. Prices start at $3/day, with a minimum spend of $300/year.
Read a full list of new features in Maya 2024.2 in the online documentation
Read a full list of new features in Maya Creative 2024.2 in the online documentation

Have your say on this story by following CG Channel on Facebook, Instagram and X (formerly Twitter). As well as being able to comment on stories, followers of our social media accounts can see videos we don't post on the site itself, including making-ofs for the latest VFX movies, animations, games cinematics and motion graphics projects.