Tuesday, September 19th, 2023

Posted by Jim Thacker
Free tool: KitBash3D's Cargo

Originally posted on 21 May 2023. Scroll down for news of the Cargo 1.1. update.
Online asset store KitBash3D has released Cargo: a free USD-based asset manager that makes it possible to browse its 3D buildings and export them to 3ds Max, Blender, Cinema 4D, Maya and Unreal Engine 5.
A free Cargo Basic account provides access to over 100 free assets, plus any KitBash3D kits you have previously bought; a paid Cargo Pro account gives you access to all of KitBash3D's assets.
An online library of kitbash assets for VFX, animation and game development
Since its launch in 2017, KitBash3D has become a leading source of digital building kits for visual effects, animation and game development work.
Its online library, which now comprises over 10,000 models and materials, has been used on film franchises like Dr. Strange, TV shows like The Last of Us, and games like The Elder Scrolls.
New Cargo browser exports assets from the library to 3ds Max, Blender, Maya or UE5
The new Cargo asset browser simplifies the process of browsing and installing assets from that library, in the same way that Quixel's Bridge tool does for Megascans.
Users browse assets from within the Cargo interface itself, with the option to filter by type, polygon count, genre, or the kitbash asset kit from which they were taken.
The selected asset can then be downloaded and sent to any linked DCC applications with a single click: link plugins are available for 3ds Max, Maya, Blender and Unreal Engine 5.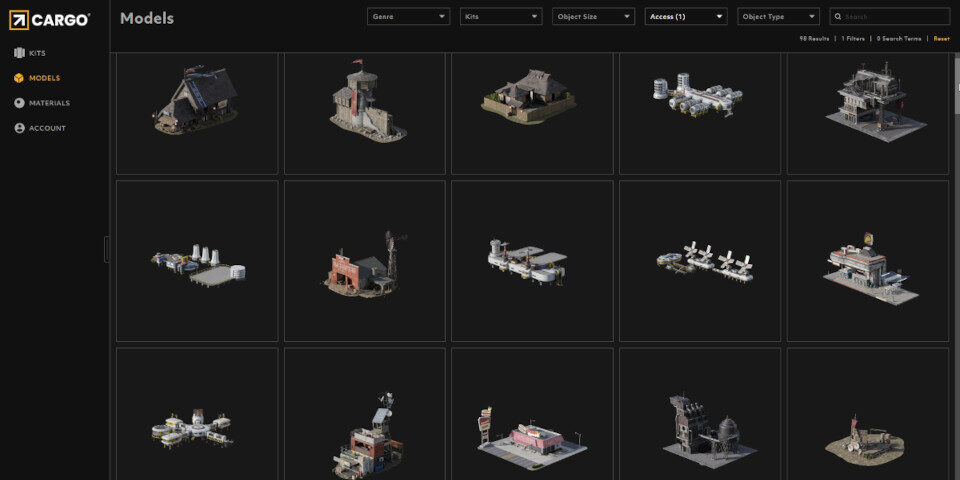 Try sample assets from Kitbash3D's kitbash libraries for free
A free Basic account provides access to a set of sample assets – many from the free Mission to Minerva kit – including 3D buildings, building parts, furniture and plants.
You also get access to any of the commercial kitbash asset kits you have bought in the past.
A paid Pro account provides access to KitBash3D's entire library.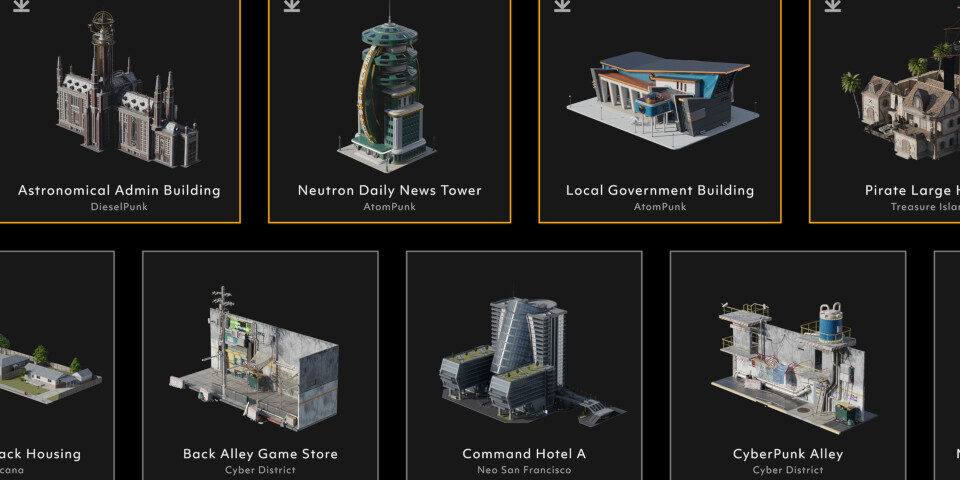 Updated 29 August 2023: Kitbash3D has made 25 new assets available to Cargo Basic users, including buildings from its AtomPunk, Treasure Island, Neo San Francisco and Americana kits.
At the time of writing, 155 assets are available for free: 94 of them 3D assets, and 60 materials. The 3D assets come with texture maps up to 4K in resolution.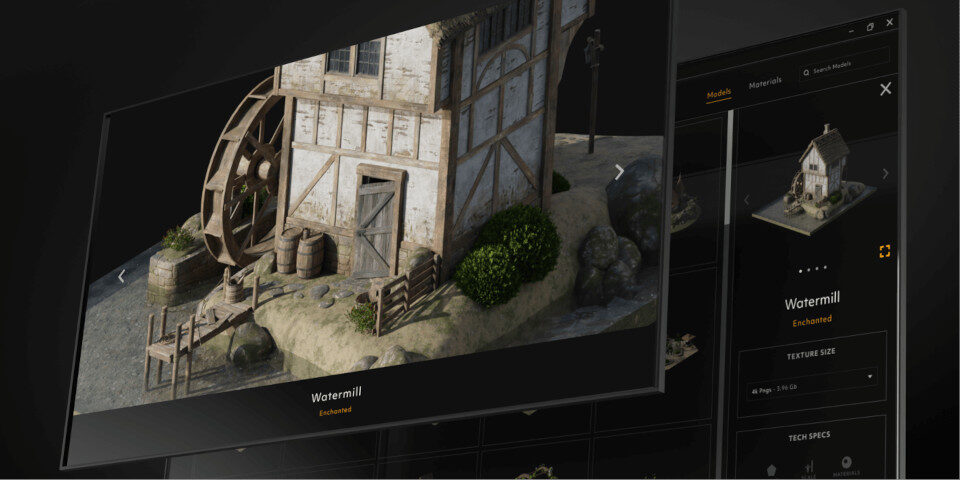 Updated 19 September 2023: Kitbash3D has released Cargo 1.1.
The update, which is also free, adds support for full-screen previews of assets, the option to change the default download location, better asset filtering, and support for Houdini and Unity.
Price and system requirements
Cargo is available for Windows 10 only, and is compatible with 3ds Max 2021+, Blender 3.0+, Cinema 4D R25+, Houdini 18.5+, Maya 2020+, Unity 2020+ and Unreal Engine 5.0+. Find a list of render engines supported here.
The software itself is a free download, and a free Basic account provides access to the free sample assets and any Kitbash3D kits you have previously purchased.
A Pro account provides access to Kitbash3D's full library of over 10,000 models and materials, and costs $119/month or $780/year. Teams plans for studios are priced on enquiry.
Download Cargo from KitBash3D's website

Have your say on this story by following CG Channel on Facebook, Instagram and X (formerly Twitter). As well as being able to comment on stories, followers of our social media accounts can see videos we don't post on the site itself, including making-ofs for the latest VFX movies, animations, games cinematics and motion graphics projects.