Tuesday, April 4th, 2023

Posted by Jim Thacker
Maxon ships Redshift 3.5.14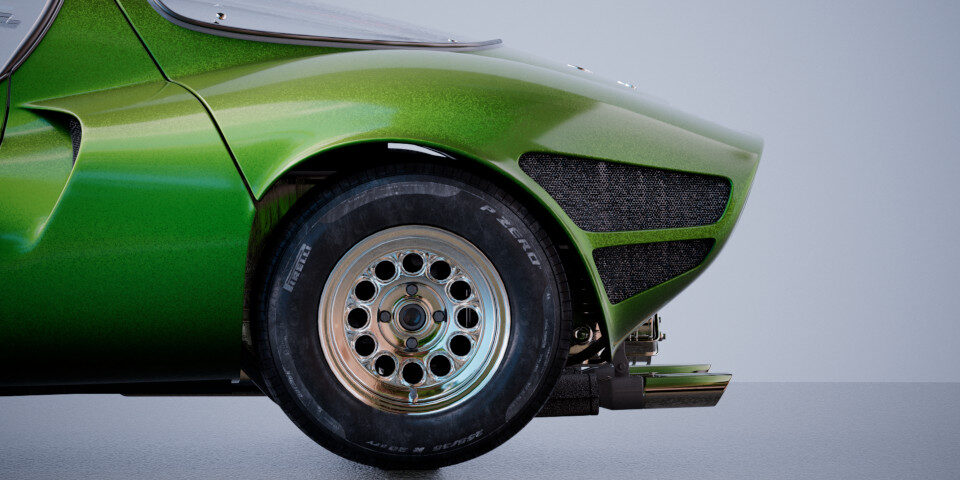 Maxon has released Redshift 3.5.14, its latest version of the CPU/GPU-accelerated production renderer.
The update adds a new sky model, a new Flakes shader for recreating the look of car paint, and Renderview Backplate, for importing photographic backplates into Redshift.
Near-real-time render engine Redshift RT has been updated, as have the software's integration plugins for DCC applications, with the Blender, Houdini and Katana plugins all getting new features.
Core application: new sky model, Flakes shader and Renderview Backplate
Key changes in Redshift 3.5.14 include the new PRG Clear Sky Model, which replaces the Hosek-Wilkie sky.
The PRG model, also adopted in Chaos Czech's Corona renderer, generates more realistic results when the sun is just below the horizon, and removes the green cast from daylight scenes.
Other new features include the Flakes shader, for recreating the look of materials containing reflective particles: particularly car paint, but also any material with a surface sparkle, like frozen snow.
The update also adds a Renderview Backplate, making it possible to import a photographic backplate into Redshift, in order to adjust the look of renders in the context that they will eventually be composited.
Redshift RT, the renderer's near-real-time hybrid ray tracing/rasterisation mode gets improved anti-aliasing and temporal denoising.
Updates to the DCC integration plugins
Redshift's integration plugins have also been updated, with the Blender plugin getting support for Cinema 4D's native Tile and Brick shaders, rolled out to the other host applications in the previous release.
The Katana and Houdini plugins get support for the Redshift Optical Camera.
System requirements and price
Redshift 3.5.14 is available for Windows 10, glibc 2.17+ Linux and macOS 11.5+.
The renderer's integration plugins are compatible with 3ds Max 2015+, Blender 2.83+, Cinema 4D R21+, Houdini 17.5+ (18.0+ on macOS), Katana 3.0v1+ and Maya 2016.5.
The software is rental-only, with individual subscriptions costing $45/month or $264/year.

Read a full list of changes in Redshift 3.5.14 on the product forum
(Registration required)