Originally posted on 24 July 2021, when only the 3ds Max edition of the renderer had been released. We've updated the story with details of the Cinema 4D edition, which is also now shipping.
Chaos Czech has released Corona Renderer 7, the latest version of its CPU-based production renderer for 3ds Max and Cinema 4D.
The update adds a new physical material intended to provide better compatiblity with other DCC applications, updates Corona's sky model, and makes renders "6 to 50%" faster.
New physical material with clear coat and sheen controls
The main feature in the release is CoronaPhysicalMtl, a new "grounds-up PBR material", intended to increase compatibility with other renderers, and tools like the Substance 3D Collection and Quixel Mixer.
It includes Clearcoat parameters for recreating car paint and Sheen parameters for recreating the surface properties of fabric, and comes with 35 new presets for common real-world materials.
The legacy physical material is still available for backwards compatibility with existing scenes.
We covered the changes to the physical material when Chaos Czech previewed them earlier this year, so check out our original story for more details.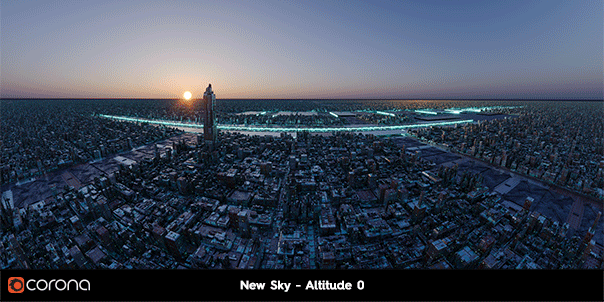 Improved sky model recreates the effect of altitude and turbidity
The new sky model introduced in Corona Renderer 6 – now officially renamed the 'PRG Clear Sky Model' – has been extended.
The update introduces new parameters for Altitude and Turbidity, plus a new one-click Volume Effect.
The latter is intended to mimic atmospheric haze in aerial perspective images, and provides a less render-intensive alternative to recreating the effect via the Corona Volume material.
Faster scene opening and rendering
In addition, there have been a number of performance improvements, making rendering faster by "6 to 50%".
The speed boost should be greater in scenes that make use of material opacity, subsurface scattering or volumetrics, or when using render denoising.
You can find a breakdown of the individual optimisations in Chaos Czech's blog post
Bitmap textures and proxies are also now loaded in the background after a scene has opened, resulting in average reductions in scene opening time of 35% and 12%, respectively.

Cinema 4D only: new Corona Volume Grid for rendering OpenVDB files
In addition, Cinema 4D artists get the Corona Volume Grid. As with its counterpart in the 3ds Max edition, it enables users to import and render volumetrics in OpenVDB format, like clouds or smoke.
Other Cinema 4D-only changes include tooltips for Corona materials, and a new Corona Mixture shader for blending two shaders together, which works with both bitmap-based and procedural shaders.
Both editions of the renderer also feature a lot of smaller improvements and fixes: you can find a complete list via the links at the foot of the story.
Pricing and system requirements
Corona Renderer 7 is available for 64-bit 3ds Max 2014+ running on Windows 7+ and Cinema 4D R14+ running on Windows 7+ or macOS 10.14+.
Subscriptions start at $28.50/month (€24.99/month) or $330/year (€289.99/year). Perpetual 'Box' licences of the 3ds Max edition are still available, priced on request.

Read an overview of the new features in Corona Renderer 7 for 3ds Max on Chaos Czech's blog
Read an overview of the new features in Corona Renderer 7 for Cinema 4D on Chaos Czech's blog
Tags: 3ds max, aerial perspective, altitude, arch viz, atmospheric haze, car paint, Chaos Czech, Cinema 4D, clear coat, clouds, compatibility, Corona Mixture shader, Corona Renderer, Corona Renderer 7, Corona Renderer 7 for 3ds Max, Corona Renderer 7 for Cinema 4D, Corona Renderer for Cinema 4D, Corona Volume Grid, CoronaLegacyMtl, CoronaPhysicalMtl, CPU renderer, DeNoiser, energy conserving, fabric, fire, material library, materials, metalness, new features, opacity, OpenVDB, PBR, Physical material, physically accurate, PRG Clear Sky Model, price, Quixel Mixer, render denoising, roughness/metalness, smoke, specular/glossiness, Substance 3D Collection, Substance 3D Designer, Substance 3D Painter, subsurface scattering, system requirements, tooltips, turbidity, visualization, Volume Effect, volumetric, volumetrics