Tuesday, September 1st, 2020

Posted by Jim Thacker
Chaos Czech releases Corona Renderer 6 for 3ds Max

Chaos Czech has released Corona Renderer 6 for 3ds Max, the latest version of the 3ds Max edition of the renderer, adding a new sky model and a randomised texture tiling system.
The release also implements key features from V-Ray, Corona Renderer's sister renderer, including adaptive environment sampling and improved bloom and glare controls.
Other changes includes support for foam simulated in Phoenix FD, and 78 new readymade materials.
New sky model generates more realistic exterior lighting
As with the Cinema 4D edition of the renderer, which shipped last week, the headline feature in Corona Renderer 6 is the new sky model, also recently incorporated into V-Ray 5.
It's most useful for dawn and dusk scenes, since it generates more accurate results when the sun is just below the horizon, but Chaos Czech says that it also helps to remove the green cast from daylight scenes.
As with the old model, users can create multiple sun and sky set-ups for a scene, then use Corona's LightMix system to generate multiple time-of-day variants of a render, although it doesn't yet support sky turbidity.
Features from V-Ray: new Adaptive Environment Sampler and bloom and glare controls
Corona Renderer 6 also adds a number of features from V-Ray, including the Adaptive Environment Sampler, intended to remove the need to add light portals to interior scenes to mimic light coming through windows.
There are also new bloom and glare controls based on V-Ray's lens effects, but featuring a "simplified" UI.
Other features: texture randomisation, blue noise dithering, better masking
Other changes include improved texture randomisation, with the CoronaUvwRandomizer map now supporting randomised texture tiling, as well as scale, offset and rotation.
The renderer also now supports blue noise dithering, intended to make interactive rendering "more useful" by generating a less visually distracting distribution of noise in renders with few passes.
In addition, masks applied to render elements – such as those generated by ID mattes – now propagate to the reflections and refractions in a scene.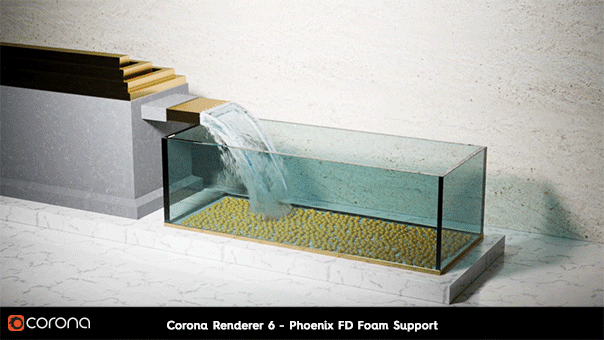 3ds Max edition only: support for Phoenix FD foam, new architectural materials
Changes unique to the 3ds Max edition include support for foam generated in Phoenix FD, Chaos Group's fluid simulation software for 3ds Max and Maya.
However, Corona no longer natively renders simulations generated in FumeFX, Sitni Sati's popular gaseous fluid simulator, with Chaos Czech recommending exporting in VDB format as a workaround.
There are also 78 new readymade architectural materials in Corona Renderer's material library, including concrete, ceramic tiles, carpet and other flooring types.
In addition, there is a long list of smaller features, performance improvements and bugfixes. You can find a full list via the link at the foot of this story.
Pricing and system requirements
Corona Renderer 6 is available for 64-bit 3ds Max 2013+. Subscriptions start at $28.50/month (€24.99/month) or $330/year (€289.99/year). Perpetual licences are available on enquiry.

Read a full list of new features in Corona Renderer 6 for 3ds Max on the product blog