Wednesday, November 6th, 2019

Posted by Jim Thacker
Chaos Czech ships Corona Renderer 5 for 3ds Max

Chaos Czech – previously Render Legion, prior to its acquisition by Chaos Group – has released Corona Renderer 5 for 3ds Max, its latest update to the renderer, adding a new 2.5D displacement system.
The update also optimises a number of the renderer's existing features, including the new caustics system, hair rendering, post effects and the GPU denoiser.
Primarily a performance release
The turnaround time for the release is unusually quick: it comes just five months after Corona Renderer 4.
Perhaps as a result, there aren't many big new features: something that has already elicited some negative feedback in the comments to the YouTube demo video above.
However, there are an awful lot of performance improvements, spanning nearly every aspect of the software.
New 2.5D displacement system halves memory usage
One change that sits midway between a new feature and a performance boost is the 2.5D displacement system, intended to reduce render time and RAM usage over rendering with true 3D displacement.
According to Chaos Czech, in an average 3D scene, switching to 2.5D displacement halves RAM usage, and makes geometry processing 3-4x faster and rendering "a few percent" faster.
Scenes with heavy displacement can use up to 10x less memory and render up to 3x faster.
Although some existing features, like the Corona Light Material and the Rounded Corners map, don't currently work correctly with 2.5D displacement, Chaos Czech says that the new system works better in so many cases that it plans to remove the old displacement system entirely in a future update.
Improvements to memory usage and render times across the board
Under the hood, Chaos Czech has made a lot of structural changes to Corona, including "a rewrite of the geometry processing, a switch to the latest Embree library [and] optimizing the calculation of mesh normals".
In the interior scene shown on the firm's blog, the changes reduce memory usage by just under 10% and render times by 36% – presumably figures that Chaos Czech is suggesting are typical.
Several specific features have also been optimised, including the post effects like bloom and glare, the Nvidia GPU denoiser, and the new caustics system introduced in Corona Renderer 4.
Here, the reductions in memory usage and render time vary from demo scene to demo scene, although they're all of the same order of magnitude as the overall performance improvements.
The caustics system also now respects the Include/Exclude list of lights for a scene.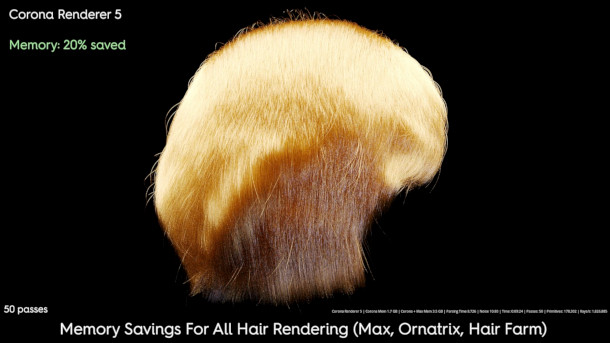 Faster, more accurate hair rendering, and new readymade hair materials
Hair rendering has also been improved, reducing artifacts, and halving the memory required, which Chaos Czech says typically translates into on overall 20% reduction in memory usage for a scene.
The improvements apply to both 3ds Max's native hair, and that from plugins like Ornatrix and Hair Farm.
In addition, Chaos Czech has added 17 new basic hair materials and 10 new skin materials to Corona's material library.
Pricing and system requirements
Corona Renderer 5 for 3ds Max is available for 64-bit 3ds Max 2013+ on Windows 7+. The Cinema 4D edition of Corona Renderer 5 is still in development.
The software is primarily sold via a 'Fair SaaS' rental model, which costs between €24.99 and €44.99 a month ($28-50). The old perpetual 3ds Max 'Box' licence is still listed online, but is priced on enquiry.

Read a full list of new features in Corona Renderer 5 for 3ds Max on the product blog