Originally posted on 11 June 2019. Scroll down for news of the Cinema 4D edition.
Corona Renderer for 3ds Max 4 is shipping. The major update to the 3ds Max production renderer adds an intuitive new caustics system and integrates Intel's Open Image Denoise render denoiser.
Other new features include the option to select objects or pick focus points in the VFB, a new fisheye camera, and the option to use multiple Corona Suns or environments in LightMix.
The press release credits the update to 'Chaos Czech', which seems to be the new official name for developer Render Legion, following its acquisition by Chaos Group in 2017.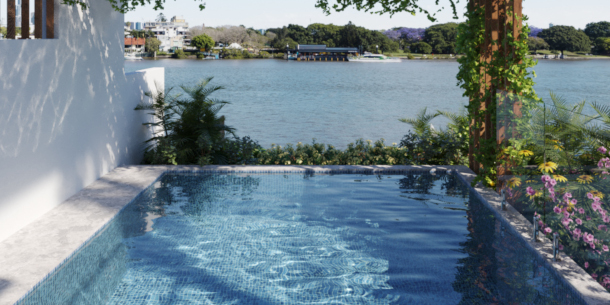 New Fast Caustics solver makes it possible to render caustics more widely in production
The major feature in the release is the new Fast Caustics solver, intended to make it more feasible to render caustics – the light rays reflected or refracted by a curved surface – in production.
It is designed for use not simply in classic examples like the patterns of sunlight on the bottom of a swimming pool, but in subtle cases like light reflecting from a mirror or the wheel rims of a car.
According to Chaos Czech, the new solver is fast, requires minimal user input to set up, and works with render elements and key features of Corona Renderer like LightMix.
We covered the new solver in more detail in our coverage of the Total Chaos 2019 conference, so check out our original story for more technical detail.
Intel Open Denoise offers CPU-based, AI-driven render denoising
Many of the other features in Corona Renderer 4 for 3ds Max will also come as no suprise to regular CG Channel readers, Chaos Czech having covered them in a sneak peek video earlier this year.
They include the integration of Open Image Denoise, Intel's CPU-based render denoising framework, the source code for which was released in January.
It provides an alternative to Corona's existing GPU-based OptiX denoiser for users who don't have Nvidia GPUs, or for scenes too large to fit into GPU memory.
According to Chaos Czech, it isn't fast enough to use in interactive renders, but it is much faster than Corona's native High Quality denoiser.
New Pick mode lets users select objects or focal points in the VFB or IR windows
The update also adds a new Pick mode to the Virtual Frame Buffer, making it possible for users to select objects, or to set the focal point for the camera selected, by clicking directly in the VFB.
Selections can be made during interactive or final rendering, or after a render has completed. Similar functionality is also available in docked interactive rendering viewports.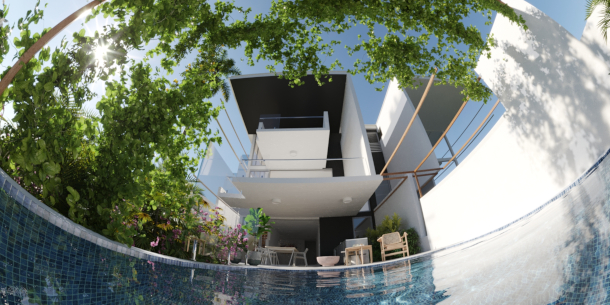 New fisheye camera, updates to LightMix and new Corona Select Map and Material
Other features previously listed in the online Corona product roadmap but not shown in the sneak peek video include a self-descriptive new fisheye mode for the Corona Camera, shown above.
The update also makes it possible to use LightMix – Corona's popular system for adjusting the lighting in a rendered image – with multiple Corona Suns or multiple environment maps.
The change should enable users to make more extreme changes within LightMix, like changing a scene from day to night, or replacing the background.
Other changes to LightMix include the option to denoise and save the Rest (unassigned) layer.
There is also a new Corona Select Map and Corona Select Material, both intended to enable users to create multiple variant materials for an asset and switch between them easily.
The release also features updates to the Corona Scatter system, to image sample filtering, and to the way that the software handles overlapping volumetrics. You can find a full list via the link below.

Updated 18 June 2019: Chaos Czech has released Corona Renderer 4 for Cinema 4D.
The main new toolsets are identical to the 3ds Max edition, but there is at least one feature – or fix, at least – unique to the C4D edition, in the shape of layered displacement.
According to Chaos Czech's blog post, stacking materials on an object now "gives the expected results from displacement", including support for layer opacity when layering materials.
The release also adds a new Inside Volume mode to the Corona Volume material, which applies any noise map used in the Absorption, Scatter or Emission channels to the interior of a volume, not just its surface.
The change avoids artefacts generated by the old On Surface method, although that is also still available. You can find a full list of changes via the link below.
Pricing and system requirements
Corona Renderer 4 for 3ds Max is available for 64-bit 3ds Max 2013+ on Windows 7+. Corona Renderer 4 for Cinema 4D is available for 64-bit Cinema 4D R14+ on Windows 7+ and Mac OS X 10.7+.
The software is primarily sold via a 'Fair SaaS' rental model, which costs between €24.99 and €44.99 a month ($28-51). The old perpetual 3ds Max 'Box' licence is still listed on the website, but is priced on enquiry.
Read a full list of new features in Corona Renderer 4 for 3ds Max on the product blog
Read a full list of new features in Corona Renderer 4 for Cinema 4D on the product blog
Tags: AI-based, caustics, Chaos Czech, Chaos Group, Cinema 4D, Corona, Corona Camera, Corona Renderer, Corona Renderer 4, Corona Renderer 4 for 3ds Max, Corona Renderer 4 for Cinema 4D, Corona Scatter, Corona Select Map, Corona Select Material, CPU-based, denoise, displacement, Fast Caustics Solver, fisheye camera, Intel Open Denoise, interactive rendering, layered material, LightMix, new features, object scattering, pick focal point, Pick mode, pick object, price, render denoiser, render denoising, Render Legion, system requirements, Total Chaos 2019, VDB, VFB, volumetric