Friday, May 17th, 2019

Posted by Jim Thacker
Sneak peek: Corona's neat new 'one click' caustics system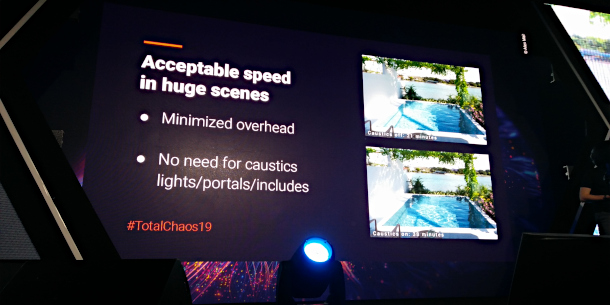 Render Legion showcases the new caustics system due in Corona Renderer 4 for 3ds Max at Total Chaos 2019. The firm hopes that the fast, one-click implementation will make caustics a 'mainstream' render effect.

Render Legion has revealed more details of the new 'one click' caustics system due in the upcoming Corona Renderer 4 for 3ds Max, at parent company Chaos Group's Total Chaos 2019 user event.
The implementation, which supports indirect caustics, and works with Corona's LightMix system and render elements, is described as "giv[ing] results that you can't get with any other commercial render engine".
The system will also be implemented near-simultaneously in the Cinema 4D edition of the renderer.
Fixing a problem that render developers have been 'silently ignoring'
During the Total Chaos keynote, Corona principal developer Ondra Karlík described caustics as a technical problem that renderer developers have been "silently ignoring" for years.
"Most of the 3D images you see are missing caustics," he said. "It was just too hard to [calculate] them, so it was easier just to remove them."
Render Legion's new system uses a novel algorithm, described by Karlik as a "heavily modified" version of Vertex Connection and Merging (VCM).
It works with indirect caustics – those reflected by or refracted through – other objects in the scene, can be used with render elements, and supports key Corona features such as the LightMix system.
Equally importantly, it's fast, making it feasible to use caustics in production: for the demo scene of a swimming pool shown in the keynote, enabling caustics increased render times from 21 to 38 minutes.
In previous versions, enabling caustics increased render times by "maybe 10x".
And in keeping with Corona's design philosophy, the implementation minimises the need for the user input: selecting a single checkbox should enable caustics for any lighting set-up.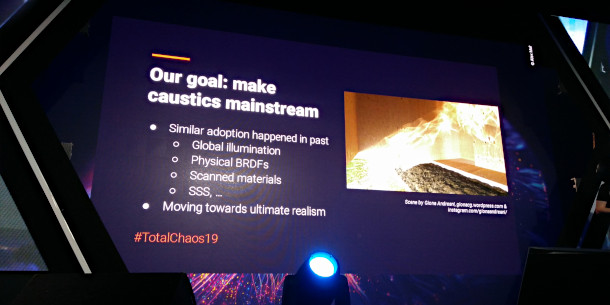 Karlik said that he hoped that the work would help to make caustics a "mainstream effect" within the industry, in the same way that formerly computationally intensive techniques like global illumination and subsurface scattering have now become a standard part of production workflows.
Speaking to CG Channel, Chaos Group CTO Vlado Koylazov described the system as "giv[ing] results you can't really get with any of the other commercial render engines", and said that the firm were "thinking of doing something similar" with V-Ray, Corona's sister product.

Other new features: Open Image Denoise, updates to LightMix, new look variations system
Other upcoming features in Corona Renderer 4 for 3ds Max include the option to select objects directly in the framebuffer, additive volumetric blending, and support for Intel's Open Image Denoise library.
All three are shown in the teaser video for Corona Renderer 4 for 3ds Max that Render Legion released in March (embedded above): you can find more details in our original story.
Other new features not shown in the video include support for multiple environment maps in LightMix, making it possible to switch between them in the final render, in the same way as scene lights.
There is also a "big production-oriented feature" feature called Select Map & Material, intended to generate variant looks for a scene.
Users can set up variant rules for the shaders in a scene and "quickly and conveniently" switch between them while rendering.
The update also adds a new fisheye camera: a feature originally requested by users of the Cinema 4D edition, with development led by Render Legion's Cinema 4D team.
Corona will also support motion blur when rendering hair generated with the Ornatrix plugin.
Pricing and system requirements
Corona Renderer 4 for 3ds Max was originally due to ship during Total Chaos, but is now expected to become publicly available in the "next few weeks", with a release candidate build next week.
The current version, Corona Renderer 3 for 3ds Max, is available for 64-bit 3ds Max 2013+ on Windows 7+.
Users have a choice between a perpetual 'Box' licence, which costs €449 (around $510), and a 'Fair SaaS' rental model, which costs between €24.99 and €44.99 a month ($28-50). You can find more details here.
See a full list of upcoming features in Corona Renderer for 3ds Max in the online roadmap