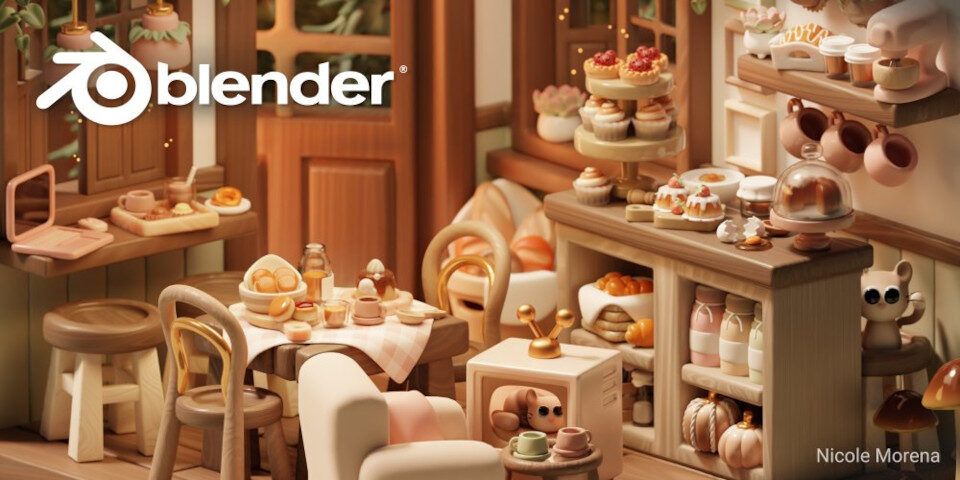 Main image: Blender 3.5's splash screen art, created by Nicole Morena.

The Blender Foundation has released Blender 3.5, the latest version of the open-source 3D software.
New features range from support for vector displacement maps when sculpting to the foundations of an interactive real-time compositor, by way of a huge set of readymade assets for generating and styling hair.
Below, we've picked out five of the most significant changes, along with smaller updates to the core toolsets, including hidden gems like the ability to copy and paste UVs between models.
Vector displacement maps, now supported on Blender's Draw brush, make it possible to sculpt complex forms like horns and hair braids with a single brush stroke. Video: Jan van der Hemel of Blender Secrets

1. Sculpt facial features in a single click with vector displacement maps
For digital sculptors, particularly character artists, the main new feature in Blender 3.5 will undoubtedly be support for Vector Displacement Map (VDM) brushes in the Draw brush.
The feature – previously only supported in specialist sculpting tools like Mudbox and ZBrush – makes it possible to use vector displacement maps as brush alphas.
Whereas conventional displacement with height maps only displaces the surface of a model in the normal direction, vector displacement maps can displace it in three dimensions.
That makes it possible to create more complex overhanging forms – including noses, ears, horns and tails – with a single dab of the brush.
Vector displacement maps currently only work when using area plane mapping, but mirror and radial symmetry are supported, which should make it possible to sculpt even more complex forms.
Blender 3.5 ships with the Essentials asset library, a new set of 26 readymade Geometry Nodes set-ups to streamline common tasks when working with hair, from growing hair on a scalp to styling it.

2. Style hair in seconds with the new Essentials asset library
The new curve-based hair toolset introduced in Blender 3.3 takes a major step forward in Blender 3.5.
The software now ships with the Essentials asset library: a set of 26 readymade of Geometry Nodes set-ups that can be dragged and dropped into a scene.
They streamline the process of common hair grooming tasks, including generating hair curves on a scalp surface, and duplicating or interpolating between guide curves to thicken the resulting hair.
The library also includes set-ups for styling hair, including generating clumps, frizz, curls and braids; smoothing or straightening hair; and trimming it back.
Stylising an image in Blender 3.5 using the Image and Image Info nodes: two of the new nodes added to the Geometry Nodes toolset in the update. Video: Robert Shane

3. New nodes for procedural modeling and image processing
Other new Geometry Nodes include Edges to Face Groups, which finds groups of faces surrounded by the edges selected, and Blur Attribute, which mixes the attribute values of neighbouring elements.
There are also new Image input and Image Info nodes, which open up new creative workflows for processing images, such as the one shown in the video above.
Sadly, the experimental simulation branch, which makes it possible to create particle and flocking sims using Geometry Nodes, has not been merged into the main branch. A build is available for Blender 3.6.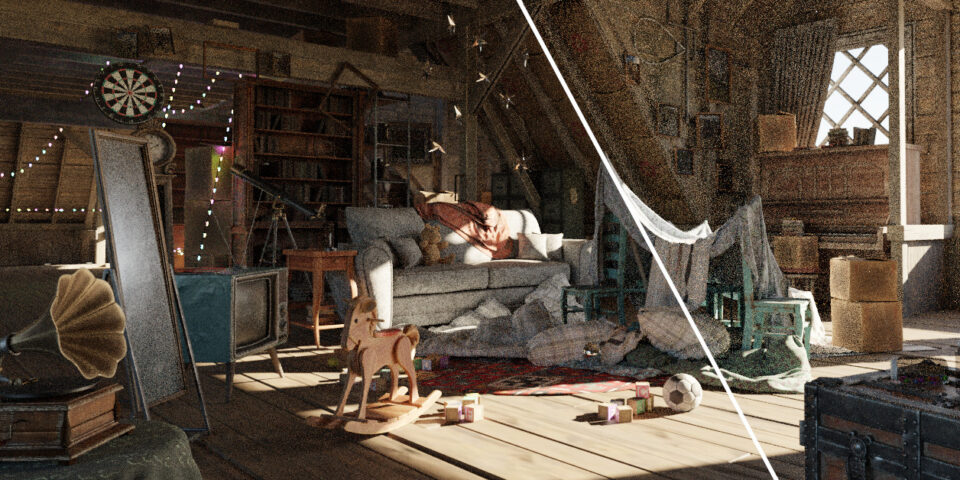 Equal-time renders of Nvidia's USD Attic demo scene generated in Cycles with (left) and without (right) the new light tree, which reduces noise in scenes with many lights.

4. New light tree reduces render noise in Cycles
Both of Blender's main render engines get updates in Blender 3.5, with Cycles now using a light tree to sample scenes with large numbers of lights more effectively.
Enabling the light tree significantly reduces noise at the cost of a longer render time per sample, with the net result that many renders converge to an acceptably noise-free state more quickly.
The feature is currently disabled on AMD GPUs, but it should work on Apple Silicon, Intel and Nvidia GPUs.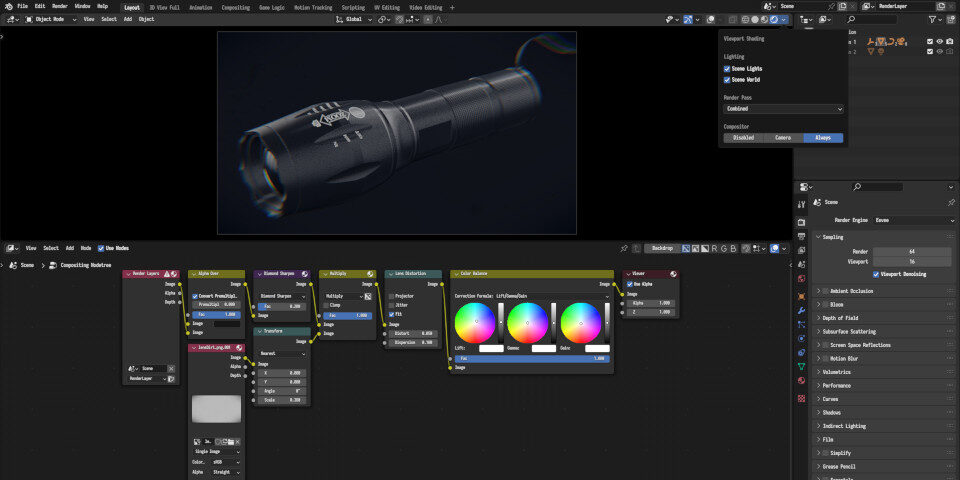 Eevee's new Viewport Compositor shading option displays the output of the Compositor's node tree in the viewport, laying the foundations for a GPU-accelerated interactive real-time compositor.

5. See output from the compositor directly in the viewport
Eevee, Blender's real-time renderer, gets a new Viewport Compositor shading option, which applies the result of the Compositor Editor node tree directly to the 3D Viewport.
The change lays the foundations for a true interactive real-time compositor inside Blender.
At the minute, it's rather more limited, and doesn't support multi-pass compositing or advanced nodes, although it does support basic filter nodes like blur, lens distortion and glare.
Blender 3.5 also features a number of updates to the Grease Pencil 2D animation toolset, including the option to replay drawings at the speed at which they were drawn. Video: Mumu Mundo

Updates to other core toolsets
Blender 3.5 also features updates to most of the software's other core toolsets, with Mac users getting a new Metal backend for the viewport.
To judge from the benchmark results in the release notes, it's 1.5-3x faster than the old OpenGL backend.
The UV toolset gets a handy option to copy and paste UVs between groups of faces with the same topology. UVs can be copied between UV channels, between meshes, or even between .blend files.
Changes to the animation tools include a new Ease operator in the Graph Editor and workflow improvements to the Pose Library, including the option to flip poses directly from the context menu.
Grease Pencil, Blender's 2D animation toolset gets more updates than we can cover in two lines, but fortunately, they're nicely summarised in the video embedded above.
The motion tracking toolset gets a change to make it possible to change the underlying resolution of a movie clip without losing the optical centre, where this differs from the centre of the frame.
Changes to file import and export include support for USD shape primitives when importing data in Universal Scene Description format, and support for the USDZ file format, often used in AR projects.
Outside the core application, there are updates to several key extensions, including Sun Position and the glTF 2.0 importer and exporter, and compatibility-breaking changes to the Python API.
System requirements
Blender 3.5 is available for Windows 8.1+, macOS 10.13+ (macOS 11.0 on Apple Silicon Macs) and glibc 2.28 Linux, including Ubuntu 18.10+ and RHEL 8.0+ and CentOS and Rocky Linux equivalents. It's a free download.

See Blender Foundation's overview of the new features in Blender 3.5
Read the Blender 3.5 release notes
Tags: 2D animation, 3D modeling, 3D painting, 5 key features from Blender 3.5, AMD, animation, Apple Silicon, AR, arch viz, Augmented Reality, backwards compatibility, Blender, Blender 3.5, Blender Foundation, Blur Attribute node, character rigging, compatibility breaking, cut and paste UVs, Cycles, digital sculpting, download, Draw brush, Ease operator, Edges to Face Groups, Eevee, Essentials asset library, free, game art, game development, geometry nodes, glTF 2.0, graph editor, grease pencil, hair grooming, highlights, Image Info node, Image node, Intel, key features, light tree, Metal, motion graphics, motion tracking, new features, NVIDIA, open source, OpenGL, paste UVs between models, pose library, procedural geometry, procedural modeling, Python, Python API, real-time compositing, rendering, simulation, simulation branch, sun position, system requirements, texturing, USD import, USD shape primitive, USDZ, UV editing, VDM, VDM brush, vector displacement map, vfx, viewport compositing, viewport compositor, visual effects, visualization