Wednesday, September 21st, 2022

Posted by Jim Thacker
Nvidia unveils new GeForce RTX 4090 and 4080 GPUs

Nvidia has unveiled the GeForce RTX 4090 and 4080, the first cards in the GeForce RTX 40 Series, the firm's next generation of gaming GPUs based on its new Ada Lovelace GPU architecture.
With a recommended price of $1,599 for the 24GB GeForce RTX 4090, and $1,199 and $899 for the 16GB and 12GB editions of the GeForce RTX 4080, the new cards represent the high end of the 40 Series.
As well as gaming, the new cards are being marketed for computer graphics work, with Nvidia explicitly namechecking 3D artists in its press release.
The new cards were announced during Nvidia's GTC 2022 conference, alongside the RTX 6000, their workstation counterpart, new server and data centre GPUs, and updates to Omniverse Cloud.
The first gaming GPUs based on Nvidia's Ada Lovelace GPU architecture
The new cards are the first consumer GPUs based on Nvidia's new Ada Lovelace architecture, intended to provide "revolutionary performance for ray tracing and AI-based neural graphics".
Performance notwithstanding, many of the underlying changes are evolutionary rather than revolutionary, via updates to the RT ray tracing cores and Tensor AI inferencing cores present in current-gen Ampere GPUs.
The third-generation RT cores in Ada Lovelace GPUs provide "2x the throughput" of their current-gen equivalents, plus enhancements to speed up rendering of alpha-mapped textures and ray traced motion blur.
The fourth-generation Tensor cores also deliver "more than 2x throughput" than their current-gen counterparts for tensor matrix operations, and support "more data types" and "new FP8 precision modes".
The Ada Lovelace cards also feature a new generation of CUDA cores for general-purpose GPU computing, again promising an increase around 2x in FP32 compute performance.
New Optical Flow Accelerator powers DLSS 3.0 frame generation
A more genuinely revolutionary change is the Ada Lovelace architecture's new Optical Flow Accelerator, used by DLSS 3.0, the latest version of Nvidia's Deep Learning Super Sampling technology.
Used to increase in-game frame rates, DLSS was initially a render upscaling system, enabling a game engine to render frames at lower resolution, with DLSS then used to up-res them to display resolution.
In version 3.0, it also becomes a frame generation system, with DLSS 3.0 using optical flow to generate entire new frames between those the game engine renders traditionally, boosting frame rates by "up to 4x".
Although DLSS is primarily a games technology, it does have implications for CG artists, since it is also now being adopted in visualisation software like D5 Render.
Nvidia's Ada Lovelace GeForce RTX GPUs
and their previous-gen counterparts
RTX 4090
RTX 3090
RTX 4080
(16GB)
RTX 4080
(12GB)
RTX 3080
Architecture
Ada Lovelace
Ampere
Ada Lovelace
Ada Lovelace
Ampere
CUDA cores
16,384
10,496
9,728
7,680
8,704
Tensor cores*
TBC
328
TBC
TBC
272

RT cores

*
TBC
82
TBC
TBC
68
Base clock (GHz)
2.23
1.40
2.21
2.31
1.44
Boost clock (GHz)
2.52
1.70
2.51
2.61
1.71
Compute performance
FP32 (Tflops)*
82.6
35.6
48.7
40
29.8
GPU memory
24GB
GDDR6X
24GB
GDDR6X
16GB
GDDR6X
12GB
GDDR6X
10GB
GDDR6X
NVLink
No
Yes
No
No
No
TDP
450W
350W
320W
285W
320W
Release date
Oct 2022
Sep 2020
Nov 2022
Nov 2022
Sep 2020
MSRP at launch
$1,599
$1,499
$1,199
$899
$699
*Data taken from third-party websites.

Key specifications for DCC work
The GeForce RTX 4090's main advance over its previous-generation counterpart is compute power: its FP32 compute performance is more than double that of the RTX 3090 (or the more recent RTX 3090 Ti).
Nvidia hasn't confirmed its RT and Tensor core counts, but they tend to follow roughly in proportion to CUDA cores, so we would expect an increase in ray tracing performance of a similar order of magnitude.
However, at 24GB GDDR6X, the RTX 4090's on-board memory capacity is identical to its predecessor, so there will be no increase in the maximum size of scenes that fit into GPU memory for GPU rendering.
In the case of the GeForce RTX 4080, the changes are more evenly spread, with a smaller relative increase in FP32 compute performance over the previous-gen RTX 3080, but an increase in GPU memory capacity.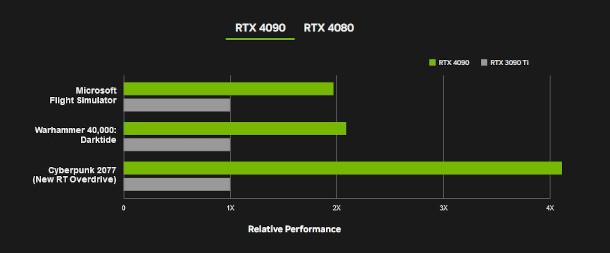 Benchmarks and performance in DCC applications
Nvidia's promo material for the new cards features benchmarks for three games: Microsoft Flight Simulator, Warhammer 40,000: Darktide, and the upcoming ray tracing overdrive mode for Cyberpunk 2077.
The latter is essentially a showcase for Nvidia technology, so the other two benchmarks seem more likely to be representative of the new cards' capabilities.
In both cases, the performance of the GeForce RTX 4090 – in the shape of frame rates when running at high resolution and graphics settings – is roughly 2x that of the previous-generation GeForce RTX 3090 Ti.
Performance of the 16GB GeForce RTX 4080 is just under 2x that of the previous-gen GeForce RTX 3080 Ti.
However, it's harder to tell how that will translate to CG work, since – unlike with the launch of the previous-gen GeForce RTX 30 Series – Nvidia doesn't seem to have posted benchmark scores for DCC apps.
Pricing and release dates
The GeForce RTX 4090 will be available on 12 October 2022, with a MSRP of $1,599. The GeForce RTX 4080 will be available in November, with MSRPs of $1,199 for the 16GB edition and $899 for 12GB.
Read more about the new GeForce 40 Series GPUs on Nvidia's product website