Tuesday, September 20th, 2022

Posted by Jim Thacker
Nvidia launches Omniverse Cloud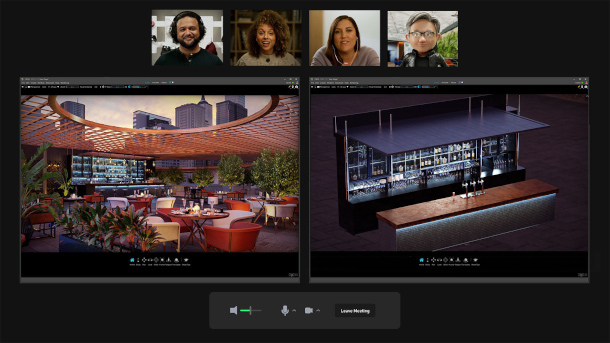 Originally posted on 22 March 2022. Scroll down for news of the early access launch.
Nvidia has announced Omniverse Cloud, an upcoming suite of cloud services built around Omniverse, its real-time 3D collaboration platform, during the keynote of its GTC 2022 conference.
Component services include Omniverse Nucleus Cloud, for sharing Omniverse scenes online, and the option to stream the existing Omniverse Create and Omniverse View apps via Nvidia's GeForce Now platform.
The move will open up Omniverse, previously only fully available to Windows and Linux users with Nvidia GPUs, to users of other manufacturers' graphics cards, other operating systems, and to mobile devices.
A USD-based collaboration platform for VFX, game development, design and visualization
Officially launched this January after a year in beta, Omniverse enables artists and designers anywhere in the world to collaborate on projects in real time.
Data is exchanged between compatible CAD and DCC applications and Omniverse in USD format, with connector plugins available for tools including 3ds Max, Maya, Revit, Rhino, SketchUp and Unreal Engine.
As well as the Omniverse core, Nvidia has released frontend applications for specific tasks, including Omniverse Create for scene layout and editing, and Omniverse View for scene review.
Opening up Omniverse to Macs, mobile devices, and workstations with AMD or Intel GPUs
So far, Omniverse has effectively been restricted to users of workstations with Nvidia hardware: its core components and the Omniverse Create and Omniverse View apps only run on Windows or Linux.
RTX Renderer, the platform's integrated renderer, requires a Nvidia RTX GPU.
That will change when Omniverse Cloud rolls out, with both Omniverse Create and Omniverse View due to become available via GeForce Now, Nvidia's games streaming platform.
Apps on GeForce Now run in the cloud on RTX GPUs, with the viewport display streamed to a user's device.
That should make it possible to use the Omniverse apps on pretty much any desktop or mobile device: as well as Windows, GeForce Now runs on macOS, ChromeOS, Android and iOS, and in the Chrome browser.
Nucleus Cloud lets users make edits on shared, cloud-hosted 3D scenes
Omniverse Cloud will also include Omniverse Nucleus Cloud, a "one-click-to-collaborate" system for sharing 3D scenes.
The system, announced earlier this year, and currently available in early access for users with Nvidia Developer accounts, enables users to make collaborative edits to shared, cloud-hosted 3D scenes.
Nvidia describes it as "like working on a cloud-shared document – but for a 3D scene".
Other than that, there aren't many specifics: Nvidia has confirmed that Omniverse Cloud will be a subscription service, and will be available in early access this year, but hasn't announced dates or pricing yet.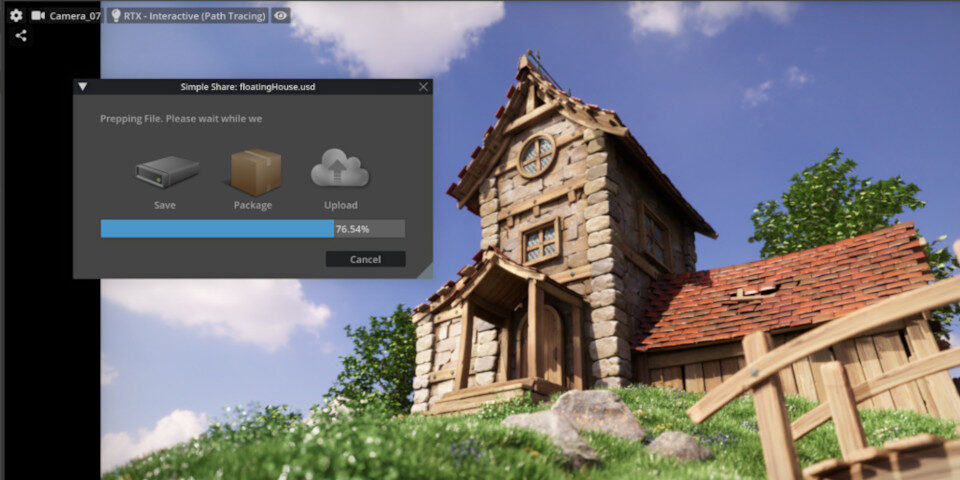 Updated 23 June 2022: Nvidia has launched a second Omniverse Cloud service in early access.
Like Omniverse Nucleus Cloud, Simple Share is an online collaboration system, but aimed at individual artists rather than teams.
Whereas Nucleus Cloud requires teams to set up cloud-based instances through which scenes can be shared, Simple Share simply generates an online link to it that can be sent to collaborators.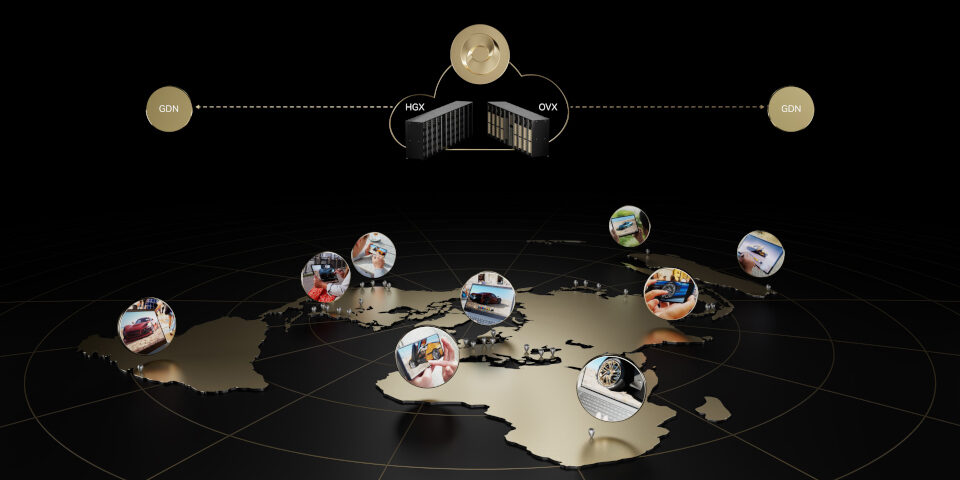 Updated 21 September 2022: Nvidia has announced the launch of Omniverse Cloud.
In practice, the services are still in early access, but you can apply for them via a single online sign-up page, rather than having to do so individually.
As well as Omniverse Nucleus Cloud and Omniverse App Streaming, the platform includes Omniverse Farm, for distributing tasks like rendering or simulation to multiple cloud compute instances.
Machine learning tools developers get synthetic data-generation system Omniverse Replicator, plus two industry-specific data generators, Isaac Sim, for robotics, and Drive sim, for autonomous vehicles.
Availability and system requirements
Omniverse Cloud is available free in early access for users with Nvidia Developer accounts. You can find instructions on how to apply for early access here.
Nvidia hasn't announced a final release date or pricing yet.

Read Nvidia's blog post announcing the launch of Omniverse Cloud