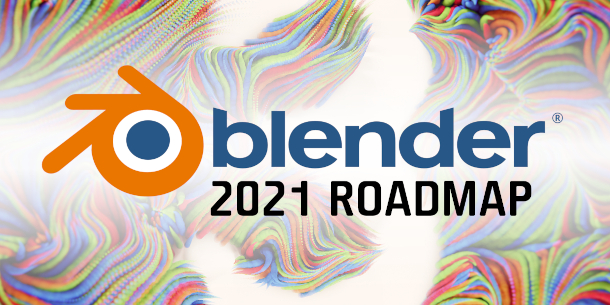 The Blender Foundation has posted its public roadmap for 2021, previewing some of the features due in the two scheduled major releases of the open-source 3D software this year.
Ongoing work on the library overrides system, the new geometry nodes and the Grease Pencil toolset are due to roll out in Blender 2.93, currently scheduled for a stable release in late May.
Blender 3.0, due in the third quarter of the year, features bigger structural changes, including a new USD importer, a new animation pose library, and a more general revamp of Blender's character animation tools.
Updated: The Blender Foundation has also just unveiled Cycles X, a major update to Blender's main production renderer, due in Cycles 3.1. You can find full details here.
Blender 2.93: updates to library overrides and geometry nodes
Although the Blender Foundation's blog post doesn't give version numbers for all of the new features it covers, several are already listed in the work-in-progress release notes for Blender 2.93.
That includes two things that the Foundation identifies as key current development projects: the library overrides and geometry nodes systems.
Both are ongoing projects: library overrides, a more robust replacement for the old proxy system aimed at visual effects and animation production, first rolled out in Blender 2.81 in 2019.
Changes in Blender 2.93 include automatic resyncing of overrides when linked files are updated, display of overrides in the Outliner, and "final documention" for the system.
Geometry nodes, the first taste of a wider Houdini-like node-based architecture, debuted in Blender 2.92.
To that, the 2.93 release will add 20 new nodes, including those mesh primitives and more advanced scattering features, and a spreadsheet view for debugging node trees.
In addition, Grease Pencil, Blender's 2D animation toolset, will get a Line Art modifier, for line rendering of scene geometry, and new operators for converting Grease Pencil objects to and from SVG files.
Structural updates to Cycles and Eevee later in 2021
The roadmap also lists specific updates to Blender's render engines, Cycles and Eevee. Neither is mentioned in the current documentation for Blender 2.83, so we're guessing they're further off.
Blender's drawing backend is being prepared to support Vulkan, Khronos Group's new-ish cross-platform graphics and GPU computing API, which "[will help] make Eevee more memory-efficient".
The change isn't expected to result in immediate performance boosts, but "will help make Blender future-proof and ready for vendor-specific platforms".
Cycles gets "big improvements" to its render API: work done by a dedicated developer "working closely" with Facebook, one of the Blender Development Fund's latest corporate patrons.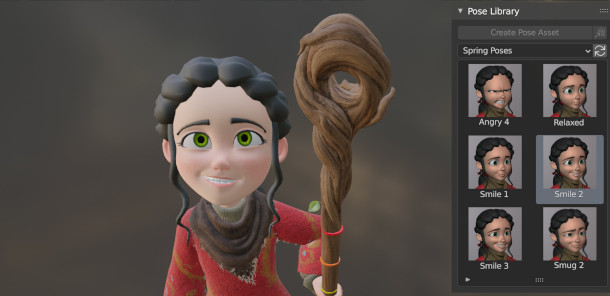 Blender 3.0: new animation features and a USD importer
Blender 3.0 – the first of a new proposed series of two-yearly major updates to the software – wull also feature other big structural changes.
Ongoing work on a revamped asset management system has been expanded to include a new pose library, integrated into both the viewport and animation editors.
The library is part of a wider project to update Blender's character animation pipeline, expected to encompass "better tools for rigging, playback and animation in [general]".
The work is being funded by a major donation from Amazon Web Services, and is being vetted by AWS creative director Jason Schleifer, previously head of character animation at DreamWorks Animation.
Blender 3.0 also looks likely to feature a new USD importer – USD export having previously been added in Blender 2.90 last year – developed in partnership with Nvidia.
Release dates and system requirements
Blender 2.93 is currently scheduled for a stable release on 26 May 2021. Blender 3.0 is due in Q3 2021.
The software is available under an open-source GPL licence. The current stable release, Blender 2.92, is available for Windows 7+, macOS 10.13+ and Linux.
Read a full list of new features due in Blender this year in the Blender 2021 roadmap
Tags: 2D animation, 3D modeling, Amazon Web Services, animation, API, asset management, Blender, Blender 2.81, Blender 2.92, Blender 2.93, Blender 2021 roadmap, Blender 3.0, Blender Foundation, character rigging, Cycles, Eevee, Everything Nodes, Facebook, free, game development, geometry nodes, grease pencil, Jason Schleifer, library override, Line Art modifier, line rendering, mesh primitives, node-based architecture, object scattering, open source, pose library, proxy, release date, rendering, SVG, system requirements, USD, USD importer, vfx, visual effects, Vulkan