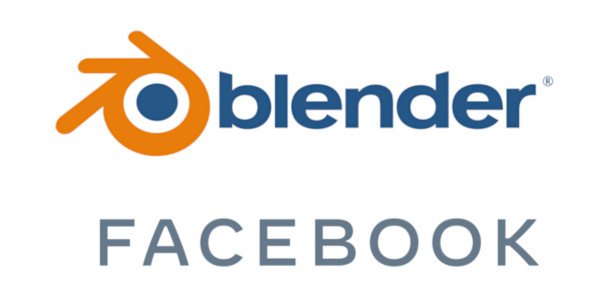 Facebook has become the latest major tech firm to back open-source 3D application Blender, joining AMD, Epic Games, Nvidia and Unity Technologies as a Corporate Patron of the Blender Development Fund.
The firm, which provides Blender integrations for its Spark AR Studio augmented reality toolset, will donate at least $120,000/year towards development of Blender: the equivalent of two full-time developers' salaries.
Facebook is the fifth tech giant to become a Blender Corporate Patron
The news makes Facebook the fifth major tech firm to become a Corporate Patron of the Blender Development Fund since rival Epic Games' watershed $1.2 million donation last summer.
As with fellow Corporate Patrons AMD, Nvidia and Unity Technologies, Facebook's contribution of at least $120,000/year is equivalent to the salaries of two further full-time Blender developers.
This August, the Blender Development Fund hit its original target of €100,000/month: enough to pay the salaries of 20 full-time core developers.
Since then, the fund has grown by a further €10,000/month, standing at €116,416/month at the time of writing.
'Suprising but super-cool news'
In a tweet, Blender Foundation chairman Ton Roosendaal described Facebook's donation as "surprising" but "super cool".
One reason for the surprise is that, unlike the other Corporate Patrons, the social media giant isn't primarily known for producing 3D software, or the hardware required to run it.
Although it acquired pioneering virtual reality headset developer Oculus in 2014, and subsequently developed VR art tools Quill and Medium, it then sold Medium to Adobe last year.
However, this year, Facebook released Blender integrations for Spark AR Studio, its free augmented reality toolset, which can be used to create AR experiences to share on Facebook or Instagram.
The Blender Foundation's official statement comments that "to support these artists and the countless other[s] who depend on open source tools, Facebook wishes to contribute to the development of Blender".
The Blender Development Fund's most controversial Corporate Patron to date?
The news has attracted a lot of feedback on social media, both positive and negative.
While every Corporate Patron has generated comments from Blender users worried that their donation will unduly influence future development of the software, the debate is particularly fierce with Facebook.
You can see the full range of opinion in the replies to the Blender Foundation's tweet announcing the news.
One fairly balanced comment reads, in part: "Historically, Facebook is bad for privacy, bad for open source, and bad for our independent communities, but I understand the need for funding."
However, it's important to distinguish between the potential reputational damage to Blender from accepting funding from an organisation whose business practices many users dislike, and fears that Facebook – or other large corporate donors – may in some way 'take over' Blender.
The Twitter thread embedded below explains concisely why the terms of open-source GPL licence under which Blender is distributed make the latter vanishingly unlikely:
Ok, let's go over this. One. More. Time…

Your favourite open source projects are not being corrupted, or closed, or selling out, or whatever else you want to be afraid of, and here is why!

[Thread]

— Luca Rood (pronounced rode/road) (@LucaRood) July 30, 2020
Ton Roosendaal commented: "In no way this will take us away from the mission to remain free/open source and to support a better web that serves all of humanity."

Read the Blender Foundation's announcement that Facebook has backed its development fund
Tags: AMD, AR, Augmented Reality, Blender, Blender Development Fund, Corporate Patron, Epic Games, Facebook, Facebook backs Blender Development Fund, Instagram, Medium, NVIDIA, Oculus, open source, Quill, social media, Spark AR Studio, Unity Technologies, virtual reality, VR